Experts on How to Style your New Home
See expert advice on styling your new home. Read about selecting artwork, choosing colour palettes for your home and how to design for your floorplan.
When it comes to interior design, Shaynna Blaze is undoubtedly one of Australia's most recognisable faces. From styling her bedroom as a 14-year-old, to hand-crafting items and working with multi-million-dollar budgets in the commercial world at just 20, she built a strong foundation for her design success long before she rose to fame as one of the judges on hit-show The Block (among a string of television programs she now fronts).
Shaynna shared her insights on the key building blocks to consider when choosing those all-important design elements in a new home.
For those who could not make it (and for those who would like a summary!), here are Shaynna's top tips for creating a home that is truly 'your place'.
Where do I start?
Shaynna says you need to look at the areas that take up the biggest percentage of space in your home - your floor and walls (not your kitchen bench!). Look for materials you love the look and feel of.
"Flooring is the key - it is the most expensive surface of your home (I always say you can change the colours of your walls with paint and a weekend of your life!) - and it also takes you from the front door to the back door and every door in between," she says.
"This doesn't mean you have to have one type of flooring the whole way through, you might have three or four different surfaces, but you should make sure your colour palettes work together with the same tone, even though the textures might be different. This will give you flow when you move from one room to the next.
"If, however, you want a complete contrast and the surprise factor that comes with it, look at the front of the house having one look and feel and then change to another look and feel at the back - but you will need a door in between. There is something about open plan living that means a complete contrast can quite literally stop you, so be careful to avoid this.
"Your bedroom and ensuites are the places to add contrast, as they have doors and are your private spaces where you have the freedom to do whatever you want."
What style?
Start by asking yourself, what is my style? Are you modern, traditional or somewhere in between? Shaynna's advice is if it is not 'from your gut, then it is someone else's vision'.
Next; do you start from the inside or outside of your home?
"There is no right or wrong, it really depends on the look and feel you want," says Shaynna.
"The shape of the building does have an impact, so do not fight the architectural envelope. It will tell you the style of the home - it is the building blocks, not the type of cushions or rugs you might want.
"Look at whether your home is render or weatherboard, the shape of the windows and the pitch of the roof. All of these tell you the style of the home.
"What you do inside will take its lead from the exterior, so if you love the exterior, go for it! If the vision starts at the interior, then take your lead from that and start to integrate it into the exterior.
"I believe there is nothing better than driving home from a crap day - or even a nothing day - into your street, into your driveway and seeing your home. You want it to be your oasis waiting for you, as feeling great about your home everyday simply puts you in your happy space."
Who is your home for?
Do not ask yourself what is on trend as, according to Shaynna, the answer is 'nothing'.
"With manufacturing coming into play, we are constantly told what to buy meaning there are new trends every six months. So, you know what, you are the trend!" she says.
"Lots of people are scared to use the colours they love, because they feel they are going to go out of style, so I say empower yourself to go for it.
"Build on your innate vision of what you want - who is your home for? That is easy - it is for you, for your family, for your lifestyle, for your dream. You might think you will be in the home for 10 years, for 15 years, or you simply don't know - either way, do it for you.
"Think about the mood, the feel, the look and how you want to feel in your home as a family. It is a place to bring everyone together and you would be surprised how surfaces can change those factors.
"You want to connect to your space and I believe if you're spending tens to hundreds of thousands of dollars, you want a home that makes you feel joyous."
Be inspired, don't copy
Your home should be your story, not someone else's, reminds Shaynna. So while you are encouraged to look at catalogues and images you love as inspiration, interpret them for you.
"If you don't feel you have the style to make all the choices from scratch, that is okay. Take the inspiration and put at least one thing in there that is your story - you might copy the whole thing but the chair is you," she says.
"Save up and wait for those heirloom or investment pieces, which should be a chair, a rug and a lamp. They are the pieces you can talk about and connect with as a family.
"You do not have to pay exorbitant prices for them, but find a chair made with love from a craftsman that has a little store, or a rug that is woven in a village and is ethically made - these pieces have a story and you can feel that.
"When you build a new house, they are giving you the building blocks to tell your story inside."
Extend the palette
Shaynna says the kitchen, bathroom and ensuite are where you start to build on the foundations by adding to your palette with new colours (say an extra grey, a turquoise or blue) and your fittings and fixtures (for example brass, black or chrome).
"These are the layers that complete your home and you should always look at the palette as the base and then extend on that," says Shaynna.
"Each of these rooms can have its own point of difference, as having every room look the same can feel peaceful and gorgeous, but it can also start to feel un-memorable.
"Your powder room, your bedroom, your ensuite, your study (if you have one) - these are your closed-door, private spaces and you have license to go wild here and do whatever you want!
"Everything else is a communal area, where you should use fashion styling pieces to make them feel different."
Mix, match and add
You have your building blocks, but don't be afraid to mix it up, says Shaynna.
"I like to have a digital mood board, so it is easy to build on and make changes," she says.
"You may just want subtle differences such as changing a feature tile from a light green to a dark colour, and if that is as far as you want to go that is okay. All of a sudden, a small change like that can change the overall palette.
"This is where styling comes in to play too, with the softness of the fabric of the curtain or the couch breaking up the palette.
"Have your starting point, see what works and add and take away from there."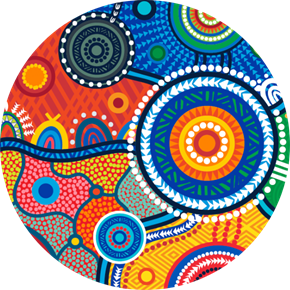 Mirvac acknowledges Aboriginal and Torres Strait Islander peoples as the Traditional Owners of the lands and waters of Australia, and we offer our respect to their Elders past and present.
Artwork: 'Reimagining Country', created by Riki Salam (Mualgal, Kaurareg, Kuku Yalanji) of We are 27 Creative.