Community First As New Stories Unfold
For more than 65 years Channel 9 broadcast news and entertainment from an iconic hilltop in Willoughby. With its departure, Mirvac is transforming the 3.2 hectare site on Sydney's prestigious lower north shore into a residential community, and with it come benefits for all.
The provision of around 6,500sqm of publicly accessible open space at NINE by Mirvac, including parks, gardens, a playground, barbecue and dining facilities, and a community pavilion, continues Mirvac's people centric approach to urban renewal.

It's a means of breaking down barriers between established communities and new, bringing the public into the new space and re-integrating with the urban fabric.

The approach has proven successful at other major urban renewal projects, such as Harold Park in inner-Sydney where 1,300 new homes came with the community benefit of around 10,000sqm of open space and parkland. At Marrick & Co, in the inner-west Sydney suburb of Marrickville, the delivery of a much-loved award winning library, paved the way for a highly integrated residential community that takes pride in its shared spaces.

The masterplan for NINE by Mirvac, developed by award winning architecture firm, Chrofi, with architecture and design in collaboration with Mirvac Design and international landscape architects, McGregor Coxall, put community at the heart of the project, with emphasis on the word respect.

Chrofi Director Tai Ropiha recalls: "Community consultation made it clear how important it was to the local community that their values were preserved.

"In a very respectful way we proposed a design that will meet community needs and give back more of the site to the public."
When Mirvac acquired the site in 2020, the masterplan, incorporating generous open space and 10 residential buildings of varied architectural style and height, had already won approval. The work then began in earnest to refine the design of the residences and landscaping, to meet the customer needs and quality benchmarks expected of a legacy Mirvac project.

No stranger to Sydney's north side, Mirvac's return to its heartland has been welcomed by loyal customers aware of the rare opportunity to live in a Mirvac community around seven minutes' drive from the Sydney CBD.

Mirvac General Manager, Residential Development NSW, Toby Long, says the company felt strongly that it was destined to take ownership of the highly prized Willoughby site.

"When we acquired this site in 2020, we were of the strong belief that this opportunity was meant for us; that we were the best developer to do it justice and provide the outcome that Willoughby needed and wanted," says Mr Long.

"We know from experience, that whenever you undertake this type of urban transformation, it is important to bring the community with you. The change from commercial to residential use will gift to the people of Willoughby, and our new residents, 6,500sqm of new green space.

"This merging of the private and public domain is a formula that has produced some of Sydney's most cherished places.

"On a smaller scale, our approach to new developments on the north shore has won us a legion of local fans. Developments such as Latitude at Lavender Bay, Seldon at Lindfield, Pacific Place at Chatswood and more recently St Leonards Square. In each instance, the architecture was right for its time and place."
Below: Lot 4 at Nine Outdoor Living Area
Below Right: Images of Nine exterior and Green Spaces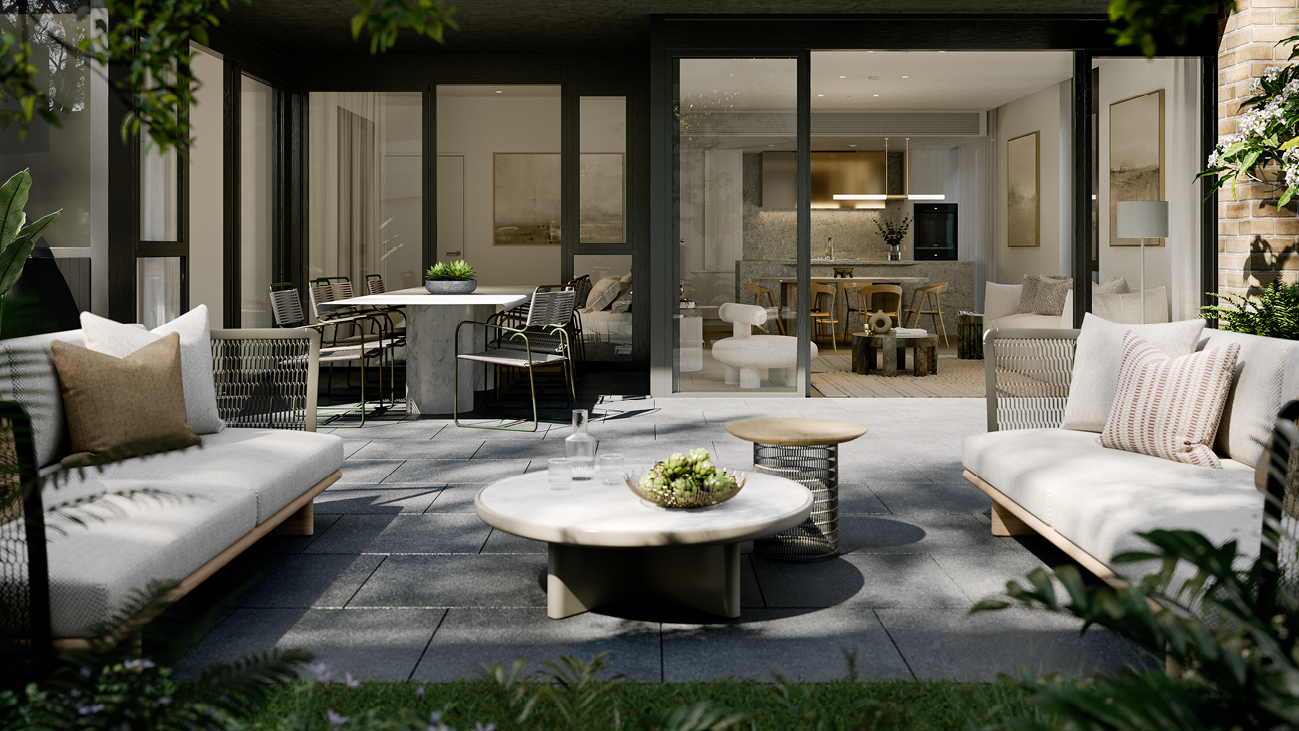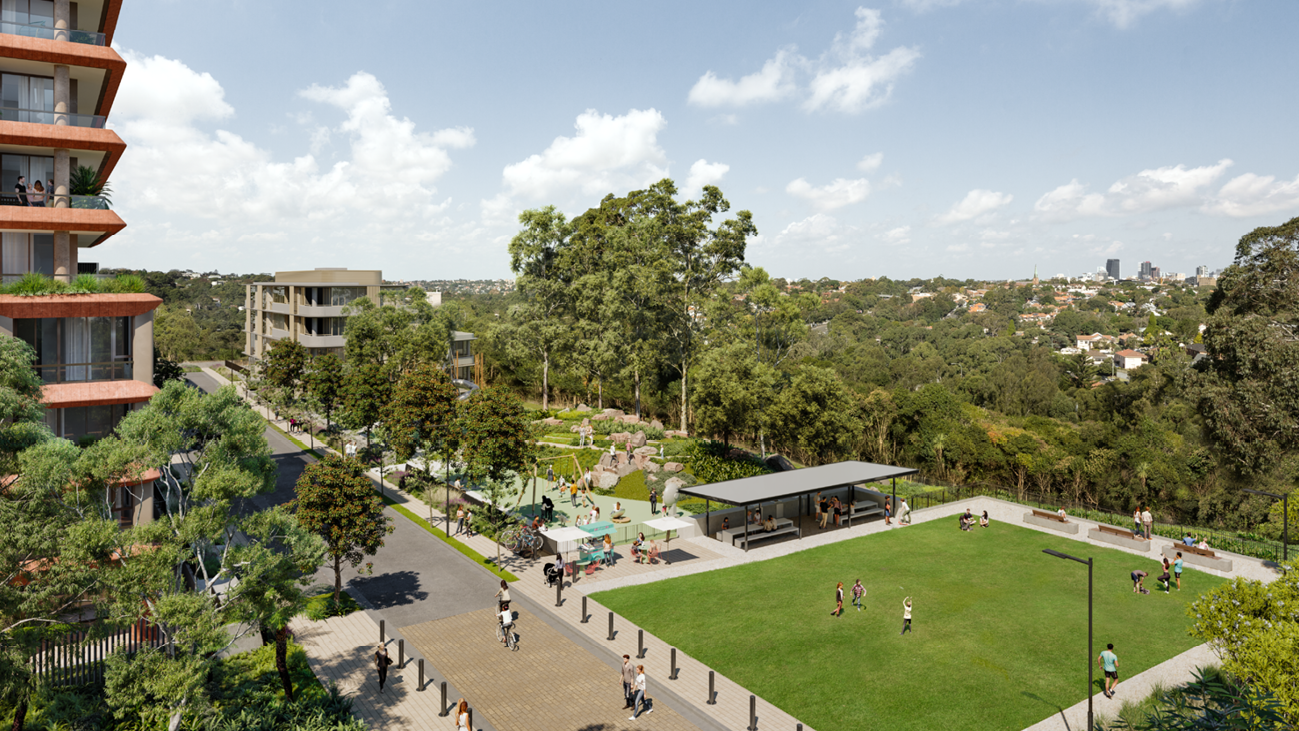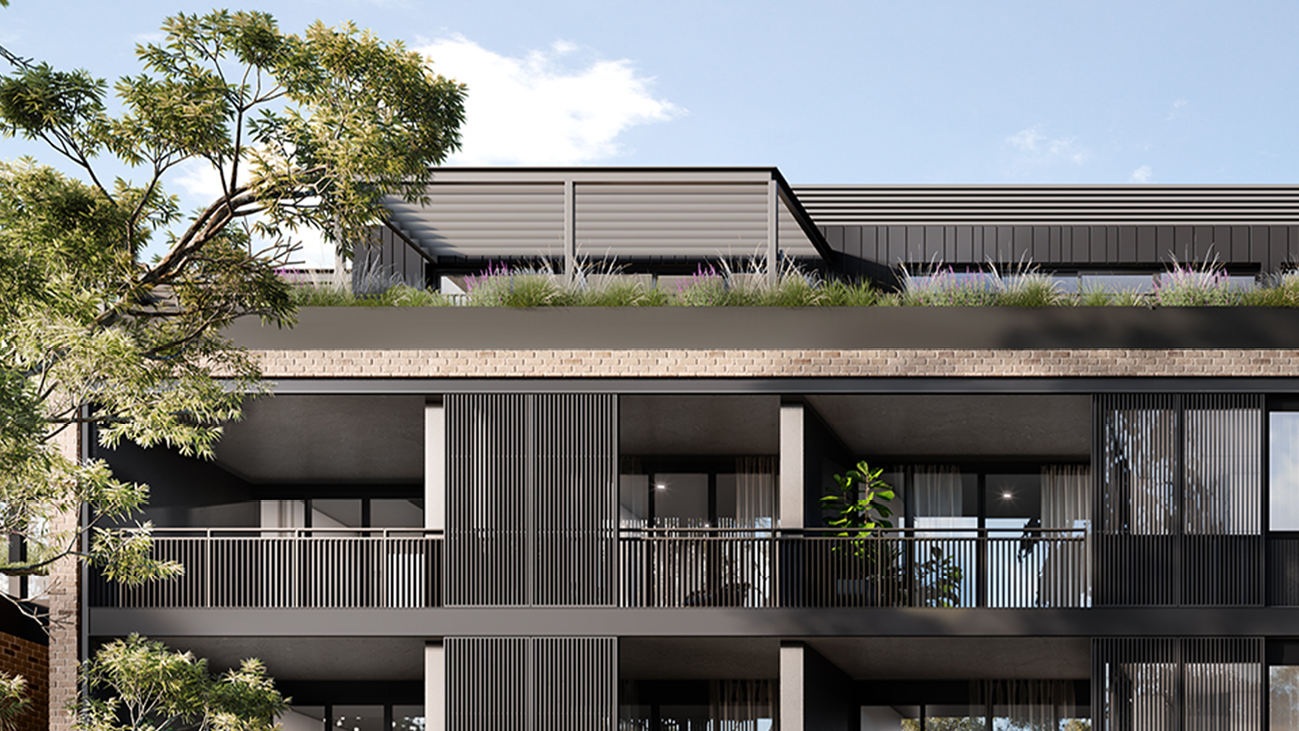 The integration of new homes in a neighbourhood dominated by single storey Federation homes has been approached with a sensitivity that demonstrates Mirvac and Chrofi's understanding of the very human desire to resist change unless there are demonstrable benefits.
"This is a site that has been locked away from public use for more than 65 years," says Mr Long. "When the old Channel 9 buildings were demolished it became clear that one of the greatest gifts to the community would be the reintegration of the site into the existing neighbourhood."
Tai Ropiha explains how a gentle interface with the Willoughby street network will be achieved by positioning low-rise buildings at the street edge and taller buildings, which capture leafy district views, in the middle of the site.
"The architecture extends the masterplan principles, deepening the connection of the project to the place," says Mr Ropiha. "At the edges are low scale Federation buildings, designed to complement the century old houses of Willoughby through the use of brickwork and a rhythm to the facades that matches the grain of the detached houses.
"At the centre of the site are the Aspect buildings which are contemporary and sculptural, celebrating the core ambition of apartment living; to have access to light, air and views.
"Then the Reserve buildings with their organic curves that sit as part of the green belt on the lower part of the site, having an intimate outlook into the park system."
There is an air of quiet, timeless elegance to the buildings, every one of them different in either their architecture or materiality, though clearly related, like siblings. Restraint and modesty, too, that is reflected in interiors that express luxury through the quality of the bespoke detailing and use of natural materials, and planning that encourages a comfortable indoor-outdoor lifestyle connected to nature.
Mirvac Design Director Nicolas Thioulouse, says the entire design team recognised that NINE by Mirvac presented an opportunity to create a truly special place, whose impact went beyond architecture to create benefits for future residents as well as the wider community.
"As designers we have the power to bring happiness and joy, moments of surprise and delight; to create spaces that relieve feelings of stress and loneliness and to give people a sense of belonging, being part of a community of friends and neighbours," says Mr Thioulouse.
"We had many designers working on NINE by Mirvac and we worked closely together to refine every aspect of the indoors and outdoors to create a place that is memorable and joyful."
A place where stories were told for 65 years and where new stories will unfold and new memories will be formed.
Nine
Location: Willoughby, NSW
Construction underway.
Display Gallery: 6 Artarmon Road, Willoughby
(02) 9080 8888
nine.mirvac.com
For full image disclaimers please visit nine.mirvac.com.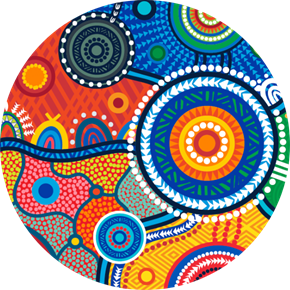 Mirvac acknowledges Aboriginal and Torres Strait Islander peoples as the Traditional Owners of the lands and waters of Australia, and we offer our respect to their Elders past and present.
Artwork: 'Reimagining Country', created by Riki Salam (Mualgal, Kaurareg, Kuku Yalanji) of We are 27 Creative.