Dedicated Design for a Better Future
Learn about sustainable living at Marrick & Co by Mirvac.
How attention to small details is making a big impact at Marrick & Co.
This year, the first residents at Marrick & Co, Mirvac's flag-bearer for sustainable living in the inner-Sydney suburb of Marrickville, will move into their new homes.
The magnificence of the finished product will be obvious to all. What won't be obvious, but will quickly be appreciated by all who live there, is the exhaustive process that every one of the 225 apartments has been put through to perfect the design – relocating windows to optimise views, tweaking floorplans to improve flow, adjusting door swings for extra space, altering benchtop mitres to enhance durability.
No detail is too small to be put under the microscope of the Marrick & Co design team, led by Mirvac Design Architect Kim Bazeley. A typical floorplan will go through more than a dozen revisions until she and her co-designers are happy. Then it's scrutinised again by an internal design review panel and subjected to an external architect critique.
3D models are created with cameras inserted to gauge views and sight lines, identifying potential privacy or cross-viewing issues that could be eliminated through screens and louvres. Full-size kitchens and bathroom prototypes are constructed and put through a series of rigorous kick, scuff and spill tests to ensure they'll withstand the hard knocks of daily living.
After 47 years designing and building some of Australia's most acclaimed mid and high-rise communities, Bazeley is grateful for the wealth of proven design data available to her at Mirvac, but says good design is continually evolving to enhance modern society.
Mirvac has a huge catalogue of design standards but that doesn't mean we do the same thing over and over again. We want to be innovative, use different materials and stay on trend.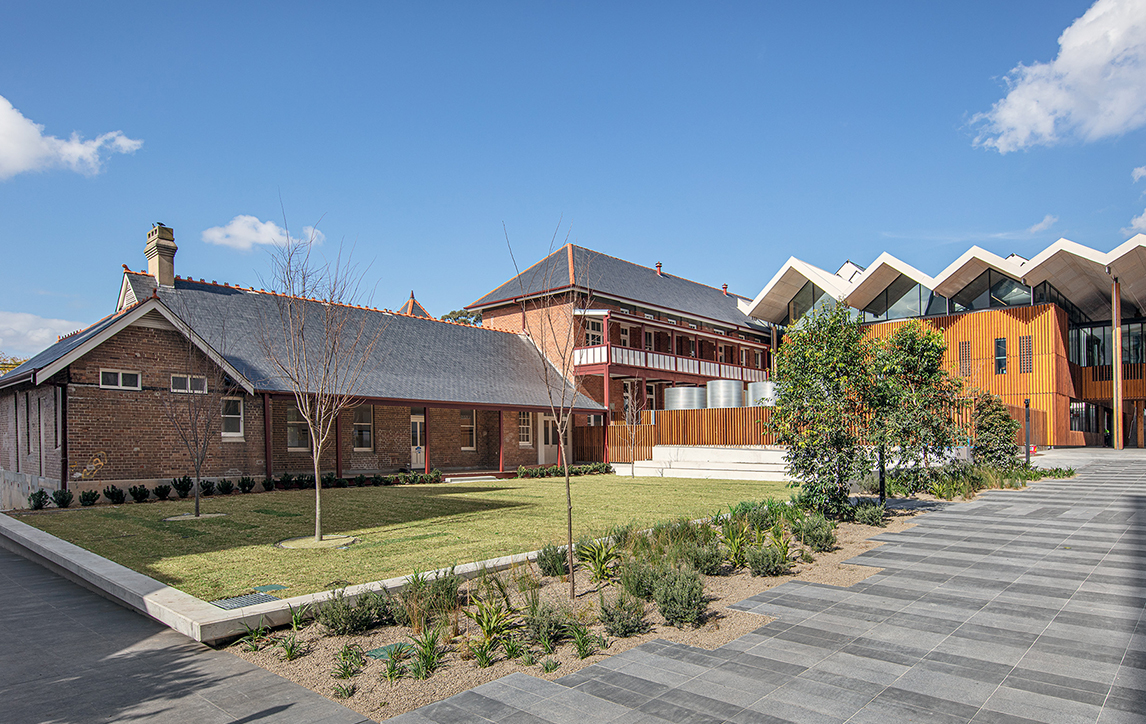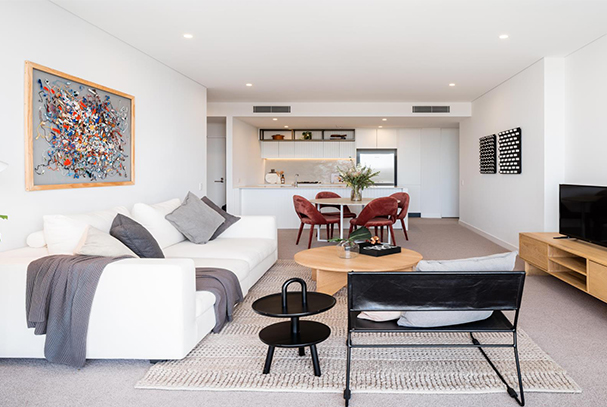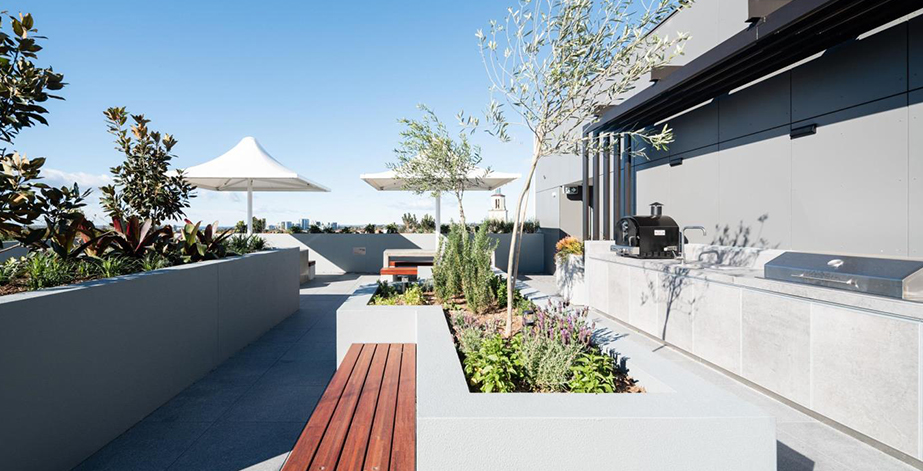 Materials have certainly changed over the decades but lifestyles have undergone a radical shift, thanks in part to technology, work practices and family composition. At Marrick & Co, where design has been heavily influenced by One Planet Living principles, there's been a conscious effort to embrace greater sustainability and create apartments that have the flexibility to cater to many different types of individuals or families.
The multiple attractions of Mirvac's first venture in Marrickville have drawn residents as diverse as the suburb itself. The lure of a fabulous new library and community hub, an architectural statement in its own right, and located onsite, has proven compelling for the growing number of people who work from home, while the promise of books, a park and childrens garden have obvious appeal for families with children. Marrickville's status as one of the last bastions of live music combined with a thriving cafe culture have tempted plenty of young professionals. Ditto for the many downsizers, free of children and ready to resume where their younger selves left off.
The challenge for the Mirvac Design team, and co-architects Tim Greer and Ksenia Totoeva from TZG, was to produce apartments that would match the way this hugely diverse group of new residents might want to live. Flexibility was an important element, with a number of apartments and terraces that can adapt through different life stages. The two level-terraces, for instance, are a natural choice for a family.
Add a third bathroom at ground level, to save running up and down stairs, linked to a multi-purpose front room, and the appeal broadens to empty nesters who often want ease of mobility. In larger apartments, wherever possible, a second living zone is created to cater to the needs of busy families where divergent activities can all be accommodated, whether it be a media space or study.
"You have to mentally walk through the entire apartment to see where any potential improvements lie, looking for the balance between outlook and privacy, thinking about how people live," says Bazeley. "There are lots of little things that most people don't consider until it becomes a source of irritation. Like coming into the apartment, finding the light switch in the right spot, having a place to drop your keys and bag, plug in your phone, stash away the toys. Or locating the ensuite so a light doesn't disturb a sleeping partner, or provide a bird's-eye view to the toilet. "We've thought about every little detail down to the micro level. It's that high level of review and documentation which sets us apart.
One Planet Living at Marrick & Co
1. Energy
Passive design and LED lighting to reduce energy. Solar PV and battery technology, lighting with motion sensors and ventilation with efficiency controls to reduce common area power consumption.
2. Waste
Ninety five per cent of construction waste diverted from landfill. Separated waste and recycling bins provided in kitchen joinery. Composting facilities and worm farms in the kitchen garden.
3. Transport Walking distance to train, future metro, shops, cafes. Two-car share bays on site and four electric vehicle charging points with provision for additional charge points plus bike parking.
4. Materials
Low-VOC paints, adhesives and sealants; all engineered timber low or zero formaldehyde for healthy internal spaces. Carpets and joinery environmentally certified by third party organisations.
5. Food
Walking distance to numerous fresh and healthy food stores. A kitchen garden on the ground level and a communal garden on the rooftop which is also equipped with barbecue facilities.
6. Water
Twenty-five per cent reduction in mains water through efficient fittings, fixtures and reused rainwater. Water sensitive urban design to filter water and reduce run-off, ensuring cleaner waterways.
7. Biodiversity
Open spaces designed to provide significant new biodiversity and provide human comfort in outdoor spaces, food production and stormwater filtration. Increased tree canopy cover for shade.
8. Culture
Heritage is retained through adaptive reuse of the Heritage buildings. Seed funding to establish a One Planet Living community group and Facebook group to help residents connect and form interest groups. Shared library space, communal gardens and common spaces to encourage interaction between residents.
9. Economy
Local, sustainable and ethical businesses promoted through marketing campaigns. NBN connection, study nooks in apartments and the library provides options for working from home. Nine affordable housing apartments provided and 20% adaptable apartments.
10. Health
One-year of free fitness classes hosted on The Common. Crime prevention through well-lit, open spaces, public realm and passive surveillance. Most amenities within walking distance, encouraging active living.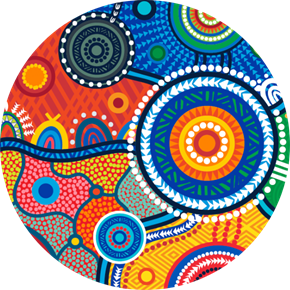 Mirvac acknowledges Aboriginal and Torres Strait Islander peoples as the Traditional Owners of the lands and waters of Australia, and we offer our respect to their Elders past and present.
Artwork: 'Reimagining Country', created by Riki Salam (Mualgal, Kaurareg, Kuku Yalanji) of We are 27 Creative.