Food for Good
Food for good. See the sustainable recipes by Song Kitchen, supporters of the YWCA. From lime drizzle cake to a watermelon salad recipe.
Everytime you order these delicious meals from Song Café, in Mirvac Sydney headquarters, or Song Kitchen, you help build a safer world for women and children.

WATERMELON AND PEARL COUSCOUS SALAD
INGREDIENTS
½ seeded watermelon – cut into bite size chunks
3 lebanese cucumbers – cut into half lengthways and sliced
½ Spanish onion – sliced
1 punnet yellow cherry tomatoes – cut in half
½ cos lettuce leaves
½ bunch fresh mint – roughly chopped
½ bunch coriander – roughly chopped
½ pomegranate – scoop out seeds and put aside
1 cup of feta – crumbled
2 cups of pearl couscous
balsamic vinegar
salt and pepper to season
METHOD
1. Cook the pearl couscous as per directions on the packet. Drain and set aside to cool.
2. Wash and dry lettuce leaves – tear leaves into thirds and place on serving platter, follow with cut watermelon pieces, onions, cucumber, mint leaves coriander leaves – lightly toss ingredients.
3. Sprinkle feta over the salad followed with the pomegranate seeds, add salt and pepper then drizzle with balsamic vinegar before serving.


COLD SMOKED SALMON WITH HORSERADISH CREAM AND GREEN LEAVES
Recipe from Song Kitchen.
INGREDIENTS
Cold smoked salmon
200g salmon fillet (keep the skin on)
For each 200g fillet use:
6g juniper berries
1 clove
1 star anise
4g coriander seeds
3g white peppercorns
18g fine salt
14g brown sugar
Cowboy pecan wood chips
(available from essential ingredient)
40 grams per 200g salmon fillet

Horseradish cream (serves 4)
1 cup of crème fraiche
½ tsp lemon juice
2½ tbsp fresh grated horseradish
White pepper, sprinkle to taste

To serve
caperberries
dill fronds
watercress
extra virgin olive oil
lemon juice
char-grilled sourdough break
METHOD
Preparation
1. Place clove, star anise, coriander seeds and white peppercorns on a baking tray and cook in a oven preheated to 160C for a few minutes (to release the aromas not cook).
2. Remove and cool to room temperature.
3. Grind all the dry spices in a grinder, (medium-fine).
4. Transfer dry spices to a bowl then add salt and brown sugar and mix.
5. Place fish fillets on a tray, sprinkle spice mix evenly over the salmon flesh (not skin) and then cover with cling wrap.
6. Leave to cure for 36 hours in the fridge.
7. Rinse salmon and pat dry with clean cloth.
8. Place fillets on a clean oven tray and return to the fridge.
9. Leave for 2 days until the fillet looks matte dry.
10. Remove tray from fridge and transfer to the middle rung of a cold, well-sealed oven.
11. Meanwhile fill two trays with ice cubes.
12. Place one ice tray on the highest rung of the oven. am
13. Place the second tray on the floor/ base of the oven.

Cold Smoking Process
1. Heat 40g of woodchips (per fillet) in a cast-iron pan until smoking (no flames)
2. Place the smoking cast iron pan into the cold oven, on the lower rung, underneath the salmon tray and above the lowest ice tray.
3. Close oven and do not disturb for 45 minutes.
4. Remove salmon from oven and place in the fridge.
5. Allow the salmon to cool and rest for half a day before serving.
*The ice is used to cool and offset any transient heat from the wood smoke and hot pan.

Horseradish Cream (serves 4)
1. Place all ingredients in a bowl and mix together. Cover with cling wrap and refrigerate until ready to use.

To Serve
1. Slice salmon thinly with a well sharpened knife.
2. Arrange watercress (as a light fresh base) and lay the salmon on close by.
3. Layer a tablespoon of horseradish cream across the salmon.
4. Garnish with caperberries, dill fronds, watercress.
5. Drizzle with extra virgin olive oil and lemon juice. Serve with chargrilled
(or toasted) sourdough bread.
NOTE: The salmon will last for up to 2 weeks in the fridge.

LIME COCONUT SYRUP CAKE
This recipe was developed by Luke McKenzie-Brock, Manager of Song Cafe. It is one of the most popular orders for afternoon tea.
INGREDIENTS
125g butter – softened
3-4 limes – for syrup
1 tablespoon grated lime rind
1 cup caster sugar (220gm)
3 eggs
1¾ cups self-raising flour
1½ cups desiccated coconut
½ cup vanilla yoghurt (125ml)
½ cup milk (125ml)

Lime syrup
½ cup lime juice
¾ cup caster sugar
½ cup water

Garnish
crushed pistachio nuts
desiccated coconut
julienned lime zest
METHOD
1. Preheat oven to 180C/160C fan forced. Grease a 20cm spring-forced cake pan.
2. Beat butter, rind and caster sugar in a medium bowl with an electric mixer until light and fluffy.
3. Carefully beat in eggs (one at a time), add sifted flour, coconut, yoghurt, milk, rind with a large spoon until combined. Spread mixture into the cake pan evenly and bake for 40-45 minutes.
4. Remove from the oven and let stand for 5 minutes then turn topside up onto a cake rack for 3 minutes (make Lime Syrup whilst cake is resting).
5. To make lime syrup, place caster sugar and water in a saucepan over a medium heat. Bring water to a gentle boil and dissolve sugar. Once sugar is dissolved remove from heat and add lime juice.
To serve
Serve cake on a large platter and place the cake in the centre, drizzle hot lime syrup over the cake (it will soak into the cake), sprinkle over crushed pistachio nuts, coconut and lime zest.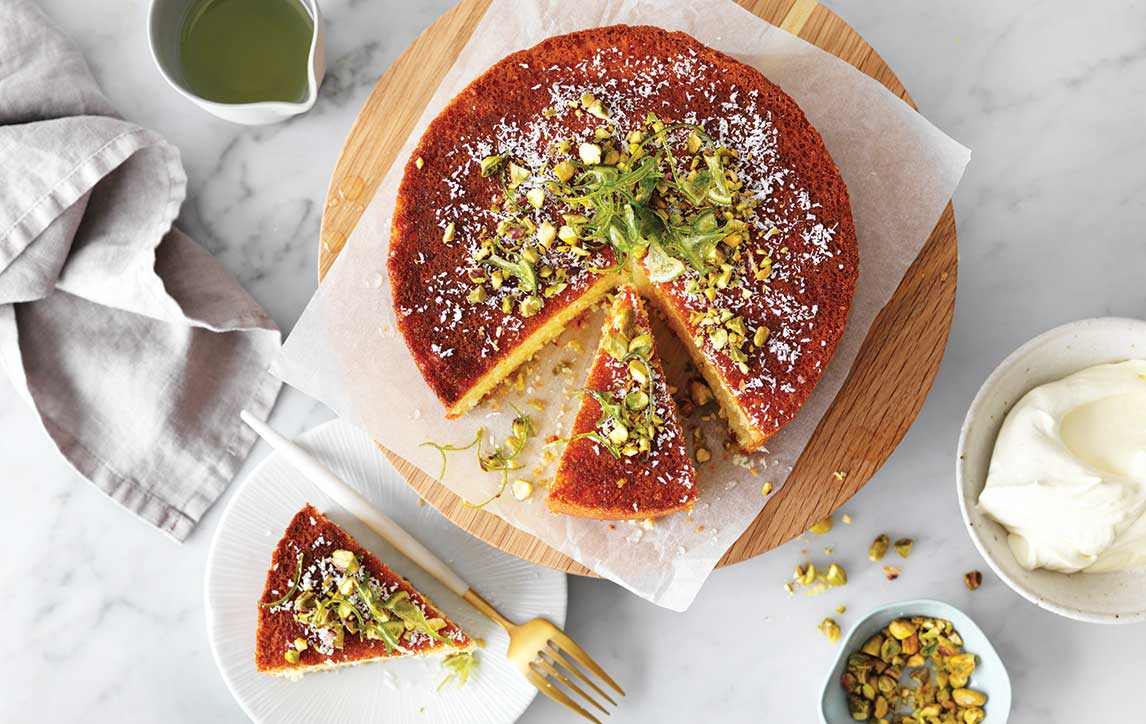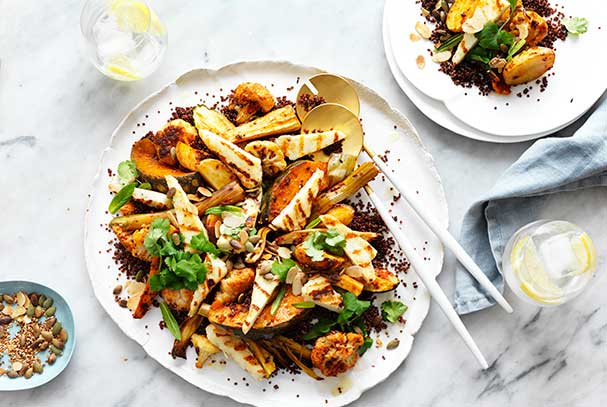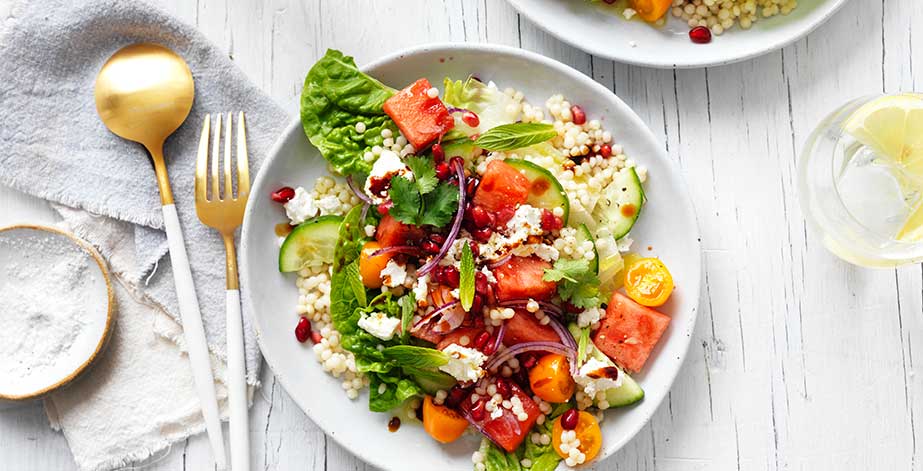 HARISSA VEGETABLES WITH HALOUMI & QUINOA
INGREDIENTS
Kent pumpkin – skin on, seeded cut into wedges
½ cauliflower – cut into florets
2 leeks – base only cut into quarters lengthways
2 zucchinis – cut into halves lengthways, sliced medium
4 small parsnips – peeled, ends trimmed
8 small potato's – skin on, quartered lengthways
1 cup red quinoa – rinsed, drained
200gm haloumi – thickly sliced
2 tsp sesame seeds toasted
1 tbs pepitas toasted
½ bunch coriander – remove & coarsely tear the leaves
½ bunch mint - remove & coarsely tear the leaves
10 almonds (toasted & chopped)

Harissa
4 cloves garlic – peeled, crushed
4 red chillies – medium size, tops
3 tsp cumin seeds toasted
1 tsp coriander seeds toasted
1 tsp ground smoked paprika
Handful of cherry tomato's
¼ cup (60ml) olive oil
Zest and juice of 1 lemon
METHOD
Quinoa
1. Combine the quinoa and 1½ cups (370ml) water in a saucepan over a high heat, bring to the boil.
2. Cover and reduce heat to a low simmer for 15 minutes or until the liquid is absorbed and the quinoa is tender.
3. Set aside, covered, for 5 minutes to steam. Separate the grains with a fork before serving.
Harissa
1. Place the chillies, garlic, paprika, cherry tomatoes, cumin and coriander seeds into a food processor.
2. Pulse until a paste starts to form.
3. Add the olive oil, lemon juice and zest with a generous pinch of salt and pulse until combined but not completely smooth.
4. Rub the harissa over the pumpkin, cauliflower, parsnips, potatoes & zucchini's. y Place aside in a well-oiled large baking dish or roasting pan for an hour to allow the flavours to combine.
For the vegetables
1. Preheat oven to 200C / 180C fan-forced.
2. Place the vegetables (uncovered) on the middle rack of the oven 45 minutes or until the potatoes and pumpkin are tender and golden. Turn oven off and leave to rest in the oven while you cook the haloumi.
For the haloumi
1. Heat a large non-stick frying pan over high heat. Give the pan a light grease with some butter to stop the haloumi catching.
2. Cook the haloumi in batches for 2 minutes either side or until it is golden brown.
To serve
1. Using a large serving platter, build the dish up with the different components starting with quinoa.
2. Next arrange the harissa vegetables on top of the quinoa, top with the haloumi, sprinkle with the sesame seeds, pepitas, almonds, coriander and mint leaves.
3. Finish by drizzling some balsamic vinegar or a citrus dressing over the top.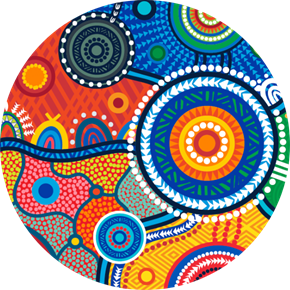 Mirvac acknowledges Aboriginal and Torres Strait Islander peoples as the Traditional Owners of the lands and waters of Australia, and we offer our respect to their Elders past and present.
Artwork: 'Reimagining Country', created by Riki Salam (Mualgal, Kaurareg, Kuku Yalanji) of We are 27 Creative.