How to Downsize Your Home Without the Stress
How to downsize from a home to an apartment without stress. From getting rid of belongings to packing and moving.
Many people choose to downsize to a smaller house or apartment in pursuit of a better standard of living, or to create a little nest egg for retirement once their children have grown and moved out.
In almost every case, however, the actual act of moving when downsizing is a daunting prospect. Oftentimes, when downsizing, you are packing up the family home that has been lived in for 20 years or more. It's probably full to the brim of memories, mementos, and plenty of furniture. The problem is, now you've got to fit all your treasures into a new home that you've chosen specifically because it's, well, smaller.
But be daunted only momentarily, because here you'll find a compilation of the very best tips out there to help you downsize your home with minimal stress, and maximum reward.
Number One: Lists
Making relevant moving house checklists will help you organise exactly what it is you do and don't need in your new home. Start by considering those things you love, and those items that you absolutely cannot be without—the sentimental and the practical.
While it may seem like a big undertaking, it can often help to make a full inventory of all your belongings. Once complete, you can use this inventory to create actionable sub-lists, such as 'Donate', 'Sell', 'Dispose Of'.
If you come to realise that you just can't make up your mind about certain items - there is no harm in creating a 'Storage' list. If the thought of parting with all your worldly possessions in one fell swoop is too much to bear, consider placing some items in secure storage for six months. If, in six months' time, you haven't missed your treasures, then it might be time to sell, rather than continue to store.
Number Two: Call in a Mediator
If you find yourself at an impasse, and really just cannot make a decision on what to do with some of your treasures, then it might be time to call in a mediator. Most people don't think of this, but it's quite a nifty tactic. By inviting over a friend or family member to offer their opinion regarding certain items you're on the fence about taking, you open yourself to a new perspective that could ease your mind.
Number Three: Start Early
Starting your downsizing preparations early is probably the best piece of advice we can offer. A solid rule of thumb to consider is this: however long you think it will take to sort, pack and store your treasures—double it, and you will be getting close.
Exactly how early you should start organising your downsize will depend heavily on a number of variables, including the size difference between your existing and new properties, and the volume of your belongings. But with smart actions, three months should be enough time to get everything organised. We suggest the following:
If you want to relieve your stress levels somewhat, look into investing in the services of a reputable moving company.
Professional movers will offer an array of ancillary services, such as packing and unpacking, and secure storage. You may find that, with just one phone call, your entire move is taken care of.
When it comes to packing, begin by dealing with things that will disrupt your life the least, like the contents of your basement and roof space, as well as rarely used books and trinkets.
Start early on all those pesky pieces of paperwork. Changing your address and switching utility service providers can all be organised ahead of time.

Number Four: Take Note of Room Dimensions
You're moving into a smaller space, so you need to know exactly how much space you have. You need to be aware of the dimensions of key rooms in your new place. It's no use keeping furniture that simply won't fit. And, if it won't fit, then you may need to purchase and order new furniture that will fit. Keep in mind that furniture can take a couple of months to be delivered after ordering.
Number Five: Store Wisely
Whilst you are downsizing, you might be able to create more space than you think. There are a number of highly effective storage solutions that will maximise the space in your new home.
Certain pieces of furniture, like ottomans and beds can come with built in storage without detracting from aesthetics.
Adding another shelf above a cabinet here or there can work wonders.
Maximise your storage space inside cupboards by choosing rectangular or square shaped containers rather than circular.
Downsizing can throw up a number of really difficult doozies. You'll likely need to let go of some treasures, and you might even need to take up some external storage. But with forward planning, and considered thought, downsizing doesn't need to be as stressful as it might first seem.
Written by a Guest Writer from Kent Removals & Storage.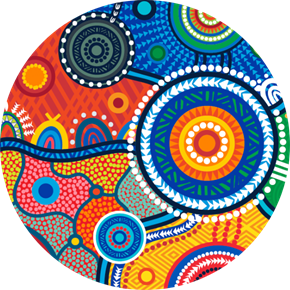 Mirvac acknowledges Aboriginal and Torres Strait Islander peoples as the Traditional Owners of the lands and waters of Australia, and we offer our respect to their Elders past and present.
Artwork: 'Reimagining Country', created by Riki Salam (Mualgal, Kaurareg, Kuku Yalanji) of We are 27 Creative.