My Ideal House Designs
Discover the designs for the dream Australian home with Mirvac and Australian House and Garden's competition, My Ideal House.
Mirvac and Australian House & Garden are one step closer to building Australia's ideal house.
More than 80 entries were received for our exciting new design competition. The six exceptional finalists, profiled here, stood out for their balance of aesthetics and affordability, liveability and sustainability.
Finalist 1
Jennifer McMaster and Jonathon Donnelly both trained as architects at the University of Sydney and have collaborated on several projects. In 2015 the pair won the NSW Design Medal, awarded by the Australian Institute of Architects.
Key features
A long, slender house that orients itself towards a generous north-facing yard. Inside, the southern wall provides plenty of joinery for storage and nooks for reading and retreating. Two primary materials are used throughout, rendered masonry and weatherboard. Windows, screens and ventilation flaps are on hinges, adding movement and playfulness to the structure. Upstairs, adults' and children's zones are linked by a walkway across a void.
"This is a restrained and thoughtful design. I get the sense that this would be an extremely liveable home."
Lisa Green, Editor In Chief, H&G
"A highly resolved, elegant design. It has considerable 'leadership' quality if one of the strongest ideals is to wind back house sizes while preserving 'breathing space' in suburbia."
Steve King, Architect and Sustainability Consultant, Linarch
"This design returns to the idea that project homes can be well designed, attainable and modest. The ground floor is defined by rendered blade walls; they bring an element of protection to the downstairs rooms. The loose footprint of the garage makes it easy to retrofit as a granny flat, teenage retreat or office." - Designers' statement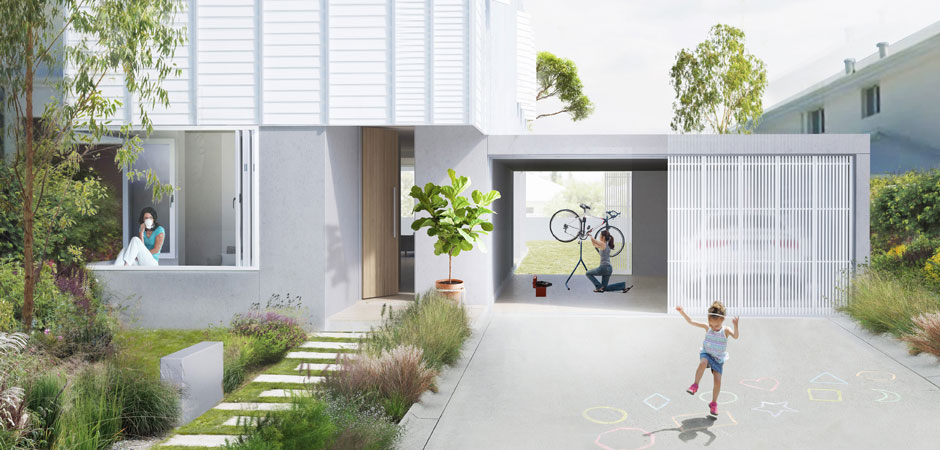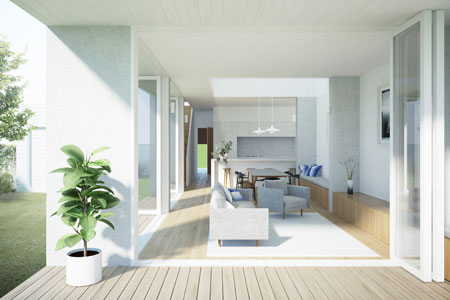 Finalist 2
Gemma Savio and Anthony Parsons graduated from the University of Newcastle with Masters of Architecture degrees in 2012 and now mix practice with further architectural studies.

Key features Timber battens are used to dramatic effect. An internal courtyard allows sunlight into every room in the house. High-set windows and louvres further promote natural light and cross-ventilation. There is also a smaller courtyard between the carport and kitchen, the ideal spot for a vegetable patch. This "Japanese meets Sydney School" home design makes use of standard building materials and a disciplined planning grid in a bid to keep it cost-efficient.
"We've reinterpreted the suburban backyard and moved it into an enclosed courtyard, so it's quite literally the centre of the owners' lifestyle." - Designers' statement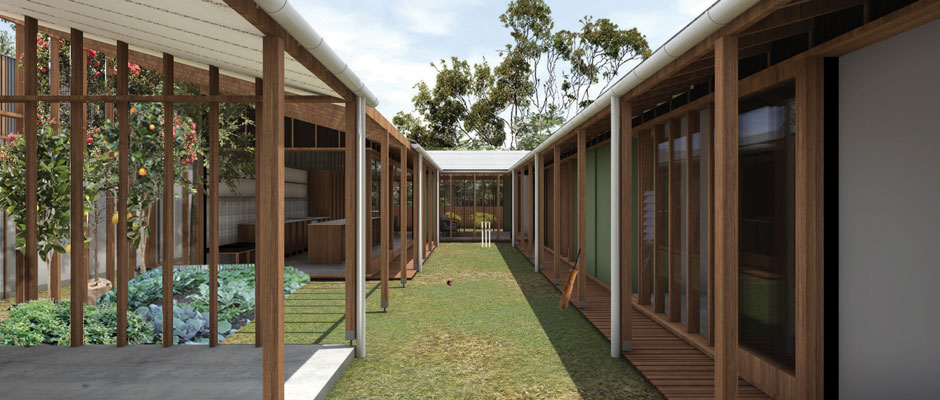 Finalist 3
Simon Mather, Alberto Quizon and Lisa Pont are friends drawn together by their passion for space and place. The pair of architects and Lisa, a development manager, decided to band together to submit their My Ideal House entry.

Key features Flexible spaces form the backbone of this double-level design. Its footprint is intentionally compact to minimise energy loads and to acknowledge the embodied energy of the building materials used. A study nook is incorporated into the kitchen/dining area. Outdoor elements play an important role in the design, with a verandah, edible garden and play lawn all accommodated.
"This design was very well resolved."

Peter Cotton, Design Advisor, Mirvac Design
"We wanted to present a dignified, multi-generational home that's centred around one of the most undervalued elements of the house: its garden. Our design balances open-plan living with flexible, multipurpose spaces that allow family members to work or retreat without disconnection from the rest of the household." - Designers' statement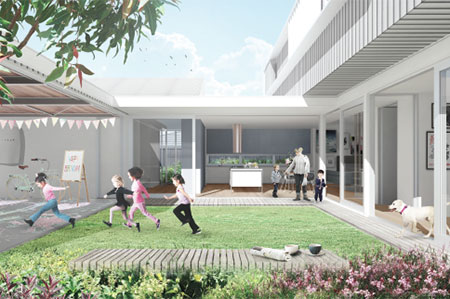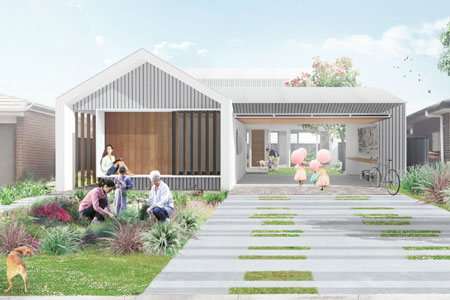 Finalist 4
Sophie Dyring and Catherine Ranger Director of
Schored Projects
, Sophie has more than 17 years' industry experience as both a design and project architect on local, international, public and private collaborations. Catherine is an architect with 12 years of industry experience and a passion for residential design.
Key features
Passive design principles govern the spatial layout. The house is planned around three external spaces that connect seamlessly with the interiors. Investment is directed into the street facade while the less visible rear aspect relies on common, lightweight building materials. Construction waste is kept to a minimum through setting ceiling and wall heights to match off-the-shelf sheet sizes.
"This plan focuses on adaptability and allows people to stay in their home, and therefore community, as the household changes over time. Importance is placed on sustainable, drought-tolerant landscaping. Because our society in general is so time-poor, getting back to nature is becoming more difficult. That's why we have brought nature into the home environment." - Designers' statement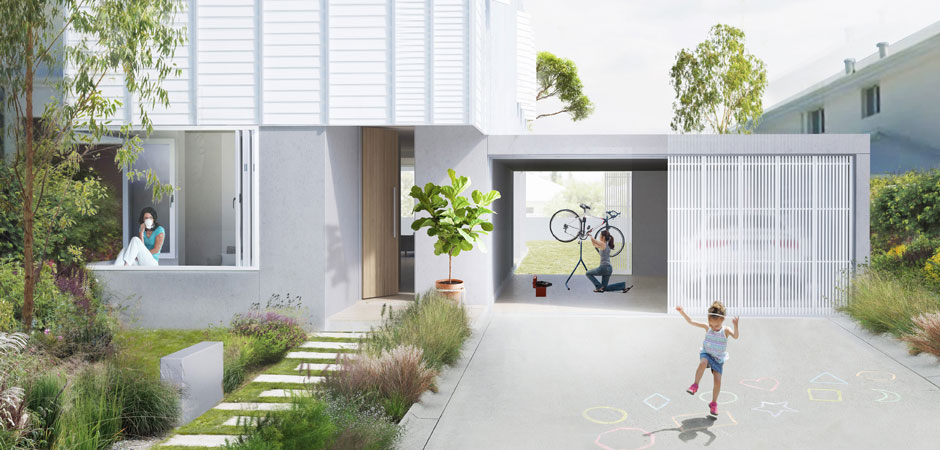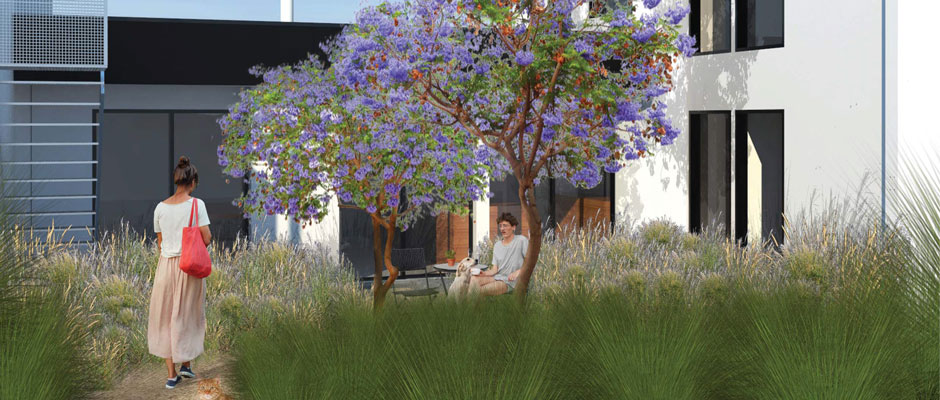 Finalist 5
Madeleine Blanchfield's name may be familiar to H&G readers. A lovely bathroom from a home project she had designed in Gordon's Bay, Sydney, took out H&G's Top 50 Rooms award in 2013. The Sydney architect leads a studio of six architects and interior designers.

Key features This design allows for a compact two-storey residence at the front of the block and a flexible indoor/outdoor pavilion at the rear. Painted fibre-cement sheets with V-shaped grooves convey the feel of a timber home with none of the maintenance. In the pavilion, post-and-beam construction and a pergola-like roofline blur the lines between indoors and out.

Its strength is its flexibility in altering rom modules and floor plans catering to a broad audience with minimal impact.

"This design is elegant in its execution. It demonstrates that magnificent scale and generosity in the living spaces can be achieved in a house of relatively modest size. A beautiful street façade and even more beautiful interiors, spilling to generous outdoor spaces."

Steve King
"This home does not strive to be a mansion for the price of a hut. It's a modestly sized home and there are no superfluous spaces. The openness and connection to the garden make all spaces feel big even if they are compact. Flower boxes, repetitive structures with small spans and modular window elements are simple time-tested ideas that help the house meet the humble budget." - Designers' statement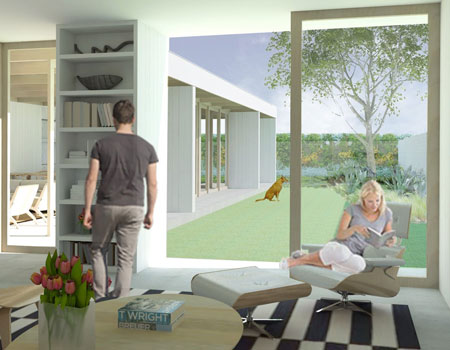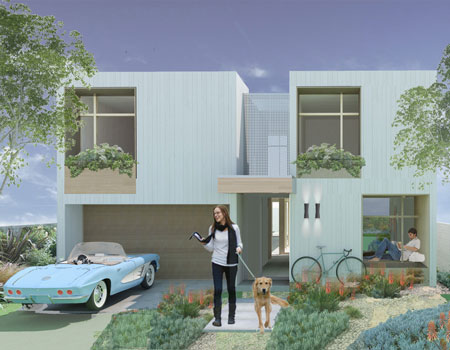 Finalist 6
Simon Anderson, Director, Gabrielle Pelletier and Rena Wang of Anderson Architecture, worked closely together to produce this flexible, sustainable home design.

Key features Sustainability and affordability were the key drivers of this design. A key feature of the home is that three sides of the structure are open to the environment. The courtyard maintains thermal comfort, bringing cool air in and ejecting warm air out through higher windows.

"The success of this design stems from its sustainability and its great materials palette."

Hannah Tribe
"The team has delivered an astute, flexible home that takes sustainability seriously, through its proposed materials and provision for the home to generate much of its energy requirements." - Designers' statement