Suburb Guide: Cheltenham
See the Cheltenham suburb guide. From gourmet cafes, restaurants and an enviable bayside lifestyle in Melbourne.
For more than a century, the main attraction of Cheltenham was the exclusive Victoria Golf Club.
Now the Melbourne suburb is blooming, with gourmet cafes, restaurants and an enviable bayside lifestyle.
It's close to bushland tracks and minutes from the beach, but Cheltenham is no backwater beach spot: attracting young families, retirees and a new breed of entrepreneur focused on community-driven businesses, this cosmopolitan hub is welcoming cool stores, gorgeous cafes and even a brewery to its streets. BYO keep cup…
1. Frank's
Owner Harry Butler named his café after his grandfather – fitting, then, that the cafe's loyal following has developed into something of a family. "I love the fact that people are proud to call Cheltenham home, and I love how incredibly supportive people are of this business," Butler says. Admittedly, with items like 'Cherry Ripe crepes' on the menu, it's not a hard place to love. The interiors don't hurt, either; a carpenter by trade, Butler created and installed the Scandi-inspired timber features himself. With monochrome accents and plenty of pot plants, Frank's is a feast for design-savvy eyes.
97 Cavanagh Street
Cheltenham, VIC 3192
(03) 9584 2620
2. Rose & Clive
Prepare your phone: Rose & Clive is part cafe, part artistic space, and you're going to want to Instagram it. Co-owners and visual artists Kate Jensen and Inigo Chiquirrin imparted plenty of their signature creativity onto the converted warehouse; indoors you'll be greeted by sleek, communal tables, beautiful black-and-white murals and a bright blue Kombi van parked by the counter. The pair, who also run mobile coffee cart Coffee Caboose, dreamed of "bringing a bit of the other side of town bayside," according to Jensen. "When we're not making coffee we're painting murals around the city and doing lots of artwork," she says. "Rose & Clive is like the headquarters: for the art, the coffee, everything."
1/16 Charlton Avenue
Cheltenham, VIC 3192
0407 864 068
3. The Odd Room
Look once and you might miss this neighbourhood cafe, tucked inside a nondescript brick garage – but look again and be well rewarded. Owners Yuko Marcos and Andrew Affandi named The Odd Room aptly, given its plain exterior, but step inside and be wowed by rustic wood panelling and matte black beams contrasting with mint-coloured walls and red and white chairs. The food, too, is aesthetically pleasing: crowd-pleasers like chilli eggs or smashed avocado on toast look like Masterchef moments, while a rotating selection of seasonal single-origin beans is testament to Melbourne's commitment to coffee quality. "We love all the people we meet in this area," Marcos says with a smile. "We opened four years ago and we're so happy we did."
323 Bay Road
Cheltenham, VIC 3192
(03) 9553 6760
4. Bad Shepherd Brewing Co
After being named Amateur Brewing Champion of Victoria for two years in a row, Dereck Hales decided the time was right to open up a brewery. Enter Bad Shepherd: part brewery, part American barbecue smokehouse. "The goal with our beers was to produce a range that was true to traditional beer styles but expands the average consumer's palate and knowledge of beer," explains co-founder Diti Hales. Come for the beer, stay for the food: American-style smoked barbecue meats play a central role on the menu, and pair nicely with virtually any of the beers on tap. Cheers to that.
386 Reserve Road
Cheltenham, VIC 3192
(03) 8555 3175
5. Bayside Bliss
Watch the waves roll in or snorkel with spectacular sea life. Melbourne's iconic beaches are Cheltenham's backyard. They offer the best of the Australian lifestyle – for free. Evening walks, lazy afternoons, early morning exercise, the sandy beaches are ingrained in the lifestyle of this suburb. For those who like beach competition there is a volleyball club and nippers, for those who like to keep it low key there are bike and walking paths for all levels
of fitness.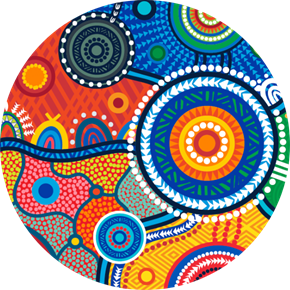 Mirvac acknowledges Aboriginal and Torres Strait Islander peoples as the Traditional Owners of the lands and waters of Australia, and we offer our respect to their Elders past and present.
Artwork: 'Reimagining Country', created by Riki Salam (Mualgal, Kaurareg, Kuku Yalanji) of We are 27 Creative.