Sustainability the Trendsetter in Interior Design
Sustainable, ethical, closed loop design is set for even greater popularity as more consumers reject the disposable fast furniture credo and embrace furnishings and homewares that don't cost the earth.
"Sustainability is the biggest trend in interior design today. I love a living, breathing material that has had a previous life. These pieces have come from materials that move and change and that makes a space come alive in its own unique way."
- Steve Cordony
Mirvac is leading the property industry push to find more sustainable ways to build. Through its collaboration with the UNSW SMaRT Centre, led by world-leading engineer Professor Veena Sahajwalla, it recently revealed a world first apartment at Pavilions Sydney Olympic Park, constructed using green ceramics, a revolutionary new product made from waste glass and textiles.
To drive home the zero waste philosophy Mirvac Design and the SMaRT Centre created the Green Ceramics apartment and invited Interior Designer Steve Cordony to style it using furnishings with a recycled or sustainable provenance.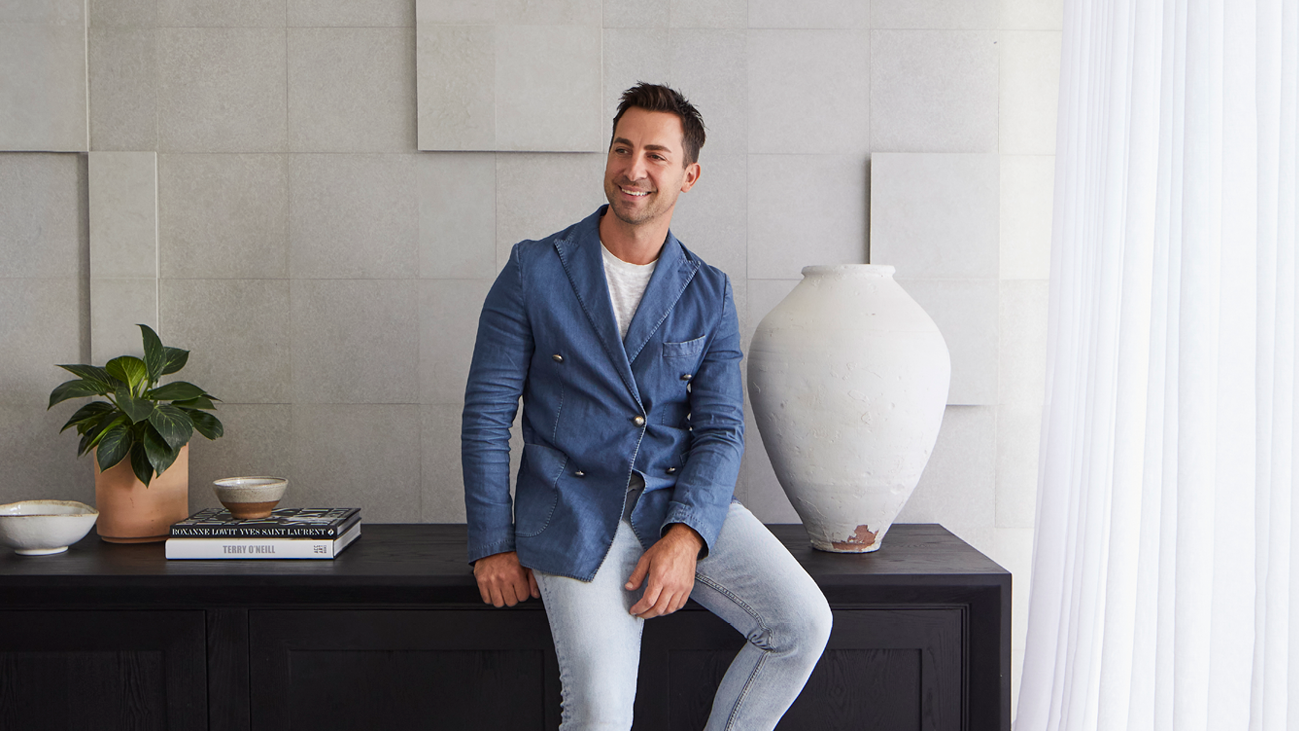 Cordony's impeccable eye for style led him on a journey of discovery in which he tapped a rich vein of creative designers and makers putting sustainability first without compromising on looks or luxe.

"Sustainability is the biggest trend in interior design today," says Cordony. "I wanted to express through the styling of this apartment and the furniture selection that you can choose sustainable and recycled pieces that are really interesting and beautiful.

"The biggest trend we are seeing today is that idea of bespoke, handmade, tactile, artisan pieces. We have lost a lot of over the years thanks to mass manufacturing.

"People are producing some amazing things and that's what I wanted to push with the apartment at Pavilions."

Mirvac General Manager Design, Marketing and Sales Diana Sarcasmo says Cordony was the ideal choice to curate the apartment.

"Steve has such broad appeal with a style that really resonates with our buyers," says Ms Sarcasmo. "For this project we wanted to take him out of his comfort zone and have him adhere as closely as possible to a closed loop philosophy in his selections.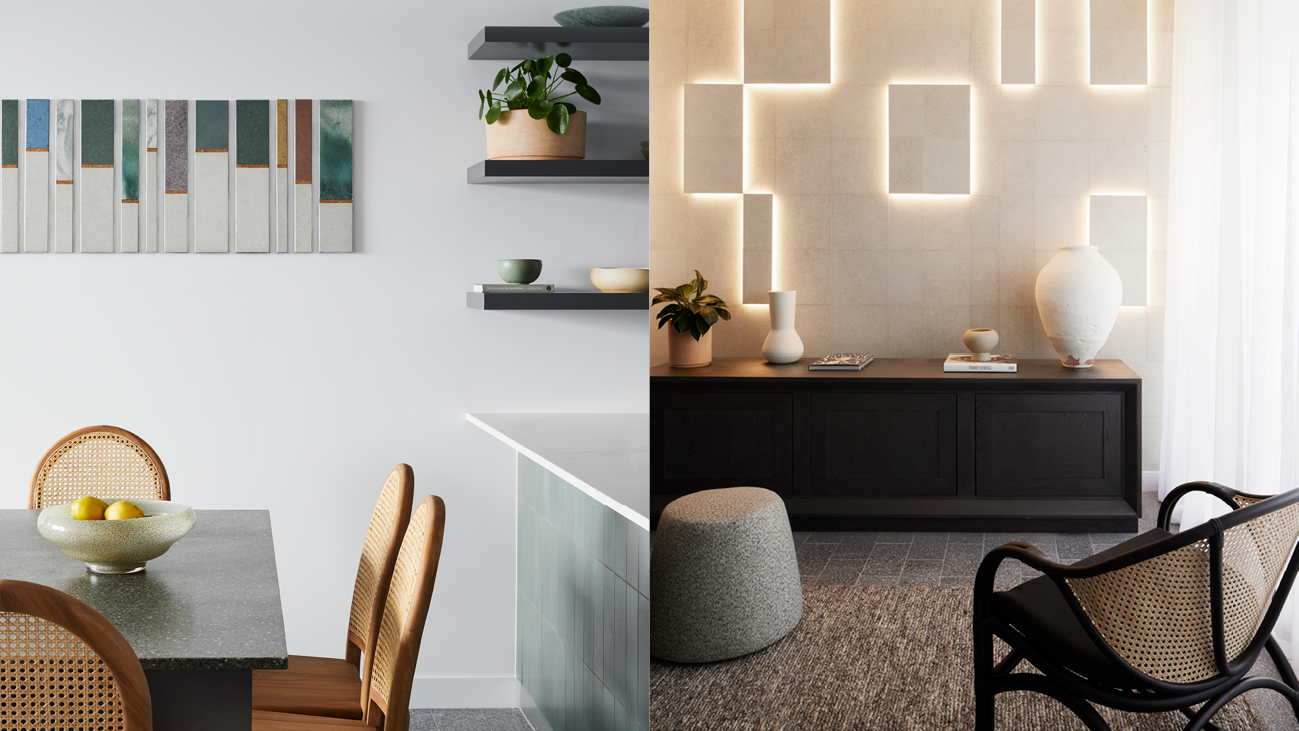 "Many people still associate sustainable furniture with recycled family hand downs or street finds, and while they have their merit, we wanted Steve to challenge that perception by delivering the sophisticated and designed look that people associate with Mirvac.

"An important point to bear in mind is that quality makes a big contribution to the circular economy. The longer a piece of furniture lasts, or for that matter an apartment, the fewer resources are needed to replace it."

The Pavilions Green Ceramic apartment offers a glimpse into an exciting future where waste products are reformed and put to work. Green ceramics feature in terrazzo-look floor tiles, wall panelling, the kitchen splashback and island, lighting, dining table and art work.

Cordony says sourcing pieces that exhibited the true circularity of the green ceramics while meeting other sustainability ideals such as local manufacture and longevity was a challenge that he found both inspiring and encouraging.

"You have to think about it more, do more research when sourcing to find the people out there who are doing amazing things," he says.

"Sustainability is a huge driving influence in the design community right now and it has to be. Given everything that's going on in the world, overproduction and overconsumption, we really need to focus and create more beautiful pieces like this and give them to the consumer."

Cordony says the starting point for his curation was, like always, the materials. "Whether I'm doing something that's entirely sustainable like this apartment, or any other job, it always comes down to materiality.

"But I also wanted to complement the colours, especially the green and white of the splashback and island bench front, that is so evocative of the Australian landscape."

The finishes specified by the Mirvac Design team and engineered by the SMaRT team led by "queen of waste" Professor Veena Sahajwalla, gave Cordony plenty to work with.

A neutral grey palette on the floor tiles, marble look splashback in swirls of white and green, reminiscent of eucalyptus leaves, deep green pendant light shades sparkling with coloured specks of glass, and a backlit white feature wall panel, made from waste jute coffee bags and glass.

Carpet in the hallway and bedrooms is made from 100% recycled nylon, manufactured in Australia by Interface whose flooring products are 100% carbon neutral across the entire product life cycle.

ShapeA bespoke dining table made from black beanies and glass demonstrates the next phase of development – a large format slab that has been hand cut and polished just as a piece of stone would be.

Cordony says the project has opened his eyes to the design possibilities presented by the green ceramic technology.

"Looking at the colour and the variances within the green ceramics chosen for the apartment, that's what I think is most exciting ... the variation in colour when the light hits it in different areas.

"I love a living, breathing material that has had a previous life. These pieces have come from materials that move and change and that makes a space come alive in its own unique way.

"When I look around this apartment it is definitely a glimpse into the future in the most positive way. It feels homely, it feels design led but I also know that it's going to be good for the environment and sustainable and that's where we need to move in design."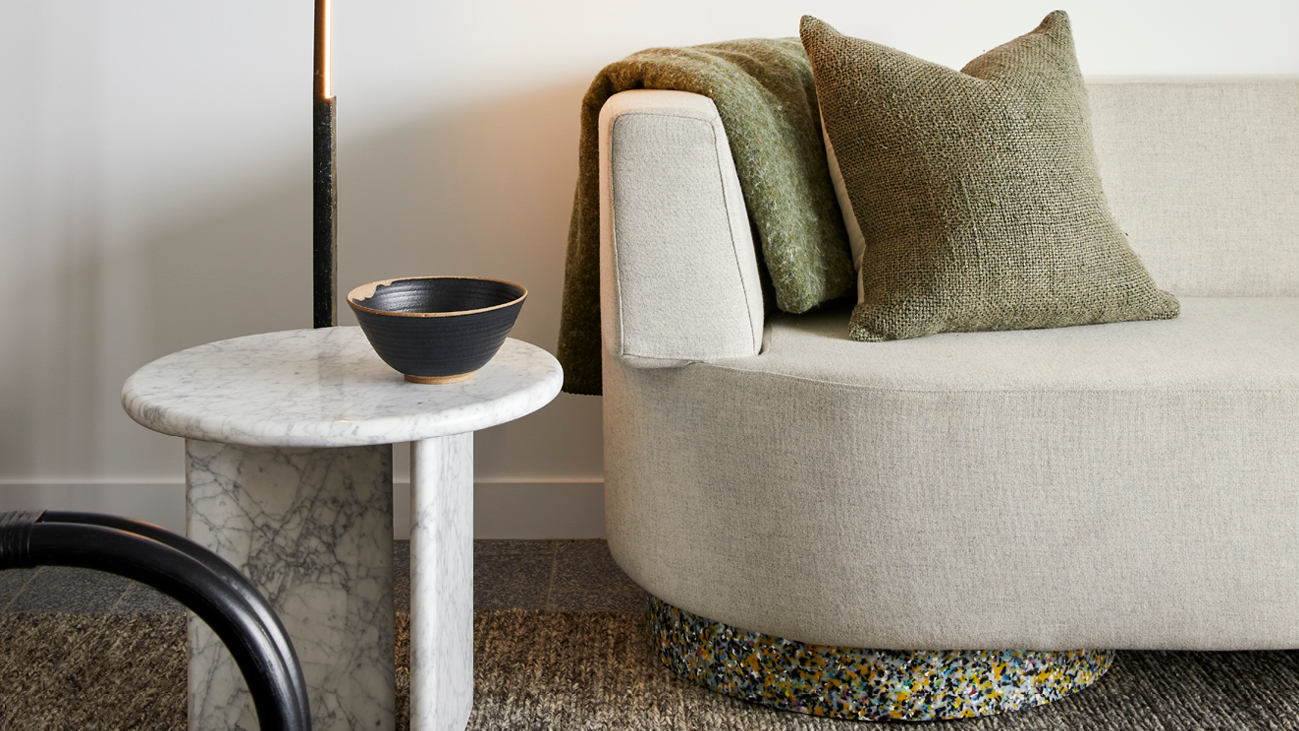 Styled by Steve Cordony (Pictured). All photography by Dave Wheeler.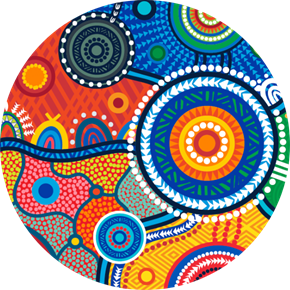 Mirvac acknowledges Aboriginal and Torres Strait Islander peoples as the Traditional Owners of the lands and waters of Australia, and we offer our respect to their Elders past and present.
Artwork: 'Reimagining Country', created by Riki Salam (Mualgal, Kaurareg, Kuku Yalanji) of We are 27 Creative.