Switched On – The Electric Revolution
The time to take action on climate change is now and Mirvac has flicked the switch to accelerate the roll-out of all-electric homes. With endorsement from celebrity chef Neil Perry, the tide of public opinion is turning.
As global efforts to put a brake on climate change intensify, the atmosphere is becoming absolutely electric.

And it has to be, says Davina Rooney, the CEO of the Green Building Council of Australia. With the UN Secretary-General Antonio Guterres saying the latest Intergovernmental Panel on Climate Change was a Code Red for humanity, and Australia one of the countries likely to suffer most from rising global temperatures, the days of fossil fuels need to be numbered.

"It's critically important that we turn much more now to renewable electricity and away from gas," Ms Rooney says. "And we're seeing some developers, like Mirvac, now doing some great things in this space.

"We've had governments discuss climate change but it's good to see the science now being taken to people's homes, and the debate being taken to individuals' hearts and minds."

Mirvac is moving steadily towards creating all-electric homes throughout their portfolio of future builds. Already, they've piloted developments in Melbourne, Brisbane and Perth which will be all-electric and they're now working on other projects throughout the country which give customers solutions to power their all-electric homes with renewable electricity.

"We are seeing real momentum globally, as well as locally, towards all-electric homes and buildings," says Simon O'Brien, Mirvac's Residential Sustainability Manager. "Demand is rising from customers and investors because people understand the benefits.

"We're also seeing a major shift in customer sentiment, and we are responding by ensuring all-electric is ubiquitous across all our developments. Just like the changes happening in the vehicle industry, property is going to be the next big thing.

"That means we are heavily focused on doing more for the environment and providing a more comfortable, more affordable and healthier way to live. Our modelling estimates customers stand to reduce energy bills by 30 per cent through all-electric homes with photovoltaic (PV) solar panels."
Below and right: Net zero and all-electric homes at The Fabric in Altona North
All images are artist impressions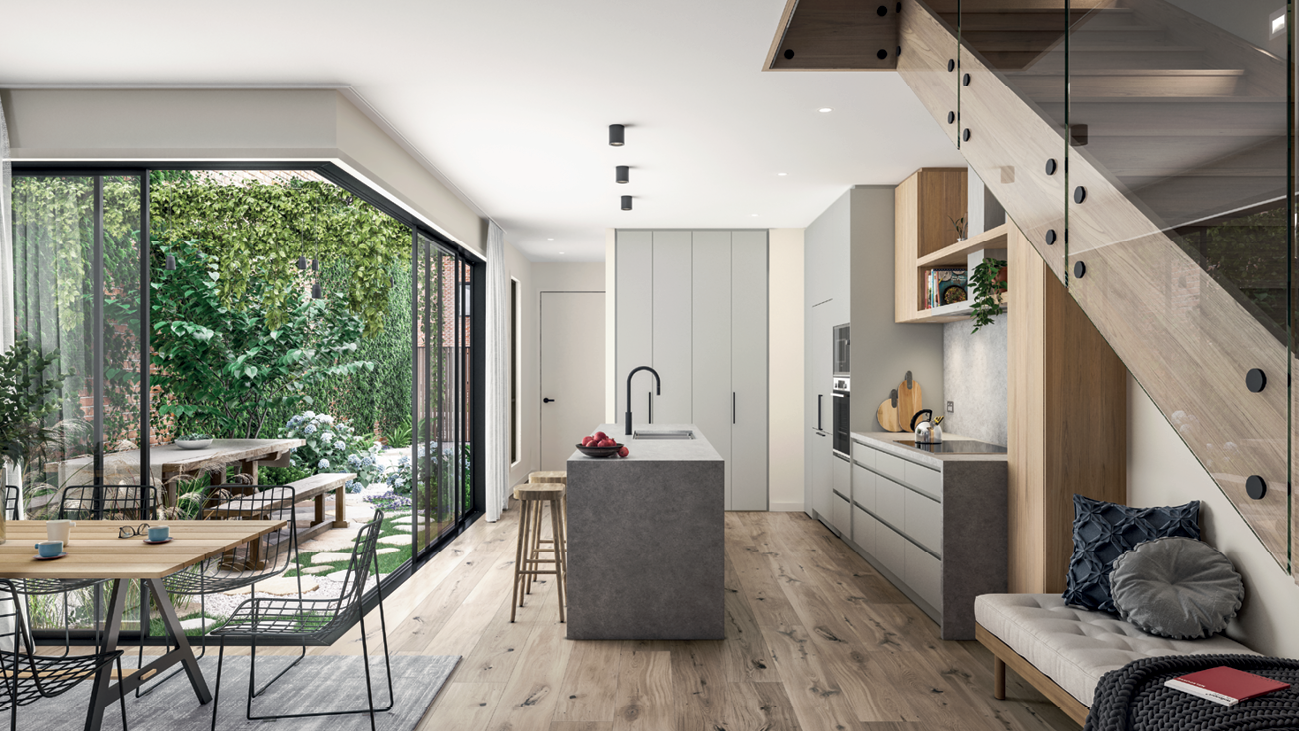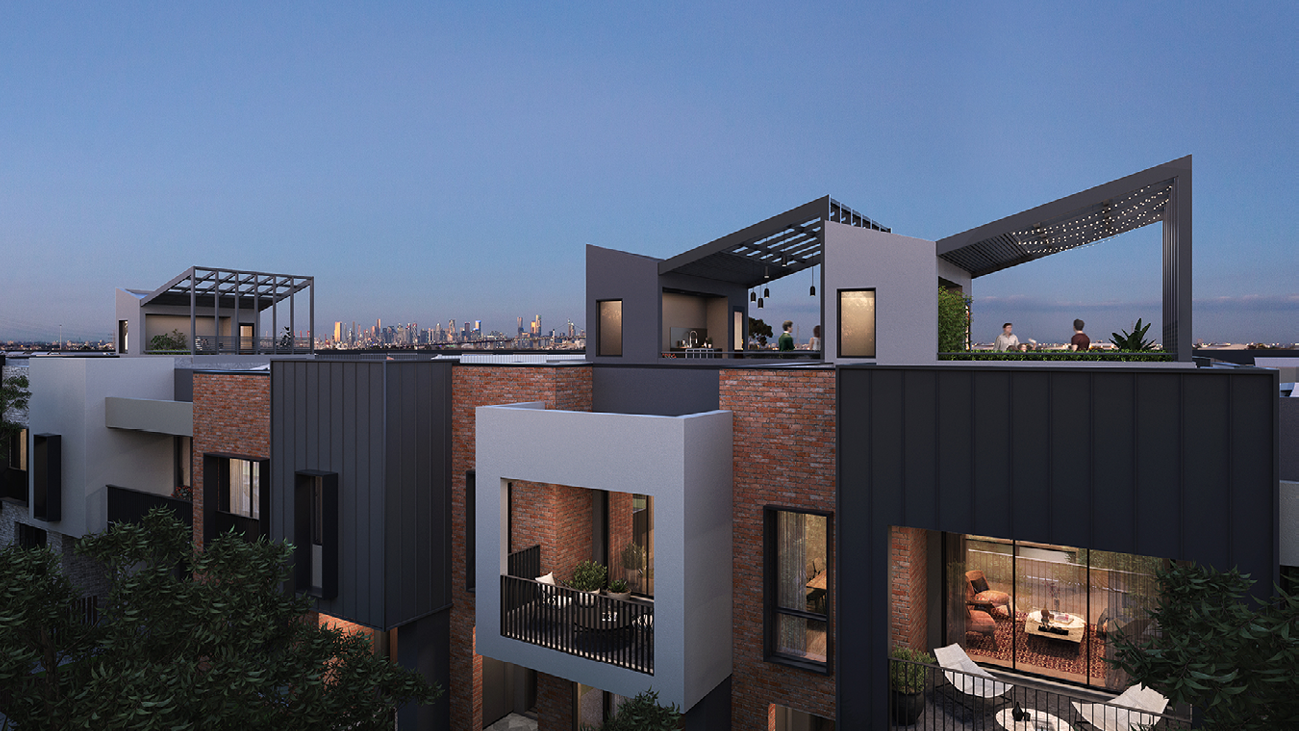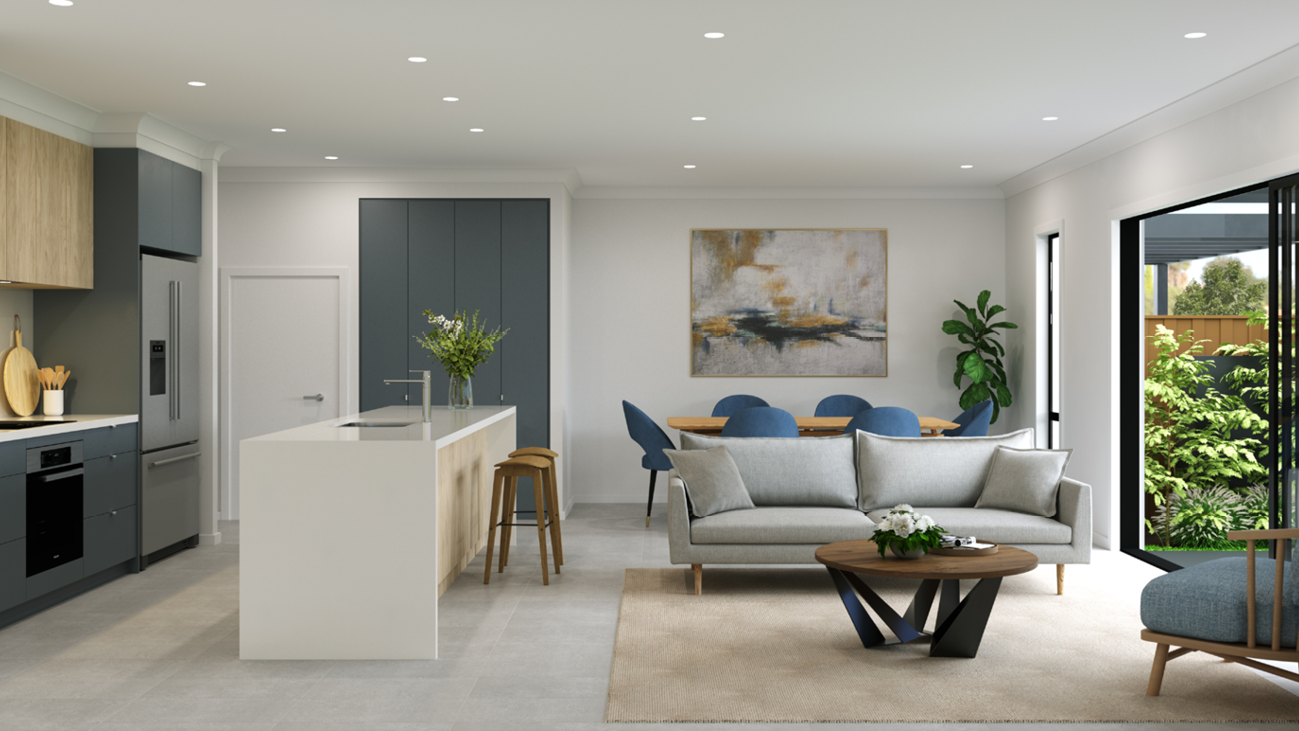 Gas was once seen as clean energy, at least when compared with burning coal. But with advances in technology the future is all-electric, drawing on 100 per cent renewable energy to deliver smart homes that can be programmed to control entertainment, heating and cooling, lighting, even raising and closing the blinds.

One traditional sticking point on the journey to all-electric, however, has always been Australia's love of cooking with gas. Although it accounts for just four per cent of residential natural gas use, according to the Grattan Institute's Flame Out report, compared to a hefty 60 per cent for heating homes, it's the one thing many people resist giving up.

With a culture that's partly defined by steak and prawns cooked over flames on a barbecue, and wok cooking indoors, people still swear by gas, believing it to be more responsive and easier to regulate. But today more and more influential voices are joining the chorus away from gas cooking and towards electricity. Celebrity chief Neil Perry is one.

Having owned iconic restaurants that have included Sydney's Rockpool Bar & Grill, Spice Temple and his latest venture, Margaret, and Melbourne's Rosetta Ristorante at Crown Melbourne, he's now eschewed gas in favour of induction cooktops.

"That's in pretty much all our restaurants since 2009," says Mr Perry, who was so impressed by induction cooking, he even launched his own range of cooktops with Omega. "It's a much cleaner energy source and induction cooking is even more responsive than gas. I think it works better these days.

"The temperature just goes up faster than gas, and goes down faster too, and you can bring temperatures under control so much more quickly. I don't like to preach to people about it, but, just like we use the best ingredients in our dishes, we like to use the best equipment in our kitchens. And those cooktops are also much easier to clean and manage."
So far, it seems Mirvac customers have been eager to make the move, with the first two stages of the 'future-ready' $350 million The Fabric masterplanned community in Melbourne's Altona North already sold out. Mirvac partnered with the Australian Renewable Energy Agency with a grant to trial net zero energy homes to deliver 49 fully electric homes at the site. It has now committed to rolling the model out across the balance of the development, including 280 townhomes and the mid-rise apartments.
The seven-star NatHERS energy-rated homes are designed to use 27 per cent less energy for heating and cooling than a standard six star-rated home. With the additional inclusions of energy-efficient appliances and PV solar panels, the homes are estimated to save households significant sums on their energy bills. Construction has started on The Fabric, with the first residents due to move into their homes mid-2022.
"We trialed the electric heat pump hot water systems and the use of solar and battery at previous projects to fully understand the customer benefits," says Mr O'Brien. "The results were so good it was a no-brainer to continue the all-electric homes through the entire Fabric project. We have a history of trialling new initiatives which enable us to build on our knowledge all the time."
Another all-electric project has also been launched in Perth, the 88-apartment, eight-level building Ador at The Peninsula Burswood. These exclusive residences have been designed to eliminate the need for gas infrastructure and have energy-efficient induction cooktops, electric heat pump hot water systems and double-glazed windows. On the rooftop, an array of solar PV panels is proposed which residents, through advanced software being introduced, can opt into and monitor their use of renewable electricity.
That idea has proved extremely popular among early release buyers, who are mostly downsizers and upgraders who have become used to having solar panels on their own free-standing houses. Construction is anticipated to start in late 2022.
There are now other all-electric projects being planned by Mirvac for Sydney, in the inner-city suburb of Waterloo and in Melbourne's 699 Park Street development in Brunswick.
"It's been fantastic to see the customer response to these projects," says Mr O'Brien. "We always want to make sure what we're delivering is going to resonate well with the market and, while we're pushing the boundaries with these environmental initiatives, we're finding the demand is there. It's a really exciting transition."
Independent environment consultant Ethan Burns of Sustainability Now says all-electric homes, with renewable energy through solar and batteries, offer a lot of hope.
"There are so many more opportunities with electricity and, as solar becomes so much more prevalent in our homes, that supply of renewable energy is increasing all the time," he says. "After all, there's no such thing as renewable fossil gas!"
Mr O'Brien believes the move to all-electric homes is a once-in-a-generation event. "We're excited to take our customers on the journey to make their lives better and healthier, saving them money, and at the same time helping the environment," he says. "It helps set the direction for the future."
For full image disclaimers please visit mirvac.com/Residential/projects/all-projects.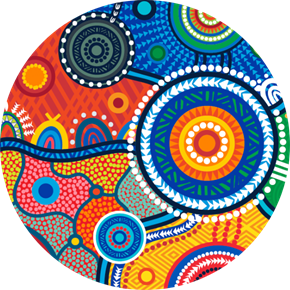 Mirvac acknowledges Aboriginal and Torres Strait Islander peoples as the Traditional Owners of the lands and waters of Australia, and we offer our respect to their Elders past and present.
Artwork: 'Reimagining Country', created by Riki Salam (Mualgal, Kaurareg, Kuku Yalanji) of We are 27 Creative.