The Big Night In
Set against the spectacular Melbourne city skyline, the luxurious resident-only lifestyle space perched atop Voyager at Yarra's Edge turns a night at home into a special and memorable social occasion.
The past 18 months changed the way we live, from the ways we interact with others to our choice of amusement and entertainment. Time on our hands has led to the discovery of new hobbies and passions, and a far greater appreciation for the sanctuary we call home.
Home, itself, has been redefined as a place that is more flexible and adaptable, with expectations for 'third spaces' that meet the need for socialising and work from home arrangements. Apartments with access to hotel-like amenity and outdoor areas have grown in popularity, sought after for their added comfort and convenience.

Mirvac's newest and most luxurious residential tower at the award- winning Yarra's Edge community in Melbourne's Docklands, meets this rising demand. Set against the spectacular Melbourne city skyline, Voyager rises 130 metres over the banks of the Yarra River, featuring expansive views of Port Phillip Bay and beyond.

With 310 residences across 43 levels, the Voyager tower has been designed by Mirvac's award-winning Mirvac Design architectural studio with a strong focus on resident amenity.

The epitome of city living, Voyager residents have access to a high-end lifestyle at home, with an exclusive residents-only rooftop retreat located atop the prestigious building, adorned with climbing greenery.

The first of its kind in the Yarra's Edge precinct, residents can enjoy everything they need for a quiet night in or for entertaining guests with an array of indoor and outdoor dining options on the rooftop space.

An open-air lounge with fire pit for cooler nights, a bar for special occasions, a cinema/karaoke room for fun-filled evenings and plenty of laughs – these are just some of the attractions of a night at home.
Below: Level 43 Skydeck
Above Right: Voyager at Yarra's Edge
Bottom Right: Level 43 Cinema Room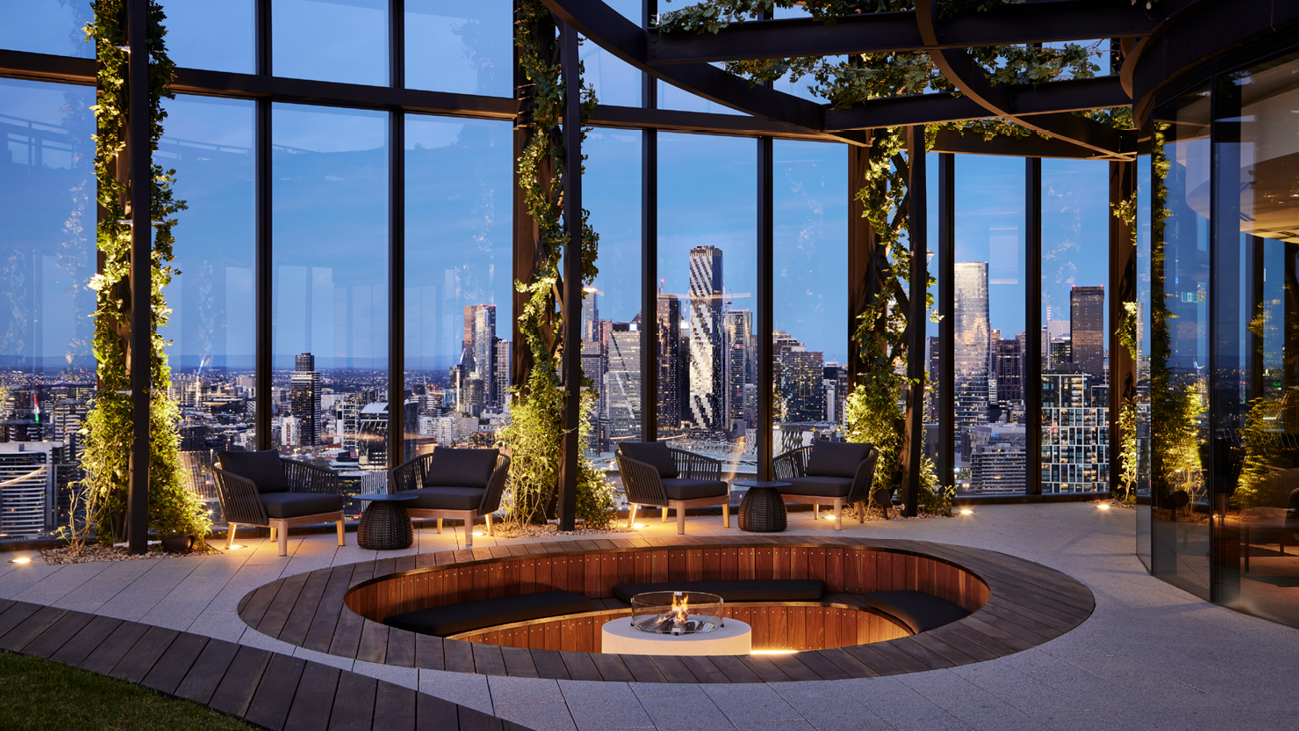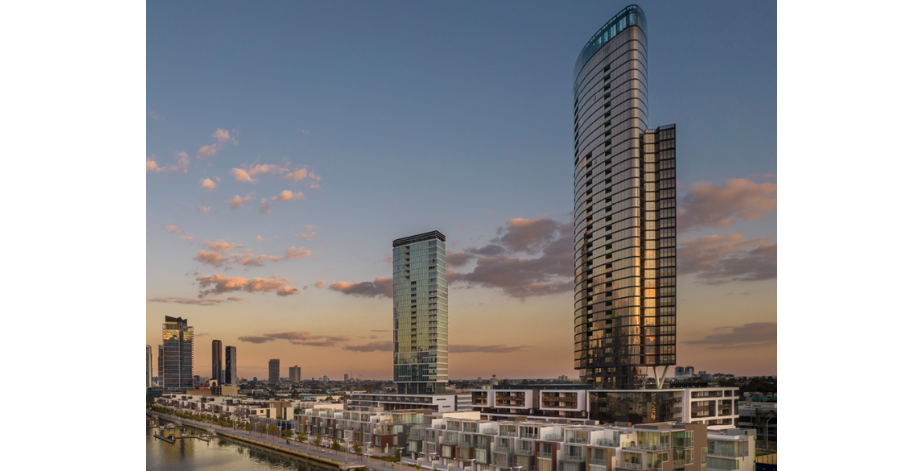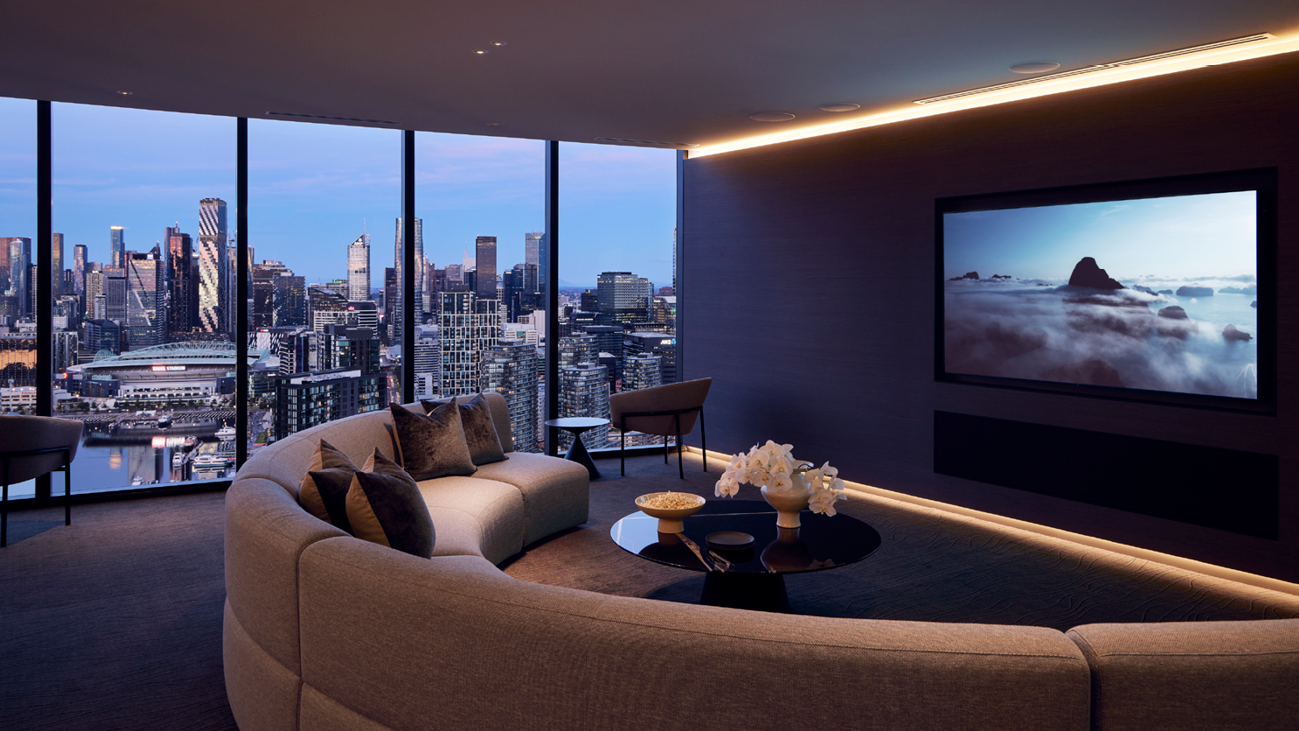 Within Voyager's striking lobby is an art gallery and resident lounge with fireplace, offering an immersive and relaxing experience for residents seeking a quiet moment after a busy day or for enjoying with friends as a prelude to an evening on the rooftop.

The gallery features a collection of artworks curated by Melbourne- based Studio Gallery Group including works by Richard Whadcock, Phoebe Halpin, Jean- Paul Mangin, and Kerry Armstrong, continuing the evolution of urban and public art at Yarra's Edge.

"As the tallest building to date within our thriving Yarra's Edge precinct, Voyager is designed to be the whole package – architecturally distinct, with hotel-luxe interiors and a connected and high-end lifestyle made possible through the impressive resident amenity," says Victor Wong, Senior Associate at Mirvac Design.

The fluid form of the Voyager building was designed in response to both air flow and the Yarra River, with the bronzed curved facade reflecting the changing light as the sun moves on its daily journey.
Below: Lobby and Resident Lounge
Above: Lobby & Art Gallery
Right: Voyager's bronzed facade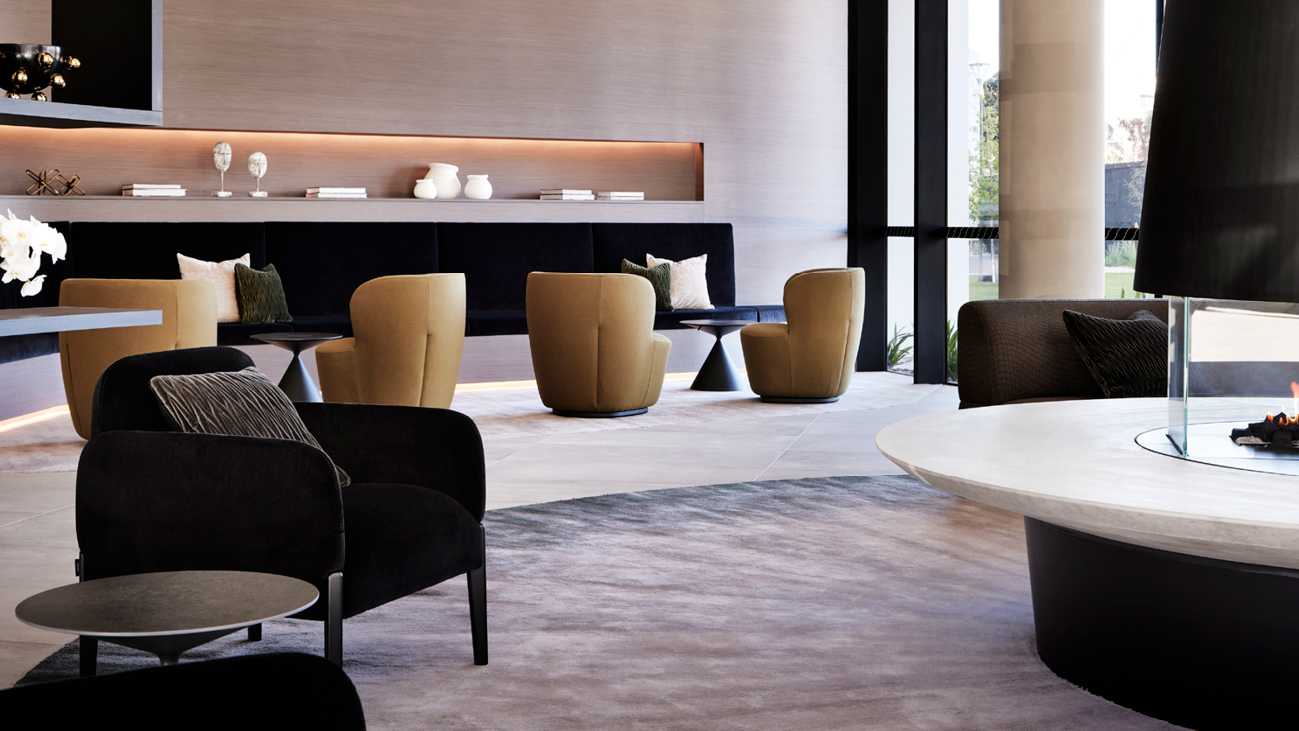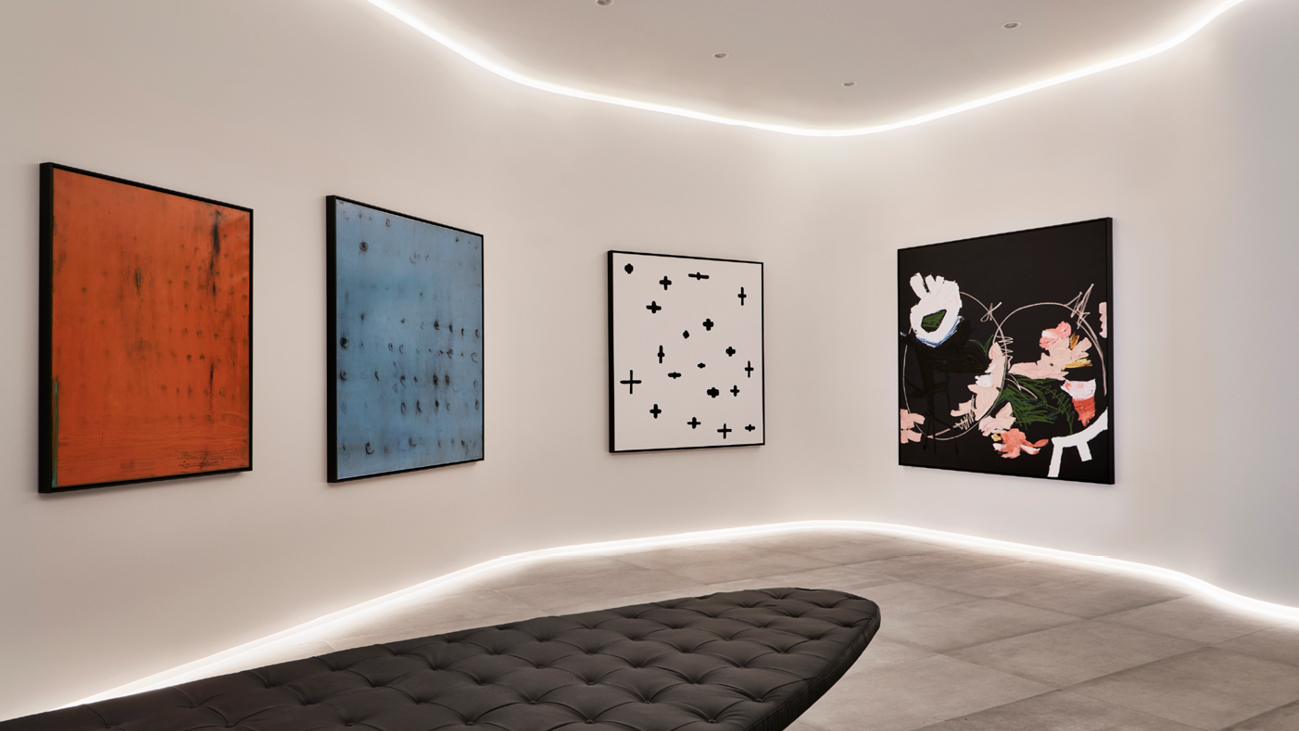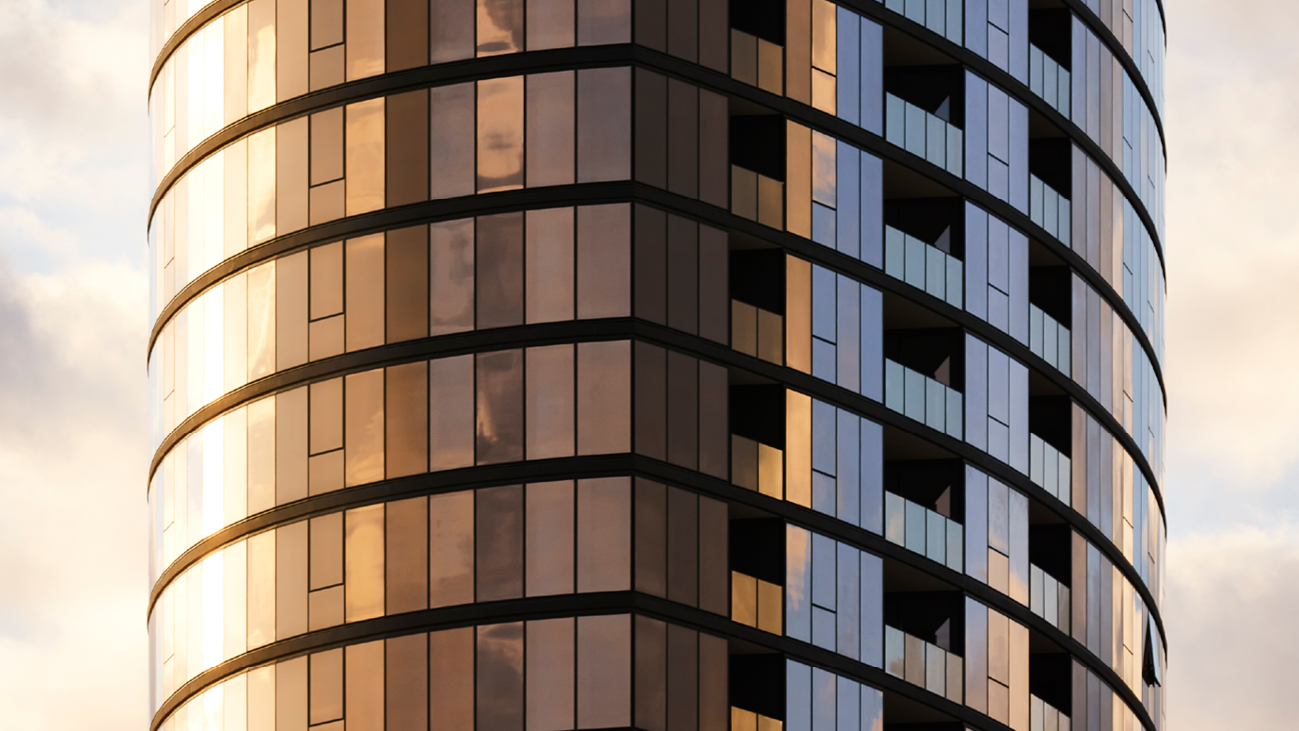 Mirvac General Manager of Residential Development Victoria, Elysa Anderson, explains that beyond the amenity available at Voyager, residents will also have access to the wider Yarra's Edge community.

"Voyager offers beautiful waterfront living at Yarra's Edge, with exceptional amenity and luxurious residences that will have you savouring the moments spent at home," says Ms Anderson.

"Beyond Voyager, residents will find more to Yarra's Edge – it is a rare 14.5-hectare inner-city sanctuary that provides access to numerous additional amenities right at their doorstep."

For fitness fanatics or those looking to maintain an active lifestyle, the nearby Wharf Club, of which Voyager residents have membership, features state-of- the-art health and fitness facilities including a pool, spa, steam room and gym.

These facilities are housed underneath an architecturally designed grass rooftop that extends into Wharf Landing Park, a 1,500-square metre green open space, where residents can take a stroll in their 'front yard' or allow their pets to frolic in the grass.

Adding to the green environment is Point Park, with wide paths, shady trees, park benches and ample picnic areas and playground equipment for family enjoyment and a pre-dinner stroll, while those who love the water can boat watch at Marina YE as the sun disappears on the horizon.

With access to so many elements right at their fingertips, residents have everything they need to plan the perfect night in, without leaving their Voyager residence.
Voyager
Location: Yarra's Edge, VIC
Display Gallery: Corner of South Wharf Drive & Point Park Crescent, Docklands
0466 440 863
yarrasedge.mirvac.com/voyager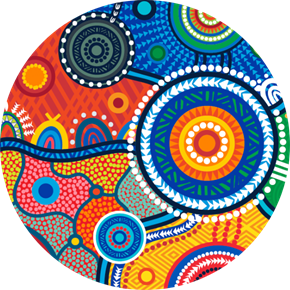 Mirvac acknowledges Aboriginal and Torres Strait Islander peoples as the Traditional Owners of the lands and waters of Australia, and we offer our respect to their Elders past and present.
Artwork: 'Reimagining Country', created by Riki Salam (Mualgal, Kaurareg, Kuku Yalanji) of We are 27 Creative.