The light and slow way to travel
The months spent yearning for the freedom to travel gave us time to dream and reflect on how to do so with purpose and a clear conscience. Travel writer and author Nina Karnikowski describes the wonders you'll experience when you travel slowly and lightly.
In 2013, in my second year of working as a travel writer, I lived in India for 10 months. I can still recall the faded apricot-coloured walls of our Mumbai apartment block, overlooking the Arabian Sea, and the laughter of the children playing in the fishing slum next door. I can still recall each stall in the local marketplace, selling everything from marigold garlands and fresh vegetables, to bindis and copper crockery, and the faces of the sellers who ran them. I can still recall the distinct smell of our street, that intoxicating mix of incense and spices, cow poo and sea spray.

The reason these details remain so vivid eight years on is, of course, because of time. The more time we spend in a destination, the more deeply it becomes etched in our hearts and minds and, more importantly, the greater the positive impact we can potentially have while we're there. Which is why, for anyone aspiring to become a more eco-conscious traveller, one of the best things we can do is foster a slower, 'less but better' attitude to international jaunts.

As David Wallace-Wells writes in his bestselling 2019 book The Uninhabitable Earth, every plane seat from New York to London burns the same amount of carbon as eight months of driving, and melts another three square metres of Arctic ice. Which bears questioning, before booking that next long-haul flight, whether we can stay in that place for longer, or find somewhere closer to home that might provide the same sense of freedom and stimulation we are craving from far-flung places.

Slower travel means not only taking fewer but longer trips, by storing up vacation days or waiting for a sabbatical or long-service leave, but also picking one place rather than four to visit in a week, and considering off-season travel, when the crowds have thinned and locals are happier to receive visitors. It also means savouring the journey – those long train, van or boat trips – as much as the destination, resisting the urge to pack our itineraries to the brim, so we can stay open to discovery and serendipity.

Putting nature at the centre of our travels is another way to lessen our environmental impact on the places we visit, and decelerate our sense of time while we're at it. We've all experienced that feeling of everything speeding up as we zip between shops and restaurants and sites and museums in a single day. But the opposite happens when we're out on hiking and biking trips, camping and boating adventures. Everything goes into slow motion, and we have time to uncurl and blossom into our surroundings.

Immersion in a flourishing natural environment has also been proven to make our brains healthier, increase our attention span and creativity, and lower blood pressure, heart rate and levels of the stress hormone cortisol. This is what the Japanese call shinrin-yoku, or forest bathing, which encourages us to slow down and soak up nature with all our senses – the smell of the plants and soil around us, the soothing sight of greenery, the feel of the earth beneath our feet, the gentle murmur of the forest – helping us stay focused, mindful and present.
Being surrounded by flora and fauna in the wilderness inspires us to feel awe for our planet, something research tells us makes us feel kinder and more generous, and encourages us to put the needs of others and the world at large above our own. The very thing we need to do, if we are going to live in harmony with our planet, and create the change we want to see.

Slow travel, and spending more time in the places we visit, also equates to less 'leakage', a term the travel industry uses to describe how travellers' dollars leak out of host countries and into the pockets of multinational corporations.

According to the UN's World Tourism Organisation, just 5 per cent of money spent by tourists actually stays in the communities they visit. One of the best ways to plug these leaks is to support small, locally owned businesses, putting money directly into the hands of locals. Prioritising, for instance, small local eateries and hotels or homestays, native guides and tour operators, and hand-crafted goods that support indigenous artisans. The more time we spend in destinations, the easier this is to do.

Smaller actions also play a big role in encouraging a slower and more conscious travel mindset. Packing a journal, for example, helps us become more engaged with the places we visit, helping our minds hone in on all the details that make them unique, while helping us figure out what places mean to us. Taking fewer but better quality photographs, opting for real cameras over iPhones and making sure we're travelling for more than just our Instagram feeds, is another way to help us slow down and carefully observe landscapes or communities, enriching our memories because of the concentration we're putting into the moment.

Perhaps the most important thing to remember is what the great travel writer Pico Iyer calls the first great principle of travel: "Everywhere is transporting, if only you can see it in the right light." Maybe what we need most of all, then, is to shift what we view as exciting and interesting, and to remember that with the right set of eyes we can find what we seek most from travel – a chance to grow, gain perspective and engage with something larger than ourselves – right here at home.

Nina Karnikowski is the author of Go Lightly, How to Travel Without Hurting the Planet.
Left image: Nina Karnikowski, Minjerribah Camping, North Stradbroke Island. Photo courtesy by Peter Windrim.
Right images: Sky pods, Great Ocean Road, Victoria
Gibb River Road, The Kimberley, Western Australia. Photo courtesy Australia's North West / C&J Maddock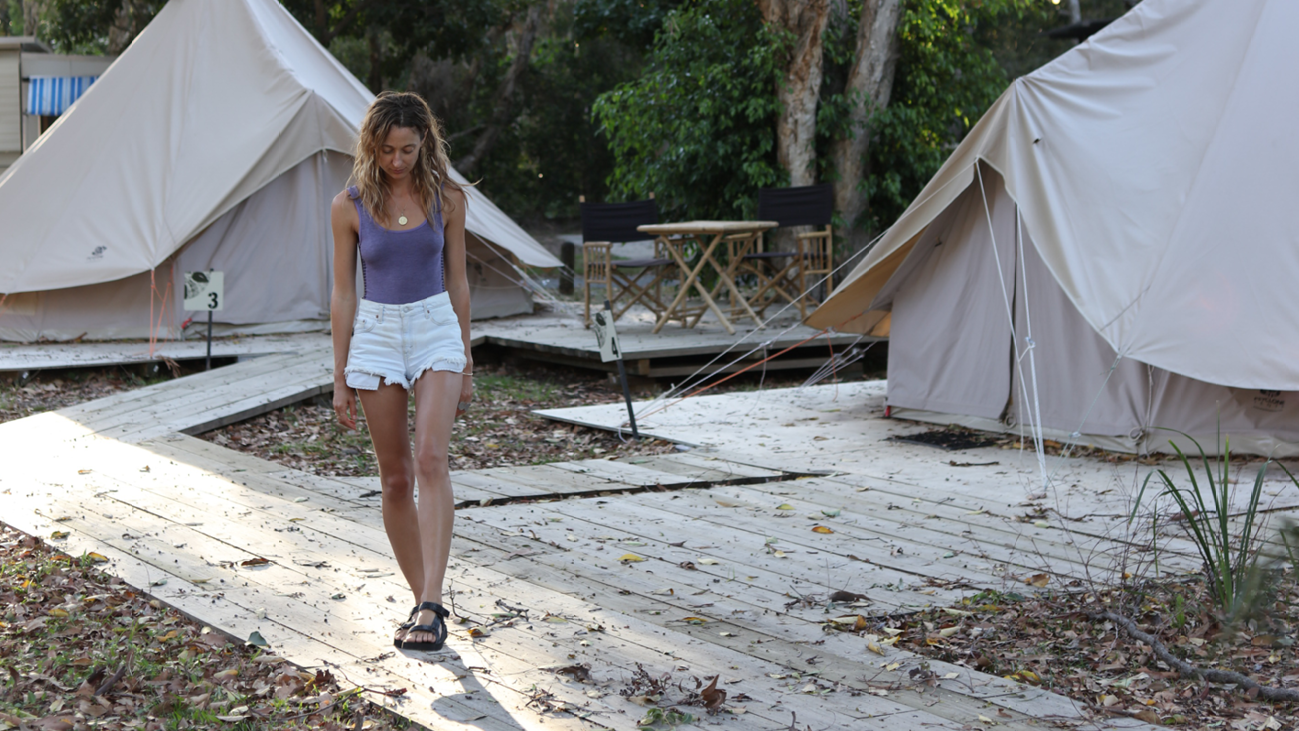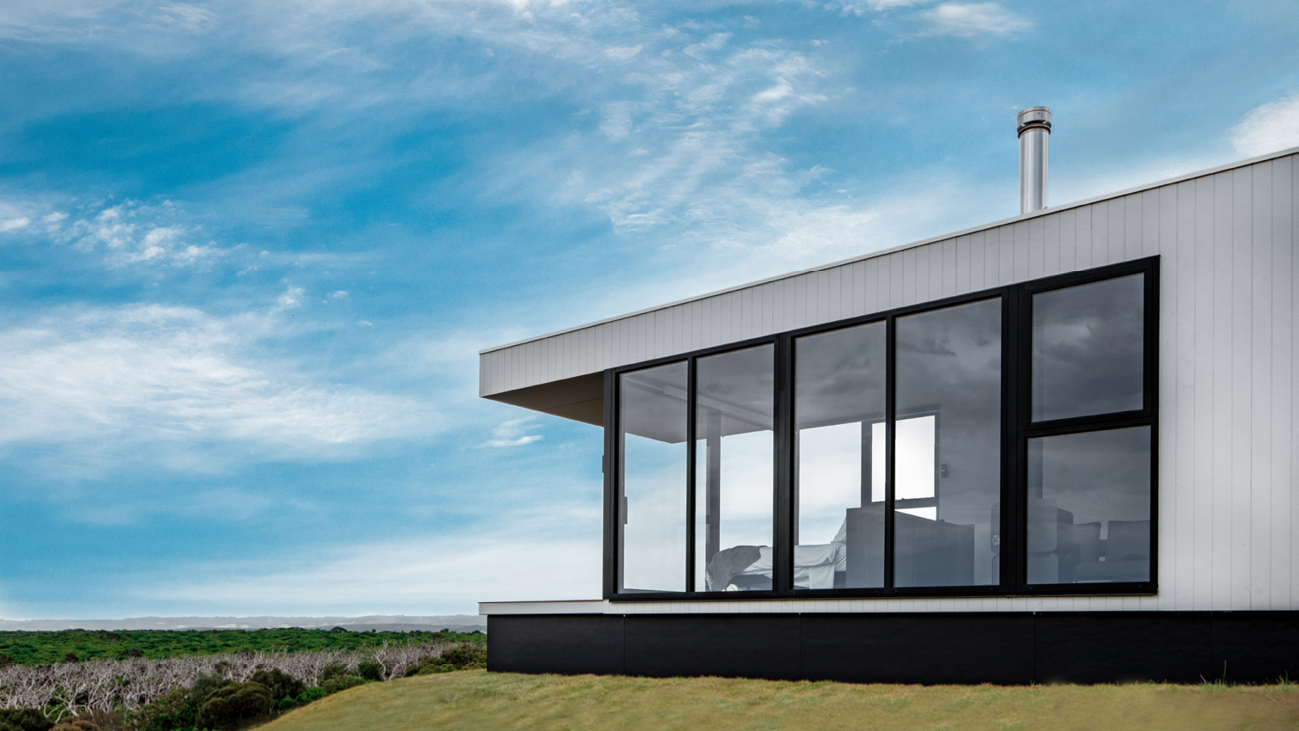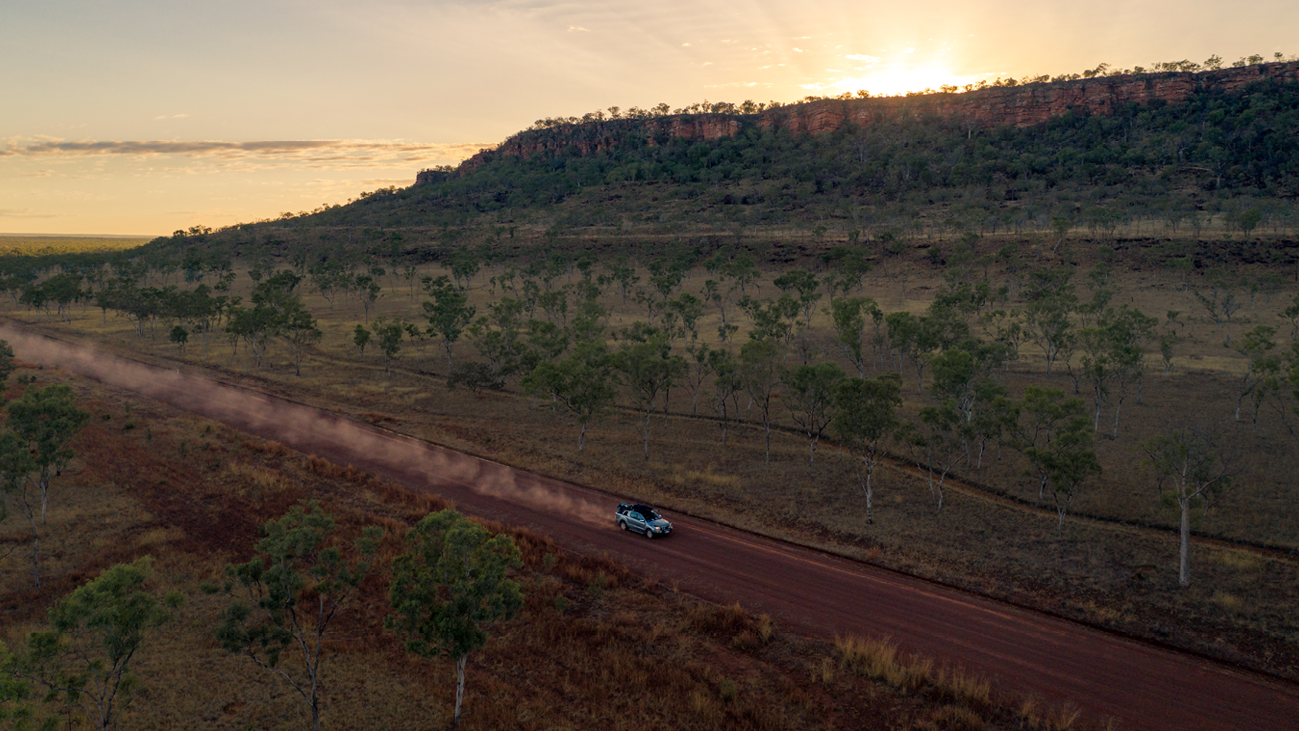 SLOWLY DOES IT

Some of the best places in the world to see and explore are right here at home – if you take the time to look. Travel writer Nina Karnikowski recommends some of her favourite places to visit. Slowly.

NEW SOUTH WALES

STAY: Heartwood Cabin, Burringbar
Set on 100 acres of revegetated bushland in the Byron Bay hinterland, this architecturally-designed eco-cabin is the perfect place to slip into slow mode. Picture afternoons spent lazing in the bathtub set into the deck, watching eucalypts sway overhead as the sun sets over the mountains. bayescapesmanagement.com.au

SEE: Warrumbungle National Park
The otherworldly rock formations in the Warrumbungle national park were created by volcanic activity 13 million years ago, and the hikes around them are some of the most stunning in Australia. This is also Australia's only Dark Sky Park, with the most vivid stargazing in the country. nationalparks.nsw.gov.au

EAT: Nomad, Surry Hills
Nomad make their own charcuterie, cheese, bread and lavosh in-house, and have a fantastic sustainability ethos, including all produce being sourced as close as possible to the restaurant, a glass recycling system using Bottlecycler, and the collection of cooking oil to create biodiesel. nomad.sydney

VICTORIA

STAY: Skypods, Great Ocean Road
A musician couple from Melbourne spent a decade reclaiming 200 acres of former farmland, reviving native grasses and planting 65,000 trees, and now they're sharing it via their two glass-walled, solar-powered Sky Pods. It's all about listening to the bush, observing the koalas and native birds, hiking and laying under the stars. skypods.com.au

SEE: Peninsula Hot Springs
An hour's drive from Melbourne, take in views of the hills as you immerse yourself in Peninsula's geothermal pools, flowing from 637 metres below ground. In between, take a cold plunge or a stroll on the reflexology walk, or book a massage, facial, body exfoliation or mud wrap. Glamping available for overnight stays. peninsulahotsprings.com

EAT: Transformer, Fitzroy
Set in an ex-factory and with a fully vegetarian menu, a meal at Transformer is as good for the planet as it is for your belly. Alongside seasonal dishes such as heirloom radishes with blood orange and dill 'butter', and pine nut risotto with alfredo and parsley, they serve terrific organic wines and cocktails. transformerfitzroy.com
QUEENSLAND

STAY: Minjerribah Camping, North Stradbroke Island
With glamping and safari tents to choose from, set right on one of North Stradbroke Island's main beaches, Minjerribah is a blissful nature escape. Spend mornings hiking, afternoons surfing or swimming in the ocean, and nights picnicking under the stars. minjerribahcamping.com.au

SEE: Paronella Park
An abandoned Spanish castle in the rainforest in North Queensland? Yes, it exists, and it's as bizarre as it is spectacular. Originally built in 1935 and set beside a beautiful waterfall, today you can explore the castle ruins and sprawling tropical gardens during daily and nightly tours. Camp or stay in the on-site cabins to make the most of it. paronellapark.com.au

EAT: Grown, Brisbane
Grown's plant-based menu revolves around produce sourced from farmers no more than 400 kilometres from Brisbane, and other ethical suppliers who prioritise sustainable farming and fair food systems. Food waste is diverted to compost for a local farm, and beverages are as local and sustainable as possible. Tick, tick, tick. grownbne.com

WESTERN AUSTRALIA

STAY: Sal Salis, Ningaloo Reef
Choose between 15 glamping tents set inside the UNESCO-protected Cape Range National Park, and watch roos bounce along the dunes, or sip rosé on the coral-strewn private beach. Guided gorge hikes put you face-to-face with black-footed wallaroos and red kangaroos, while reef trips see you swimming with whale sharks, manta rays and humpback whales. salsalis.com.au

SEE: Gibb River Road
This iconic outback road trip cuts a swathe through the middle of the Kimberley. Hire a four-wheel-drive or campervan, stock up on food and drinks, then head out into the great nothingness, stopping off at awe-inspiring sites including Bell Gorge, Manning River, Zebedee Springs and more. Itineraries vary, depending on how much time you have. australiasnorthwest.com

EAT: Cooee, Perth
On the banks of the Swan River, Cooee is led by Michelin-star chef Alan Wise, with an all-day 'gate to plate' menu celebrating the best of Western Australia's produce including Albany rock oysters, Leeuwin Coast Akoya and line-caught snapper. cooeeperth.com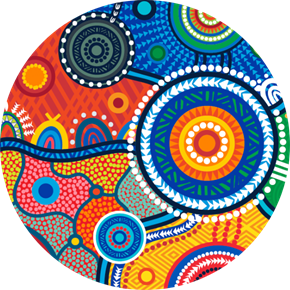 Mirvac acknowledges Aboriginal and Torres Strait Islander peoples as the Traditional Owners of the lands and waters of Australia, and we offer our respect to their Elders past and present.
Artwork: 'Reimagining Country', created by Riki Salam (Mualgal, Kaurareg, Kuku Yalanji) of We are 27 Creative.