The Social Network
Read about residents community group Gainsborough Greens and how they're staying connected.
When Rick Smythe started a closed residents' group on Facebook for his local community, he didn't expect to make 500 new friends or be a go-to-guy for everything from pet care to coffee shops. But now five years on, Rick and his four other Gainsborough Greens Facebook Administrators, say the page has become an invaluable resource for the community and they hope it continues to grow at the same pace.

Rick's initial motivation for starting the page came from his background in community services. He was a member of the Victorian State Emergency Services volunteer organisation for five years, before moving to Gainsborough Greens in 2014.

"When you work in emergency services you see first-hand how important it is for people to know their neighbours," he said.

"I started out with a very simple goal to give people another place to go for local information. I'm also a software developer, so I appreciate the unique benefits of digital resources. I never wanted to replace face to face interaction, I just wanted another forum."

Suzanne Guastini, the Gainsborough Greens Community Engagement Manager, says she is thrilled with the way the community has embraced Facebook as a networking tool.
After two years as the sole administrator Rick says he approached Suzanne to join him. The team now comprises five administrators in total.

The administrators have a strict "positivity" policy. They have also developed a few resources from tips and advice supplied by local residents, including "Look No Further Guide" which is a local contact list for local services, along with a "Useful Information Guide" which includes important emergency contact information.

"Thankfully we have never had to deal with anything too negative, as the spirit of the page is community helpfulness," says Rick.

"We want the page to encourage honesty, but we would never allow anything to get out of hand. If a negative issue comes up, we let all relevant points of view be heard, but then we take it off line to resolve the issue (see Street Smarts)."

As hoped by both Rick and Suzanne the page has led to many real-life friendships.

"The digital world is great on a lot of levels, but I'm a bit old school when it comes to community; I love the idea that you can knock on a neighbour's door and ask a favour," says Rick.

Suzanne agrees and references a quote from Hugh Mackay (left) as a good way of describing how the community engagement program and Facebook have helped create an environment people love to live.
STREET SMARTS

It was a case of "mess to success" when a recent negative post led to a quick resolution of a community issue.

A local resident posted about the overflow of rubbish in Gainsborough Green's community park. An increase in people using the park had resulted in the existing bin overflowing.

Within an hour, Rick was down at the park to meet the local resident for the first time. Together they removed the rubbish and started to turn the negative experience into a positive. The issue was relayed to Suzanne Guastini, the Gainsborough Greens Community Engagement Manager who organised Mirvac to reassess the amenity. Within two days a new slab of concrete had been laid and a new rubbish bin installed.

"The original social media post was the catalyst to us acquiring the knowledge that there was an issue, which was quickly resolved," says Suzanne.

"The local resident who posted about the rubbish is now a resident volunteer circulating our community newsletters and flyers with her children. It's a lovely win-win story."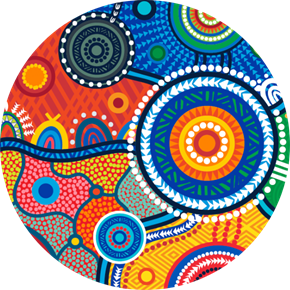 Mirvac acknowledges Aboriginal and Torres Strait Islander peoples as the Traditional Owners of the lands and waters of Australia, and we offer our respect to their Elders past and present.
Artwork: 'Reimagining Country', created by Riki Salam (Mualgal, Kaurareg, Kuku Yalanji) of We are 27 Creative.