Greening the great indoors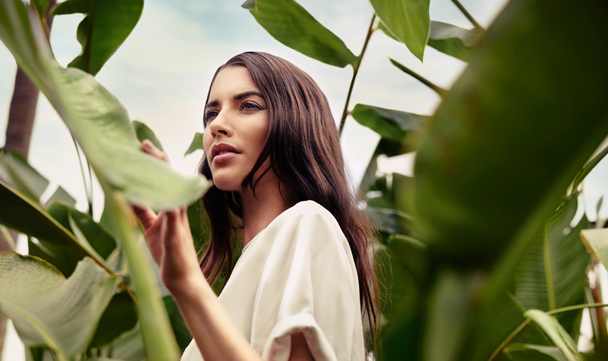 Humans thrive in nature. There's an innate connection we have to the great outdoors that makes it a place we often feel at our happiest, most calm or thoughtful. Quay brings the outdoors indoors embracing the philosophy of biophilic design.
Connection to nature is at the heart of one of the fastest growing trends in modern architecture, known as biophilic design.
At its core, biophilic design is about creating synergies between the natural and manmade environments, so we feel this connection even when inside our homes, offices or shops.
It allows us to experience the benefits of natural light, improved air quality and ventilation and the calming and inspiring feeling that comes with looking towards, or being surrounded by, green spaces, natural materials and organic forms.
"The natural organic forms of the buildings strengthen the relation to the park and the greenery on the balconies helps to create a connection to nature, and the sense of wellness that nature provides."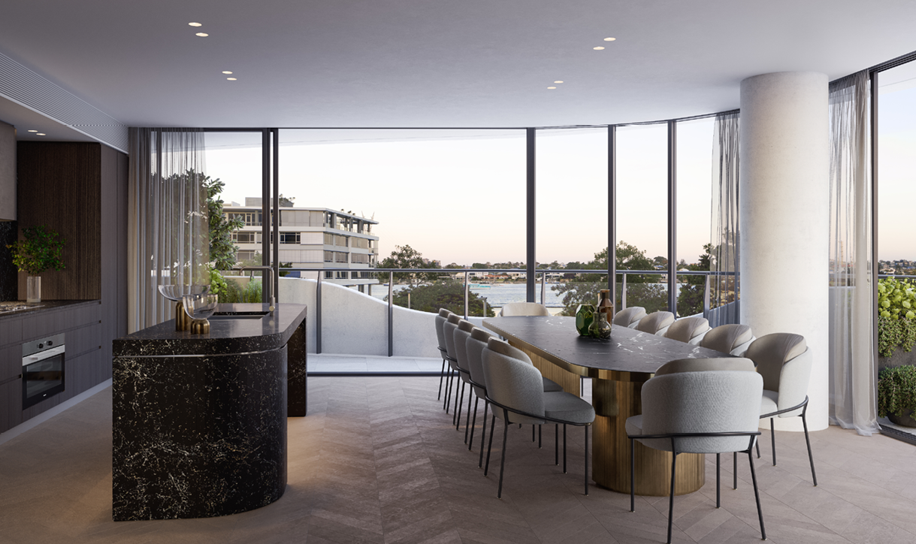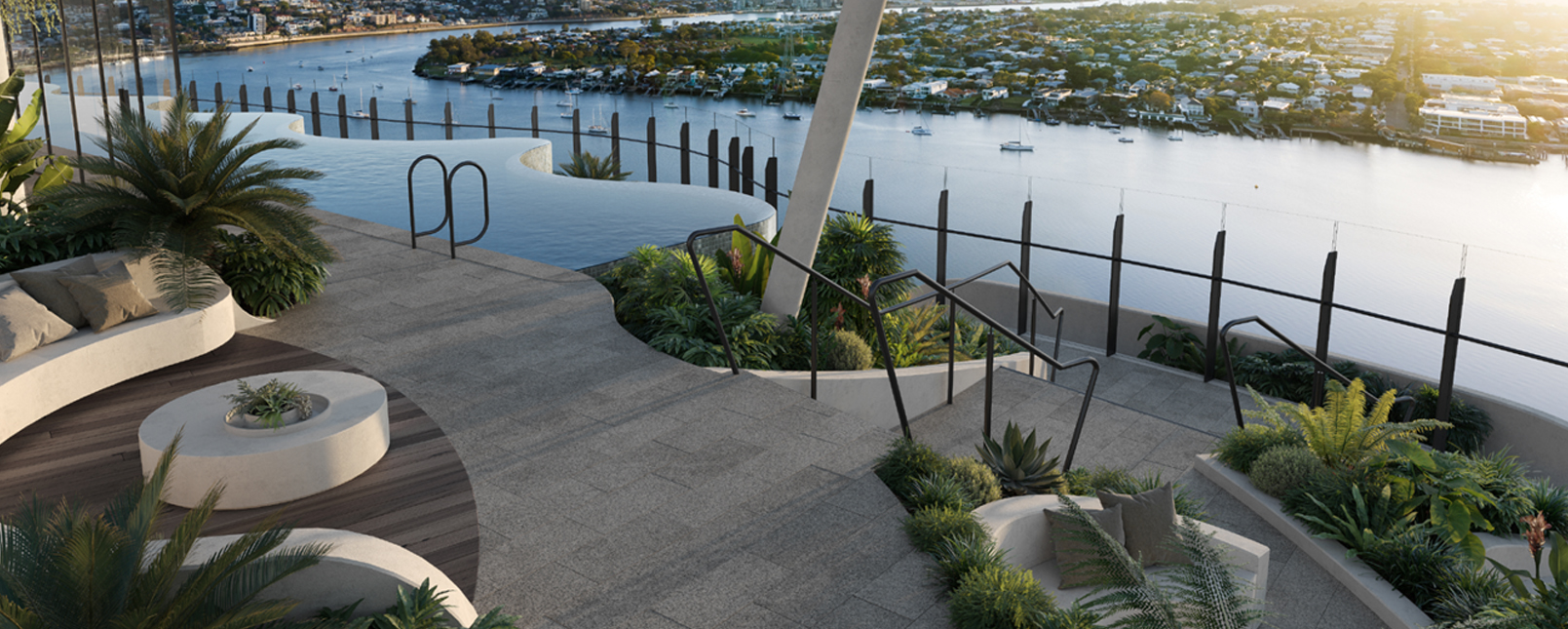 For those living in urban environments, enhancing these opportunities to see, feel and connect with nature not only adds to the desirability of a new address but can lead to improved health and wellbeing.
All these factors contributed to the vision for one of Mirvac's latest projects in Brisbane, Quay Waterfront Newstead, which embraces the philosophies of biophilic design.
Located alongside the Brisbane River, an expansive waterfront parkland and a vibrant dining and retail hub – all just two kilometres from the Brisbane CBD – Quay presented ample opportunity to showcase its unparalleled position.
"It is in a spectacular natural setting, with access to the parkland, access to the river and access to retail," explains Mirvac Design Director, Michael Wiener.
From day one, the team considered how to complement the natural beauty with an equally beautiful building, which would become an iconic piece of architecture for Brisbane.
Central to this was the view that instead of putting the 'building in the park', they would 'put the park on the building', creating a seamless connection to the neighbouring 5.5 hectare parkland, Waterfront Park, which was developed as part of previous stages of Mirvac's Waterfront Newstead masterplan and will be expanded further with Quay.
As a result, the entire 25-level facade will comprise sinuous and organic geometries, with lush native plantings proposed to cascade from balconies to further soften the curved forms.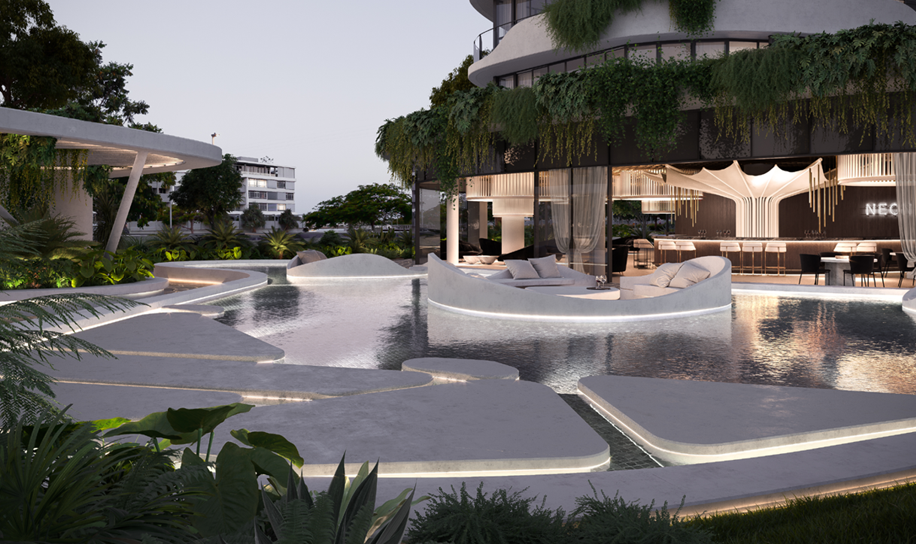 Seating pods and proposed retail space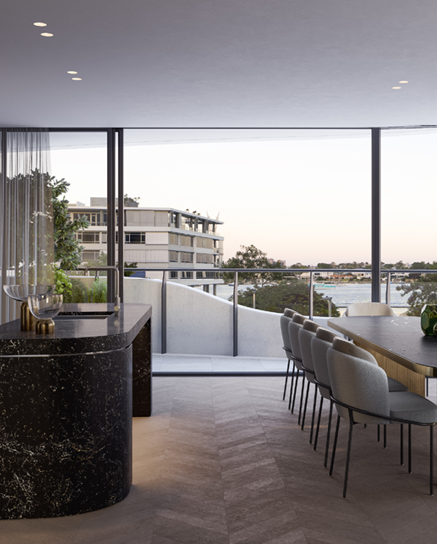 Quay Social - residents' dining and lounge area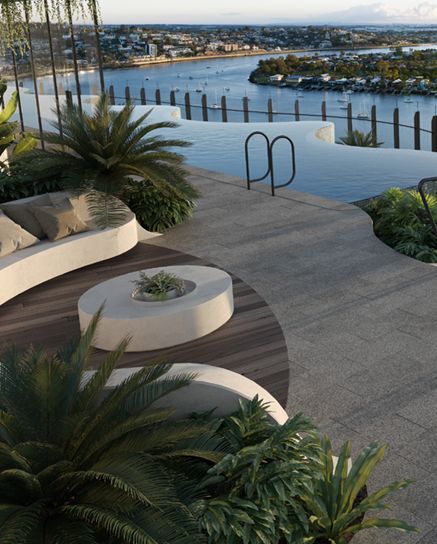 Quay Resort - proposed rooftop pool and plunge pool, with its surrounding seating and BBQ areas
"Quay is conceived as 'the park in the park', with the apartments featuring a private garden or elevated backyard, which is strategically located to provide privacy while being open to views," says Mr Wiener.
"The natural organic forms of the building strengthen the relation to the park and the greenery on the balconies helps to create a connection to nature, and the sense of wellness that nature provides.
"The end result will be a uniquely Brisbane building - one where connection to nature will improve the quality of life, for communities within and without."
The plant palette has been inspired by natives and the existing park experience and will include Water Gum, Queensland Brush Box, Royal Poinciana, Evergreen Frangipani and Golden Penda, to add colour, layers and texture.
In line with the principles of biophilic design, Quay has also been designed so residents enjoy the full benefits of Queensland's superb subtropical climate.
"Quay maintains key view corridors while performing passively with variable balcony widths creating deep eaves sheltering the apartments below," says Mr Wiener. "The balcony spaces wrap around the perimeter of each floor allowing residents to take advantage of the more than 300 comfortable days provided by Brisbane's climate, reducing their reliance on mechanical heating and cooling."
Inside, apartments echo the sweeps and arcs of Quay's exterior, with curves adding character, while timber and tile flooring builds the connection to nature.
Most kitchens feature curved stonework on the island and an artisanal statement rangehood covering made from burnished metal, celebrating natural veins, grains and textures.
Reconstituted stone benches are also a focal point of the bathrooms, along with indulgent rainforest showers and deep baths, with soft lighting and feature mirrors elevating the space and metallic touches adding modernity.
"Interiors flow to the large, sculptured balconies, framed by expansive glass frontages and high ceilings to draw in daylight and cross ventilation," says Mr Wiener.
At ground level, the absence of a podium creates a pedestrian-friendly streetscape, maximising views to the park and river.
A transitional experience of soft, lush, yet intricate layering of plant species and water features grounds Quay while delivering an explorative subtropical experience, providing an extension of the park.
"Entering the building through the lobby, you pass over a water feature that surrounds the four metre high glazed facade, setting up the experiences that carry through the building," says Mr Wiener.
"In the lobby there are private seating lounge areas for contemplation and, off the lobby, a wellness centre - Quay Balance - for residents to practise yoga, go to the gym or enjoy treatments in private rooms.
"These areas look over the water and park to the river, reaffirming the connection to the natural environment."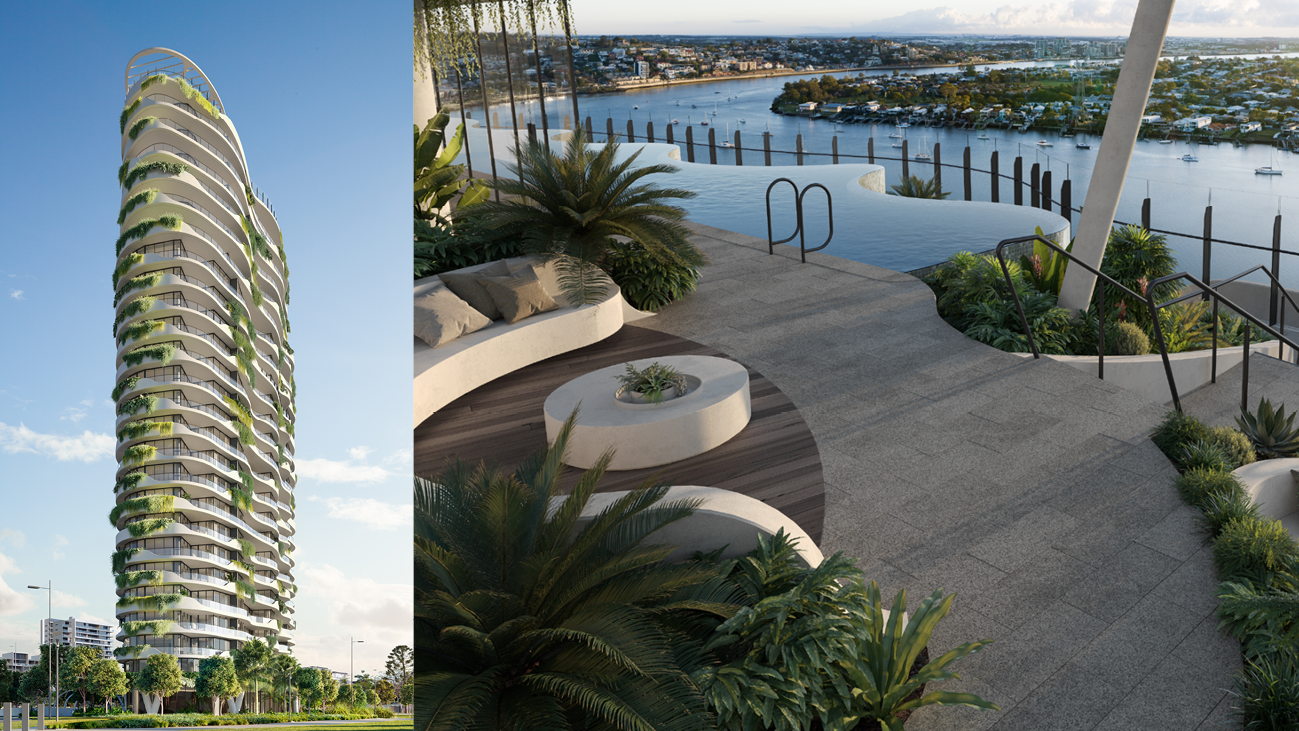 "Quay is conceived as 'the park in the park', with the apartments featuring a private garden or elevated backyard, which is strategically located to provide privacy while being open to views," says Mr Wiener.
On the rooftop, Quay's proposed 25 metre infinity edge pool disappears out to the river and the views beyond.
Also planned is a plunge pool, alfresco dining, herb and cocktail gardens, private lounges and seating areas to enjoy with neighbours, friends and family, set within a lush green landscape and designed to encourage social interaction.
Within the building, residents will enjoy a private kitchen, dining space for approximately 14 people, a lounge and wine room, with an on-site concierge.
"Wellness and a connection to nature are ongoing themes in the design of Quay, with numerous private spaces provided for residents to enjoy inside and outside their residence," says Mr Wiener.
"Creating community within the building is also a consideration and we do that by offering amenity and places to bring residents together encouraging them to meet each other. It is about creating these opportunities for how they'll live, not telling them how to live, so they can connect to nature and each other as they aspire."
Quay by Mirvac
Location: 57 Skyring Terrace, Newstead, QLD
Information Centre: 13 Cunningham Street, Newstead
T(07) 3859 5222
Wquay.mirvac.com
For full image disclaimers please visit quay.mirvac.com.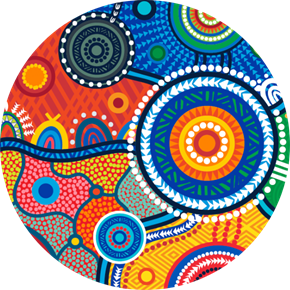 Mirvac acknowledges Aboriginal and Torres Strait Islander peoples as the Traditional Owners of the lands and waters of Australia, and we offer our respect to their Elders past and present.
Artwork: 'Reimagining Country', created by Riki Salam (Mualgal, Kaurareg, Kuku Yalanji) of We are 27 Creative.