Over the decades we have built thousands of homes and encountered just as many wonderful and interesting people. Many have become customers for life, encouraging their children and grandchildren, friends and family, to stick with Mirvac. We never take our customers' loyalty for granted but more than that, we listen to what they tell us and with every new home we design and build, strive to make it better than the last. These are our customers' stories, recounting their experience living in a home by Mirvac.
1970s: Macey Kavalee
Before Castle Vale was even built, Macey Kavalee walked the site with a close family friend who was a design consultant involved with the project. He spoke glowingly of Mirvac's visionary plans for its first large scale integrated development. Macey was only in her teens then and it was not until many years later that she moved into the award-winning development at Willoughby on Sydney's lower north shore, completed in 1976.
"What I loved about Castle Vale was the gardens. Friends would come and visit and when they saw the gardens, they would say, now I understand why you're living in an apartment. The ratio of green space to built environment is about 50 per cent which is a lot compared to other places.
When Castle Vale was built it epitomised best practice and now all these years later Mirvac is again demonstrating best practice next door (at NINE by Mirvac). The real reason that I moved to Castle Vale was to be closer to my grandchildren. When my daughter and her husband moved back to Sydney from Chicago, they were looking for a new home. They're busy people and have no time for looking after a garden so a place like Castle Vale is much better for them.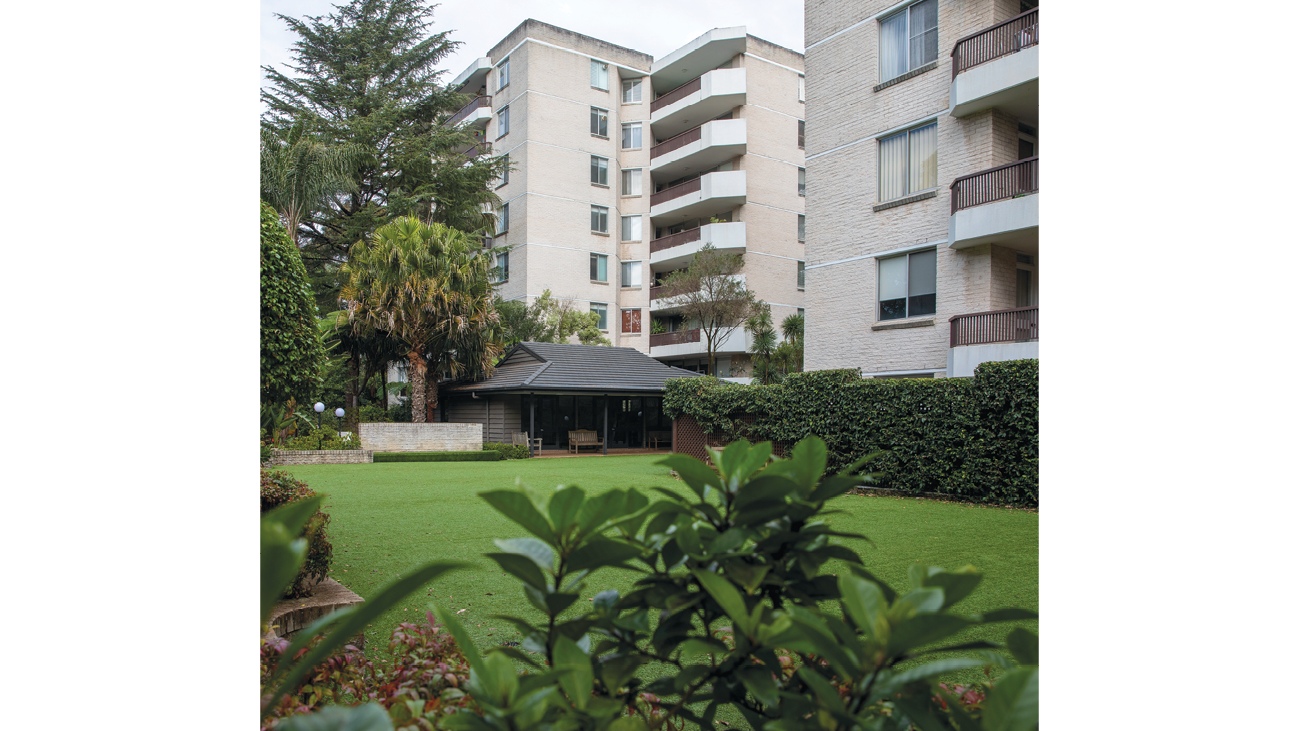 We went to look at Castle Vale and we liked the ratio of building to green space and the way the common areas linked the series of individual buildings together. There were good schools nearby which we thought the boys could attend and a pool which the children used a lot. About a year after they bought, I also moved in. I started a herb garden there with other residents who all wanted to grow as much of their own food as possible.
Even today it would be hard to find an apartment building that has all the facilities that Castle Vale has. What Mirvac did at Castle Vale and what I see them doing in their other developments is taking into consideration the community aspect of living in a multi dwelling environment. The more you build community the more agreeable it is to live in a place. It is like being in a city that has a great street life. I had to move out last year but I did love living there."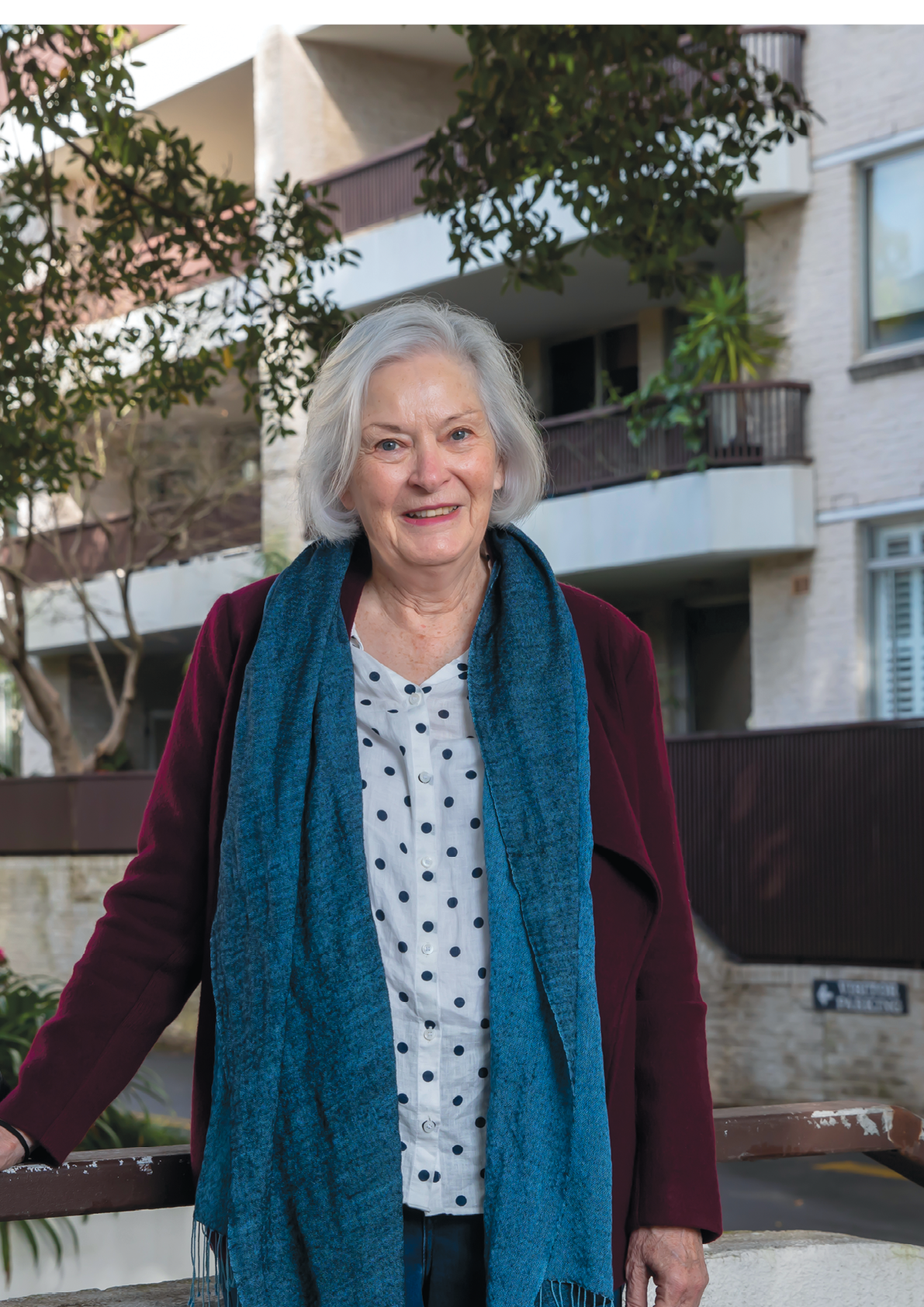 1980s: Charles and Janelle Ledingham
Mirvac's magnificent Kincoppal development in Sydney's Elizabeth Bay sold out within a matter of weeks of launch in the early 1980s. The harbourside building – formerly a family residence and then a private girls' school – is the place of new memories for Charles and Janelle Ledingham. The retired farmers share their time between the country town of Moree and their Kincoppal residence.
"Our friends had lived at Kincoppal since the early 1980s and when we visited them, they would say 'why aren't you buying in Kincoppal, it's really good value'. And the way the apartments have gone up in value, it certainly was – and is – good value. We have always been impressed with the building and every time we walked through the gate with the beautiful garden, we had a really good feeling about it.
The story that you buy the view, and the real estate is thrown in, is very quickly proven true at Kincoppal, with views past Darling Point to The Heads. Our girls went to Kincoppal-Rose Bay School, but only recently did we discover the meaning of 'Kincoppal'. If you walk down to the foreshore, which of course you can do as Kincoppal is on the biggest harbour frontage in the eastern suburbs, there's a prominent rock shaped like a horse's head – and 'Kincoppal' means horse head in Gaelic.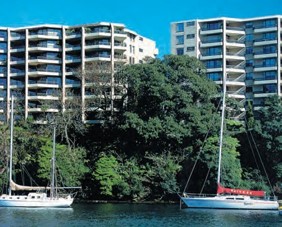 We purchased our three-bedroom, two-bathroom apartment, with a north-easterly aspect, on level eight of Kincoppal in 2008. It had been refurbished over the years, and we completed a structural change to the kitchen and main bedroom to open the space. Prior to COVID, we would spend half a year at Kincoppal and we look forward to again coming to Sydney to stay here.
We purchased our first Mirvac apartment in 1982, in a building called Wimbledon in Edgecliff, which we owned for many years. It had three bedrooms and was well appointed. It was the display apartment and we purchased it with all the furniture."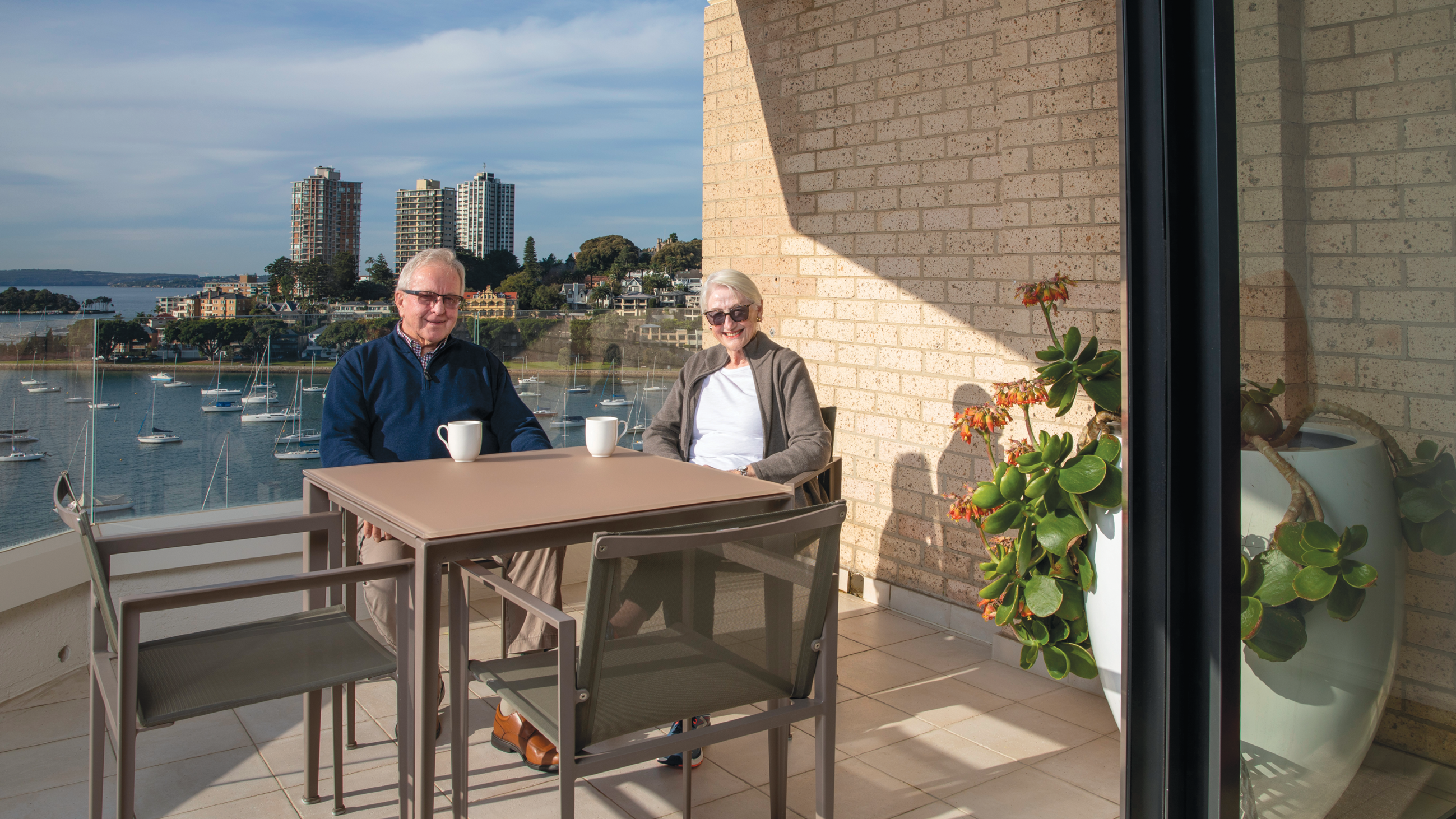 1990s: Sonia Andrews
Sonia Andrew has lost count of the number of homes she has bought and sold over the years. As one of Harvey Norman's most successful and trusted franchisees, every time Gerry Harvey asked her to open up a new store she would sell up and buy a new home to be close to work and able to put in the long hours needed to turn it into a thriving business. But the home she bought in the multi-award winning Raleigh Park in the Sydney suburb of Kensington in 1990 is the one that captured her heart, also becoming the first of three Mirvac properties she has bought, at Magenta Shores on the Central Coast and Pavilions Residences at Sydney Olympic Park.
"Raleigh Park was the most beautiful home. I had been running the floor covering franchise in Harvey Norman Lismore store at the time and Gerry asked me to open Moore Park. Mirvac was still in the process of building the villas and high-rise and I bought the display home on Todman Ave which had all the landscaping done with its own driveway and entry.
I told the sales agent that Henry Pollack (co-founder of Mirvac) had promised me I'd be well looked after if I ever bought a Mirvac home. Well, that was 20 years earlier when I was working for LJ Hooker and assisted with the sale of his Haberfield property. Even though he was no longer at Mirvac they still looked after me well. I was a very busy lady at the time and I liked being able to walk out my door and be at work in minutes.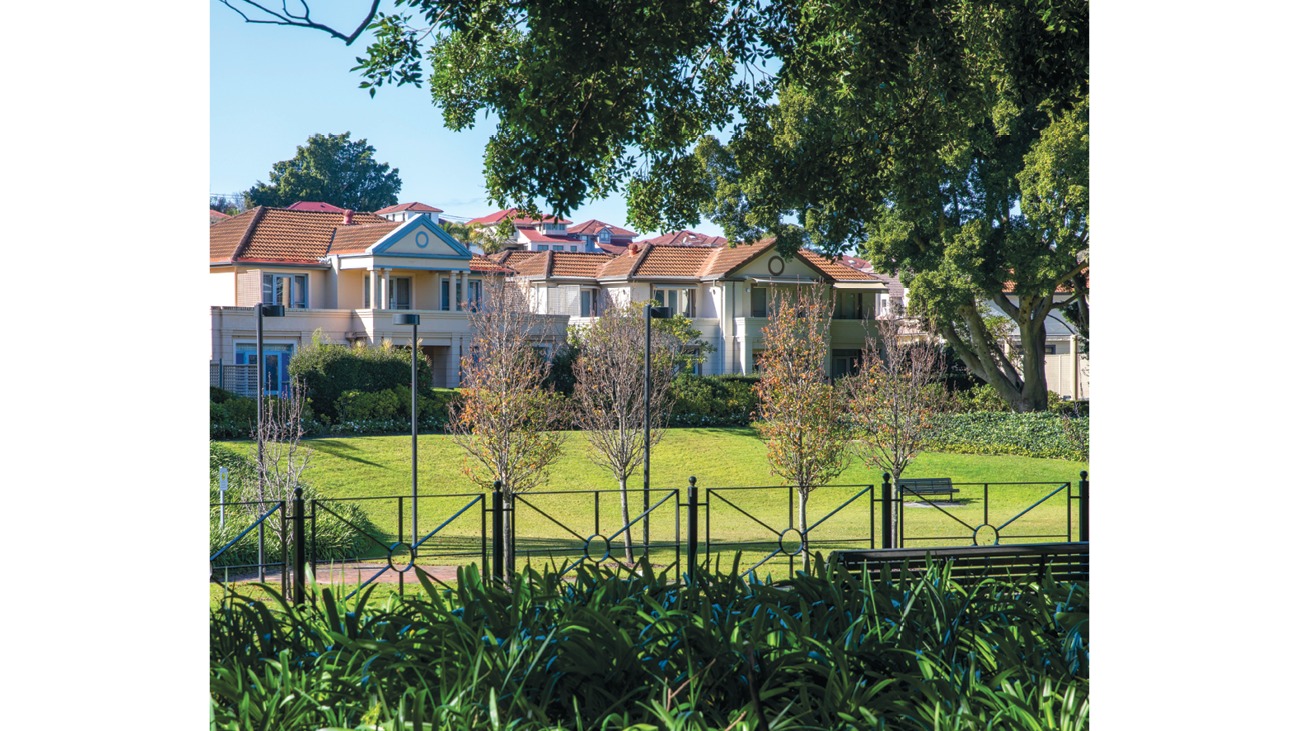 I truly did love that home, in fact it would be easier to say what I didn't like about it. It had double doors at the front and an entry foyer, the most beautiful ensuite with a great big bath tub and black and white tiles. From the second storey gallery level you could look down into the formal dining area. There was a graciousness and elegance about it. I would have loved to stay there longer. It was very solidly built and that is one thing I love about Mirvac. I admire the workmanship that goes into Mirvac and the architecture and interiors. They are very progressive.
Raleigh Park was a totally new way of living, the first community title that I had lived in and the first of its type in NSW. There were several tennis courts and a Grecian style swimming pool and these became a wonderful social outlet for Sunday get-togethers with family and friends. It was a park-like estate with magnificent gardens which were just beautiful. It really was a glorious house."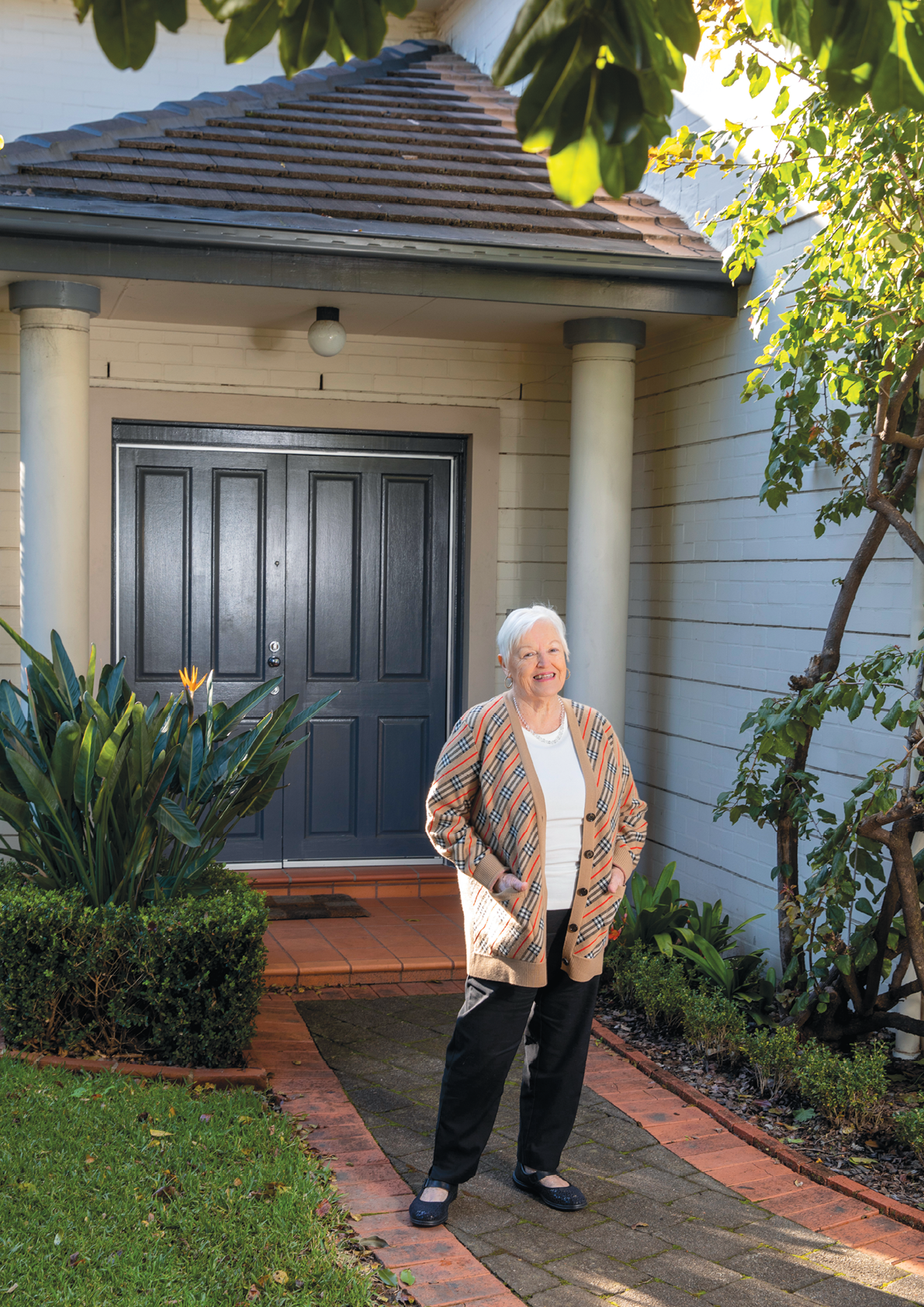 2000s: Grant Wilkinson and Ross Hayward
A work trip to Brisbane in 2005 proved life-changing for Grant Wilkinson and Ross Hayward, who have held the keys to 10 Mirvac properties over the years. Their first Queensland purchase was at Cutters Landing, an iconic redevelopment of the historic industrial Colonial Sugar Refinery in New Farm and they haven't stopped yet. Grant, a human resources manager, and Ross, an international onboard crew manager have purchased six apartments in Waterfront Newstead on the Brisbane River.
"We weren't visiting Brisbane to buy a house. We went for work but loved the location of Cutters Landing and the design, so we ended up purchasing a home off- the-plan that weekend. We'd bought our first Mirvac apartment the year before, in 2004, at Encore in Elizabeth Bay in Sydney. We didn't know a lot about Mirvac then but from that time on we were very impressed.
We lived at Cutters Landing for nine months, before a job opportunity saw us go bush to the Sunshine Coast. We were fortunate to sell the home for a $500,000 profit, and bought a house in Mirvac's Waterline Bulimba, which we rented out. We've owned six apartments in Waterfront Newstead over the years, starting with Park in 2013 and four in the most recently completed building, Unison, which we purchased in 2017 and 2018.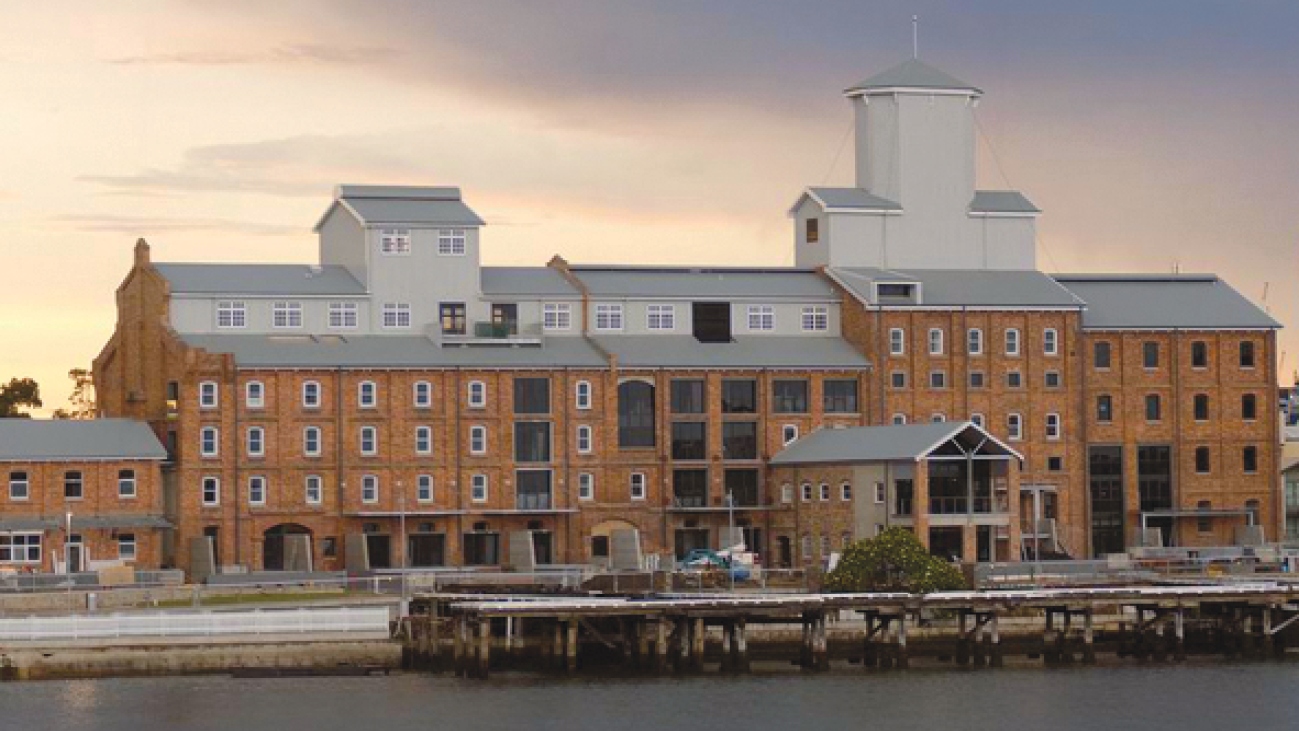 We're now looking forward to moving into our latest purchase, a three bedroom apartment in Quay, which is due for completion in early 2024. The building is set next to Waterfront Park, with views straight up the Brisbane River. It is quite amazing the way the apartments are laid out and positioned, and so close to shops, amenities and restaurants.
We have our COVID dog - labradoodle, Lucy – who we love taking for walks along the waterfront morning and afternoon, or calling into a local cafe for a coffee, pastry or lunch. We liken it to buying a car. You tend to stick with a car brand because you believe in it, and that's what we've done with property. We've gone from one Mirvac home to another. Mirvac's design, attention to detail, follow-up and the fact they deliver on their promises keeps drawing us back. The buildings include fabulous outdoor areas with lap pools, gyms and green spaces and they appoint quality building managers who run a tight ship to maintain your investment. That's important to us.
From our very first property in Queensland to this day we still know the sales people. Mirvac follows through and keeps in contact throughout the process, so you develop strong relationships. The sales team keeps inviting us to their latest launches and we keep going. Eventually we've got to settle, I suppose, but it's all part of a big plan that we've done well from and enjoyed."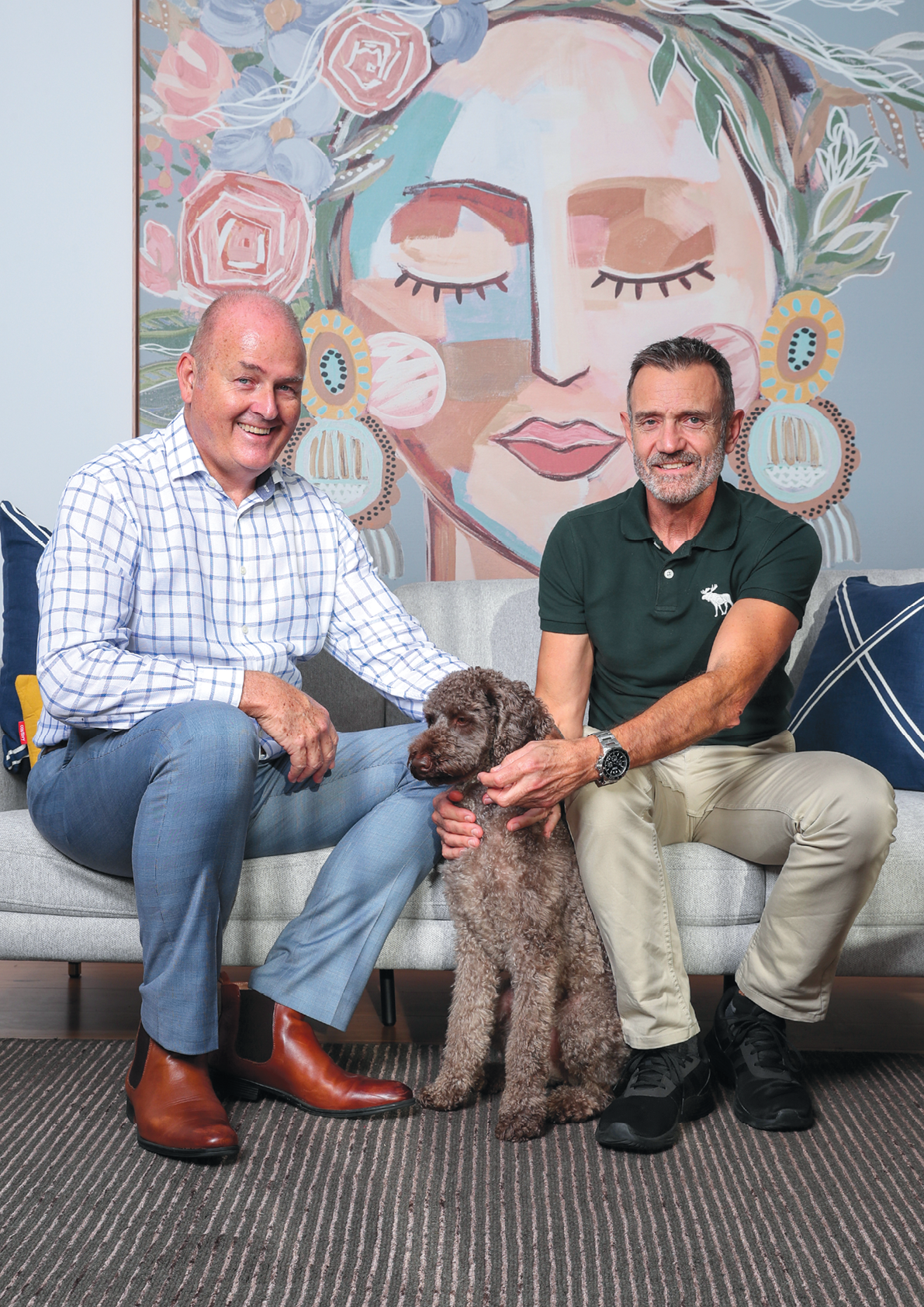 2010s: Deb Waters and Trevor Matthews
"We purchased our first apartment at The Peninsula in 2017. We were downsizing from our home and it was the last display apartment remaining in Aurora, with views of the City and Swan River. We fell in love with it. Our apartment was on Level 4 and had four bedrooms and three bathrooms. The finishes, fixtures and layout were amazing, with floor-to-ceiling curved glass windows along the living, dining and kitchen, capturing north- west and eastern views. Access and security were very important features to us. We lived there for three years.
We loved that the apartment was in walking distance of Optus Stadium and only a short walk to see our AFL team play there. We also loved the fact we could walk to the six-star Crown facilities including Crown Theatre and some of the best restaurants in Perth like Rockpool and Nobu. The community at The Peninsula in Burswood is a close-knit one and extremely supportive. We have made some lifelong friends since we first purchased in Aurora.
We love a happy social life and like to share a drink and it's a great environment to catch up at either of the two local cafés and bars. There is always something going on socially. The Peninsula is also wonderful for our two Shih Tzu/Poodles, Kobi and Sooty. They love their walks and also enjoy their visits to the cafes and bars.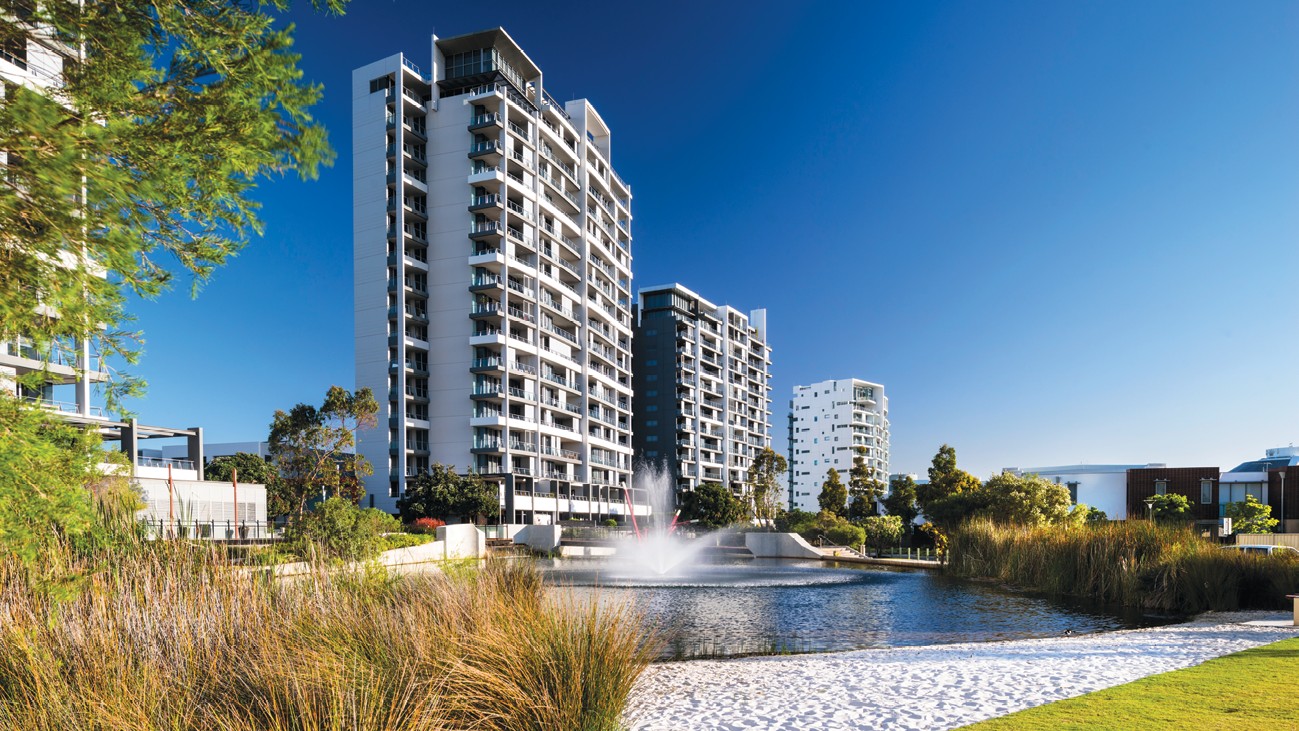 Last year we purchased a three bedroom, two bathroom, two living area apartment off-the-plan on Level 6 of the latest stage, Ador. The artist impressions look amazing, particularly the organic architecture and entry statement which fit beautifully with the water environment.
We are looking forward to the completion of Ador and will be very excited to move into our new home."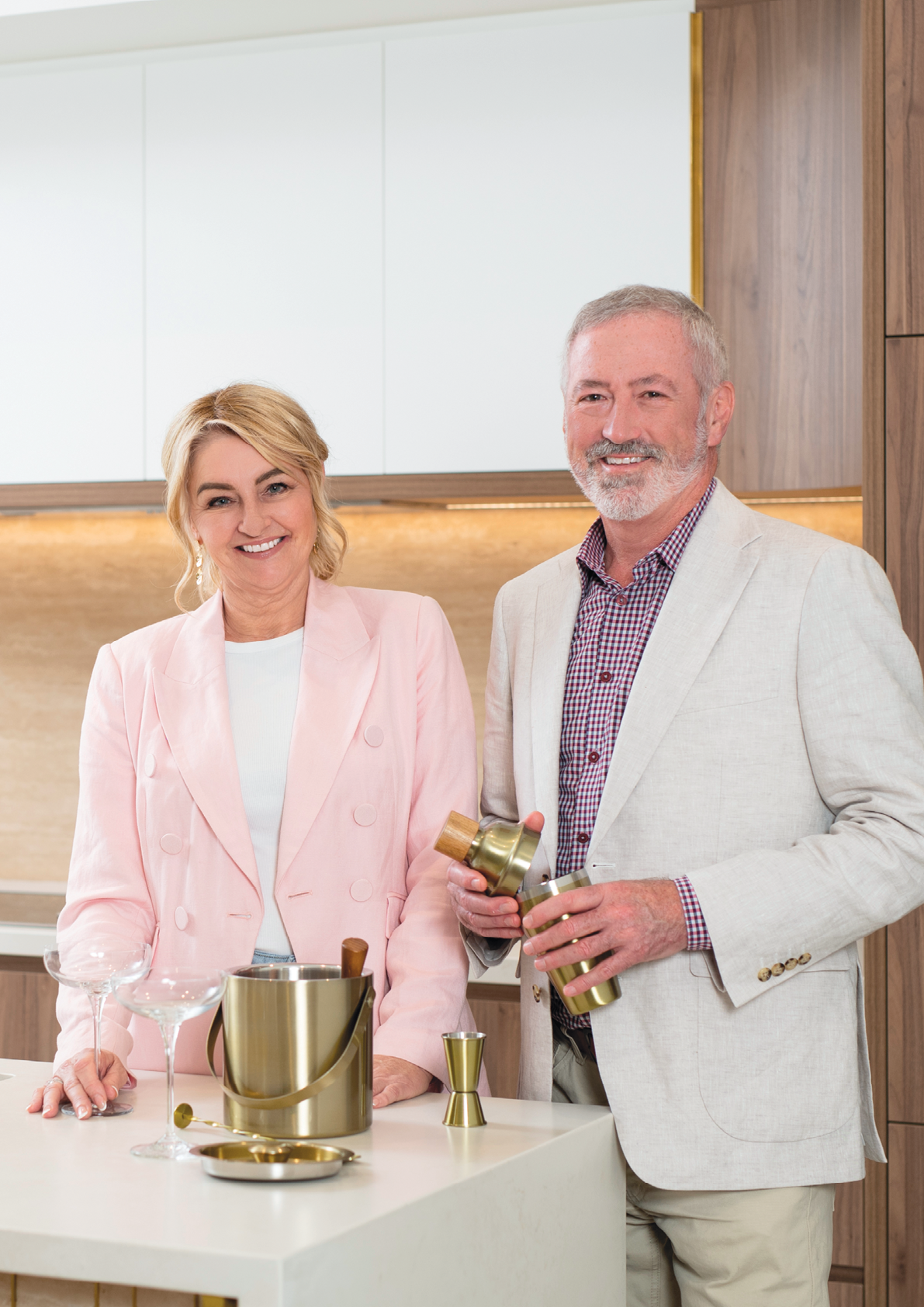 2020s: Nicholas Lim and Olivia Hendri
First home buyers Nicholas Lim, a bank manager, and Olivia Hendri, a graphic designer, were planning to invest in an inner-city Melbourne apartment, until they discovered Mirvac's Tullamore in the established suburb of Doncaster. With Nicholas' parents already calling the community home, the couple was drawn to Tullamore's family-friendly atmosphere, abundance of green space and sense of privacy.
"We had planned to use our savings to buy an investment apartment and rent but when Nicholas' parents moved to Tullamore we fell in love with the area. Doncaster is a fantastic location and Tullamore has nice parks, feels secure and is well connected, with a bus stop close to our new home. It just felt right.
Nicholas grew up in a home in Malaysia, which had a lot of privacy, and the corner lot we chose appealed because it had the same sense of space and security, with a nice view. We put down a deposit in 2019 and moved into our four-bedroom and three-and-a-half-bathroom home in mid-2021.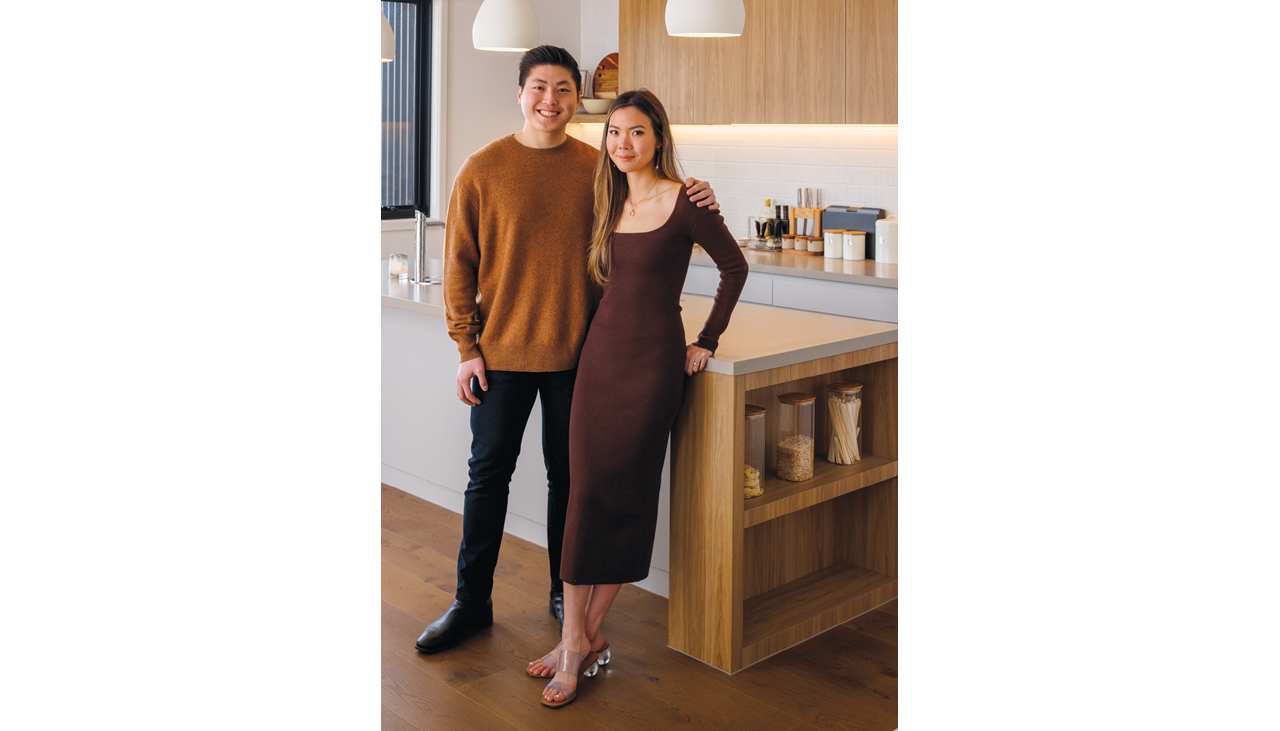 We didn't have any furniture when we moved in and lived in our lower- ground level, where the guest bedroom, bathroom and living area to the backyard are located, so it almost felt like an apartment. As our furniture arrived, we gradually moved into the other levels and it was like being in a new home all over again. We have really enjoyed the sense of space. Our goals changed when we moved to Tullamore. We decided to get married and start a family sometime soon, rather than continue to rent. We've moved regularly in the city and wanted a home we can live in for at least 10 years.
Being close to family has also been so convenient. Nicholas' dad encouraged us to take the leap of faith and while they are close, they are not too close – you still need to get in the car. We have dinners at their place and they come to ours. Nicholas' mum is a great cook, so if there's leftovers, we can take them to work. As first home buyers, Mirvac made the process easy. The sales team worked with us on floorplans and gave us advice and how-to guides, covering everything from finance to moving-in. The communication from start to finish was top rate, with an emphasis on customer service, which was a big deal for us."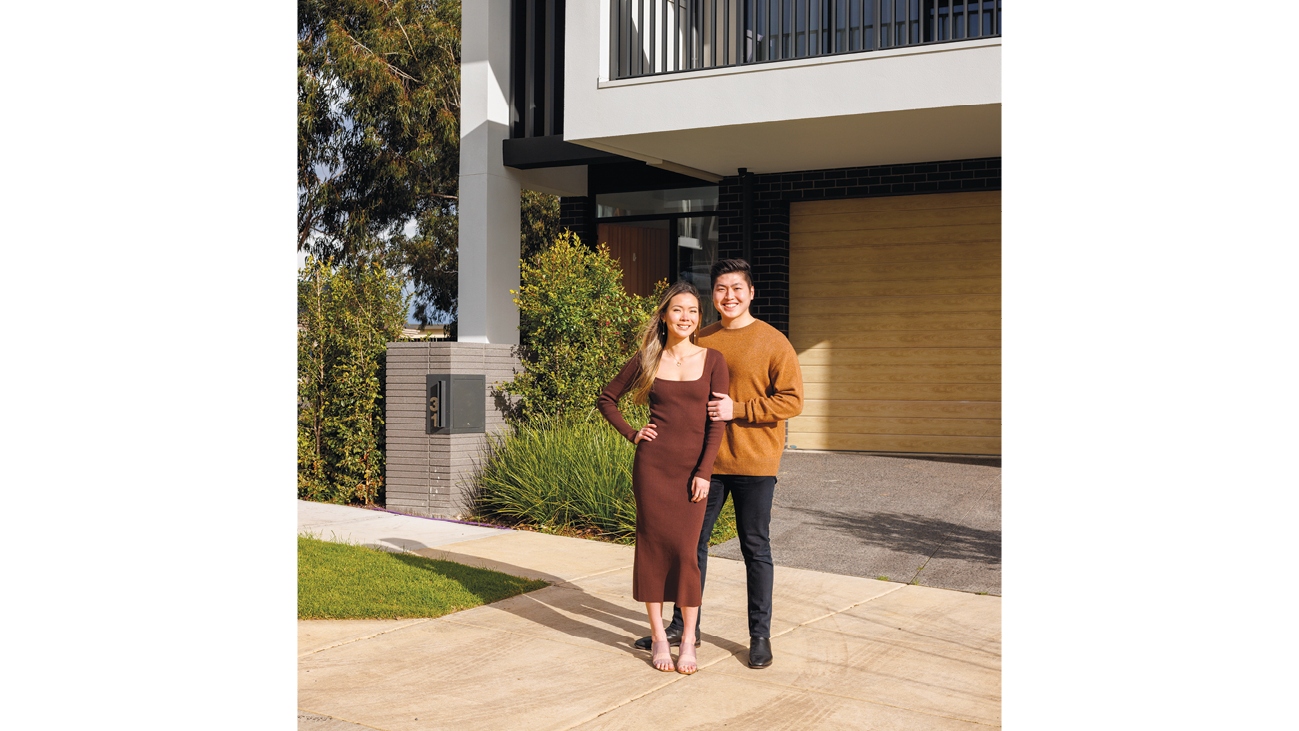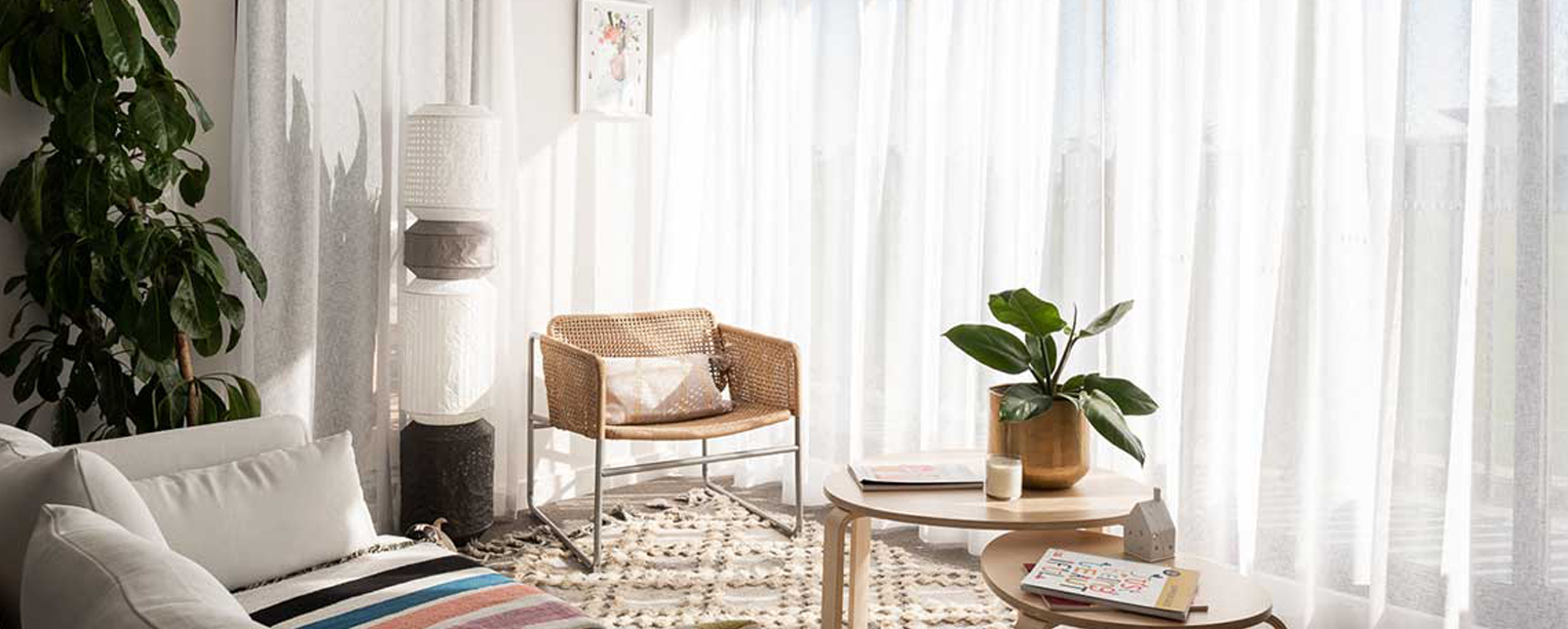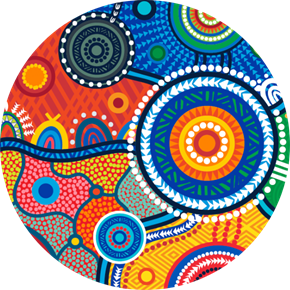 Mirvac acknowledges Aboriginal and Torres Strait Islander peoples as the Traditional Owners of the lands and waters of Australia, and we offer our respect to their Elders past and present.
Artwork: 'Reimagining Country', created by Riki Salam (Mualgal, Kaurareg, Kuku Yalanji) of We are 27 Creative.