Mirvac's House with No Bills Sells at Auction
Mirvac's ambitious House with No Bills experiment has come to an end, with the home being sold at auction on Saturday, 29 February.
Mirvac's prototype energy-efficient home, which was at the centre of the pioneering House with No Bills study, has been sold at auction, to a buyer who said they appreciated the home's leading sustainability features.
The prototype energy-efficient House with No Bills (HWNB) was launched in 2018 as part of the Group's mission to drive a more sustainable future for Australians. A key worker family of four, the Zimmerman family, was given the chance to live in the home for 18 months, learn more about sustainable living, and enjoy a life free from rent or bills.

The HWNB study integrated extensive energy modelling analysis with the input of researchers at Curtin University to measure the energy generation and use of a three-bedroom home at Mirvac's Jack Road estate in Cheltenham, VIC.
The eco-friendly design and technology used to reduce the home's reliance on grid electricity included an Evergen solar and battery system, smart home automation with sensors to control internal temperatures, lighting motion sensors and automated blind control, increased roof insulation, high-performance glazing, energy-efficient appliances and LED lighting.
The smart metres and monitoring systems helped the Zimmerman family keep track of where and how their energy was being used, assisting the HWNB in achieving a 75 per cent energy saving (approximately $2,000) in 12 months, with the very real possibility of the home having net zero energy bills in future.
Mirvac's General Manager of Residential Victoria, Elysa Anderson, said the HWNB will be used to shape future projects.
"Designed to look, feel and operate the same way as a typical home, the House with No Bills experiment aimed to help address the increasing pressures of housing affordability and reduce environmental impact with market-based solutions," she said.
For the Zimmerman family, the HWNB proved to be a life-changing introduction to becoming more energy efficient, while giving them a chance to start saving for a home deposit and achieve other goals without the financial stress of paying rent or bills.
"Our journey to becoming more sustainable as a family saw us on a steep learning curve. We realised with the help of the Mirvac and Curtain University teams, that our behaviour and simple choices around the home have a large impact on energy consumption. Understanding how to use the energy monitoring apps was really important and once we started to see the impact of different decisions, that influenced our behaviour," said Lisa Zimmerman.
"Sometimes the results were really surprising too. We expected the home's solar panel and battery system to have the biggest impact on energy savings but some of the smaller decisions can also have a big impact. I am forever reminding the kids to turn off lights but it was interesting to learn that with the technology we had in the home, lighting made up only two per cent of our total energy consumption. It was things like taking shorter showers and turning off the TV and games console when not in use that can make a real difference."
Focus Area
Natural Resources
Climate Change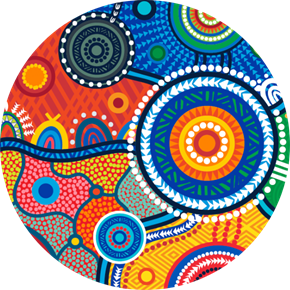 Mirvac acknowledges Aboriginal and Torres Strait Islander peoples as the Traditional Owners of the lands and waters of Australia, and we offer our respect to their Elders past and present.
Artwork: 'Reimagining Country', created by Riki Salam (Mualgal, Kaurareg, Kuku Yalanji) of We are 27 Creative.