Building strong bonds
Mirvac has a community goal to leave a positive legacy and we do this by building strong bonds.
Building strong bonds helps us to strengthen community connections, and after almost 50 years in the business, we know that connected communities are better places to live, work and play. We help to build strong physical bonds by leveraging our skills and expertise, and by partnering with others in our industry, to create safe spaces for those who are vulnerable (such as the house we built with the Property Industry Foundation to support young people experiencing homelessness). We also help to create strong social bonds by hosting events that strengthen connections, building amenities for the wider community, not just our customers, and by volunteering in our local communities.
In FY21, and against a backdrop of COVID-19, we continued to show great care for our communities. We did this through a number of initiatives, such as Shelter@Mirvac (see page 20) and our annual Mirvac National Community Day, which once again saw over 800 of our employees volunteer their time to participate in a range of activities, delivering more than $600,000 in community investment in the process. We also donated $150,000 to the recovery efforts following the devastating floods in March which left many parts of NSW and QLD under water for days.
Investing in our communities by going above and beyond what's required also helps us to ensure we facilitate a sense of belonging. At Olivine in Melbourne, for example, we provided additional works to create a first-class sporting precinct for the community to use, as well as Gumnut Park, which features an adventure playground and climbing pods, and was designed to inspire adventure, exploration and discovery – in both the young and old. In addition to this, we contributed funding towards Shared Cup café, which is a communal space to be enjoyed by the wider Donnybrook community.
Our ambition to have a positive social impact also extends to creating opportunities for those who don't always get them, and one of the key ways we're able to do this at Mirvac is by using our purchasing power for good. In FY21, we continued to progress our goal of directing $100m towards social enterprise, Indigenous business and B-corps, with $8m spent with businesses such as Unreal Steel, an Indigenous-owned steel rigging and fabrication business, and Nundah Community Enterprise Co-operative, which creates employment and training opportunities for people with disabilities. To date, we've directed $28m towards social procurement since setting the target in FY18.
Finally, having long recognised the value of measuring our social impact so that we can better understand what the drivers are to deliver better community outcomes, this year we developed a snapshot study of our positive impact on the City of Sydney. The study will be used to inform our approach to measuring our social impact into the future.
OUR IMPACT
$6,969,555 of community investment (including $695,539 of management costs)
$5,546,829 cash donations
$563,062 value of hours of support
$164,125 in-kind donations
$201,445 leverage contributions
Focus Area
Our Community
Social Inclusion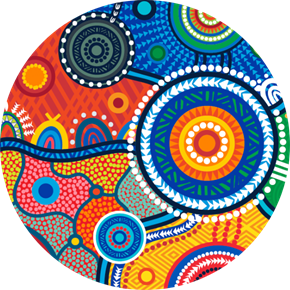 Mirvac acknowledges Aboriginal and Torres Strait Islander peoples as the Traditional Owners of the lands and waters of Australia, and we offer our respect to their Elders past and present.
Artwork: 'Reimagining Country', created by Riki Salam (Mualgal, Kaurareg, Kuku Yalanji) of We are 27 Creative.