Business of Work Ep 1: The work of making hybrid work
Five ways to entice employees back into the office. With a tight labour market, business leaders looking to retain top talent must create enticing work environments that meet workers' needs for autonomy, support, and genuine connection-building.
Many workers have expressed their preference for hybrid and remote work. Data from LinkedIn, for example, showed remote jobs received 50 per cent of all applications in February 2022 — despite representing less than 20 per cent of all jobs posted. Recent research from the UNSW Business School's Hybrid Leadership lab showed many workers prefer to have the option to work from home.
If leaders still want workers to return to the office, how can they convince their staff and prospective employees that it's worth the commute, especially when remote jobs are on the rise?
This was the topic of a recent interview between Professor Nick Wailes, Senior Deputy Dean and Director of the Australian Graduate School of Management at UNSW Business School, Paul Edwards, General Manager of Strategy and Customer at Mirvac, and Professor Karin Sanders, Senior Deputy Dean (Research & Enterprise) at UNSW Business School, and co-founder of the UNSW Hybrid Leadership Lab.
They discussed the latest research and industry findings on how to tailor work environments that work for employees, on the AGSM Business of Leadership podcast: The Business of Work.
Listen to The Business of Work Podcast Episode 1 here.
Work out: what do your employees want?


First, it's essential to understand the benefits employees gain from hybrid ways of working. What are they are willing to sacrifice, and what are they unwilling to give up? Do they view working from home as an entitlement? What is it about a hybrid way of working that appeals to them? Is it greater autonomy and flexibility, or are they tired from the long commute?

"We only know if we ask people. So given that we are not asking people but making all kinds of assumptions, we are missing an important input from the employees," explained Professor Sanders.

Importantly, checking in with your employees shouldn't be a one-off exercise. Leaders should monitor what people are doing and what they prefer regularly, because this can (and most likely will) change from time to time, said Professor Sanders.

"It's really important to make clear to all your employees that we [business leaders] don't have the answer," she said. "So, in a way, we are in a kind of experiment."

"But it's really good to make that clear to the employees, and to make it clear that together, not from a top-down but bottom up, we will see what is working for everyone."

Create a seamless 'office experience'

According to Mr Edwards, businesses must work to optimise the office experience. "If people can work from anywhere, why work somewhere?" he said. "How do we make sure that we've earned the commute of our customers and their employees?"

Because workplaces are essentially "hosting" their employees for the day, think about how you can simplify the experience for them, how can your office space be a good host? For example, Mr Edwards said Mirvac is working on removing friction points through touchless technology.

"So, when you arrive, you can go straight through the speed stiles, if it's booking systems for the type of areas you want to use or if it's a car park hotel. So, you can use a car space when others do not use it.

"I'm looking at technology in ways to simplify the experience, so we take away those friction points," he said.

The same can be said for creating office experiences that go beyond the physical space. For example, Mr Edwards said consider how your business can curate services and provisions that help support workers' experience when they come into the office. Like connecting concierge services, using technology to make it easier for employees to form groups, for example, with people who like painting or art or jogging clubs etc.

But a lot of these changes will require education and curation of an environment to help with behaviours, noted Mr Edwards. He said the worst scenario would be if a worker did come to the office, and they were the only one there.

"If I get there and none of my team is there, that's also frustrating. So, then you don't come back, leave early, or just say you know what, this is all too hard. And if it's too hard, people are so quick now to not come back because they know they can work from home," he said.

"So Mirvac is working on a set of behavioural initiatives, things like plan ahead, team days, collaboration, think about collaboration, who you want to collaborate with, are they in, how can you ensure you're both respectful of the fact that you're both going to be in, how do we tell people or how do people experience the benefits of in real life collaboration and in real life time with each other."

Prioritise human connections and interactions

Another key point that Mr Edwards discussed was the potential for office spaces, or 'office precincts', to be created with the specific purpose to support socialisation. "One of the big things that we've learned is social interactions are a big part of work," explained Mr Edwards.

"When you actually think about it hard, a lot of people meet their best friends at work, a lot of people meet their partners at work, there's a whole breadth of social interactions which really are an important part of work," he said.

"And I think businesses are starting to lean more on that side as a way of bringing people back to the office because it's about that collegiate spirit, human interactions and from that breeds creativity, innovation, problem solving, it's all done best when you're all together," he said.

What would these precincts look like or need to function in practice? This is something Mirvac is working to address.

"So, it might be they need a collaborative space, they might need a co-working space, they might need a library, they might need a high-tech innovation space.

"So how do we create a web, if you like, of different spaces that our customers can use so their business is able to become a high-performing business?"

Pick your perks

Increasingly, workers are looking for economical solutions to costly services like childcare to help address the rising cost of living. Childcare costs in Australia have increased by 41 per cent over the past eight years, which means that for many families, this affects how parents work, when they work, and even why they work. This also means that some form of childcare offered as a perk could go a long way in helping to attract talent back into an office.

"We ran a sprint on it last year, thinking about how to offer different child services to our employees first as a pilot. And it was incredibly popular as an idea. We haven't brought it to fruition yet, but we're still working through the details," said Mr Edwards.

"Vacation care was a big opportunity that parents were very, very, very keen for us to offer services," he said.


Say goodbye to micromanagement
Finally, business leaders should also consider how managers approach hybrid work. "I think the whole pandemic was a very good lesson that micromanagement is not working, and it's not needed anymore," said Professor Sanders. "We need managers who can be open and honest that they don't have the answers at all nowadays."

"So be open to your employees. How can we frame the work arrangement together? We know that we want to have informal learning activities, it's important that we have some time together in the office. How can we organise it and have that discussion together among the employees?"

In agreement, Mr Edwards said: "Leaders need to think about output or outcomes of what people are doing (rather than, I use the term line of sight management), but giving people clear objectives, clear communication of tasks or really what they want them to achieve, what the outcome is."

"And then giving them an environment where there's a lot of trust in that they will deliver, which is very different to maybe pre-COVID for a lot of managers where they liked to see people in. That person could have been on Facebook on their computer, but they could see them."

In addition, hybrid work demands a new approach to onboarding. "So how do those new people on board, how do they get to know people? How do they build those relationships and, through those relationships then build trust? It's very difficult. And so, I think getting clear communication about the output that managers want is one thing."

At the same time, a hybrid workforce is tough to manage, so leaders themselves also need help, added Mr Edwards.

"They need training; they need support; they need education," he said.

"A hybrid workforce and managing a hybrid workforce is not an easy responsibility for a leader… there's much for people to learn through this process," he said.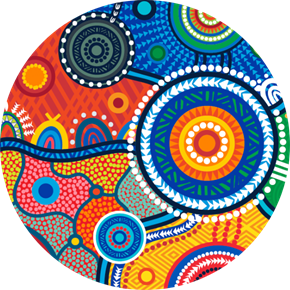 Mirvac acknowledges Aboriginal and Torres Strait Islander peoples as the Traditional Owners of the lands and waters of Australia, and we offer our respect to their Elders past and present.
Artwork: 'Reimagining Country', created by Riki Salam (Mualgal, Kaurareg, Kuku Yalanji) of We are 27 Creative.