Smart building technology that will advance your business
Making buildings smarter has been a mission for workplace developers since long before the digital age. From temperature control to automatic doors, and on into lifts, security and communications, helping humans work comfortably, securely and seamlessly is the essence of smart building design.

Today, we have seen a dramatic shift in customer expectations of technology, including the demand for smart buildings to be built around high-speed connectivity. The building itself must enable enhanced data collection and analysis, allowing cyber security to become part of the fundamental infrastructure.

Together, these foundations work together to deliver intelligent infrastructure for businesses across operations, workplace environment and comfort, and sustainability. These advanced data collection capabilities also work to benefit future developments, as the Mirvac integrated model creates a feedback loop with insights to help inform the features and innovations for buildings and workplaces of the future.

With almost 50 years of expertise in developing, owning and managing some of Australia's most advanced buildings, Mirvac's smart systems are a tailored solution, helping every modern Australian business be the best it can be.
Smart buildings begin with the right foundations
Cutting edge performance
Outdated systems result in workplace delays and cost days in lost productivity, and it is therefore critical for any highly effective premises to keep up with the speed of changing technology.
At Mirvac, our 'just in time' procurement process ensures every Mirvac building is future-fit. We aim to exceed the performance expectations of even our most technologically advanced customers by staying a step ahead of the latest standards from around the world.

Whatever level of smart systems your business requires, today or tomorrow, you need to know your office infrastructure is ready for the future. You can feel confident that your smart building evolution is there for you as soon as you need it. Whether you simply require the benefits of seamless connectivity solutions or you want to adopt a complete smart office operation, Mirvac is ready to deliver.
Critical connectivity
Your employees, partners, clients and customers demand seamless connectivity in every aspect of their lives. The workplace is no different. That's why every Mirvac smart building features a high-grade fibre optic Integrated Communications Network (ICN) that scales to the needs of each unique customer.

Mirvac ICN uniquely combines critical buildings services and vendor solutions as a unified platform control system across:
HVAC
Metering
Hydraulics
Blinds
CCTV
Security
Lighting
Generators
Solar PV
Fire
Lifts
For wireless performance, we feature a Distributed Antenna System (DAS) based on MCF Guidelines to deliver excellent indoor mobile 4G/5G coverage across all carriers. Every corner of your premises will have the coverage your team needs.
With fixed and wireless backbones assured, our smart building systems provide an added layer of real-time data. Our Integrated Building Platform (IBP) monitors all building data points and consolidates them into a useful set of insights. All protected by a first-class approach to cybersecurity that meets the standards of corporate and tech leaders including Google, Deloitte, the Commonwealth Bank of Australia and Suncorp.
Unique plug-and-play operability
In an Australian-first, Mirvac now provides each business with a first of its kind access system to their building data and controls. A personalised Tenant Portal for each customer acts as a real-time interface, giving businesses unprecedented access to building information and data. You'll have a unique ability to make informed decisions about how to best refine your space utilisation.
Recent years have shown us a future where capacity requirements may ebb and flow as needs and external forces create unexpected impacts. The Tenant Portal allows businesses to manage, merge, or isolate spaces according to capacity, helping to rationalise unnecessary use of office and energy resources.

The Tenant Portal is usable through the provided interface or delivered directly to your choice of data platform.

Mirvac IBP systems are 'plug-and-play' and entirely customisable and adaptable to meet the current and future needs of your business and employees. Using standard naming conventions and open protocols, our IBP saves you time by ensuring efficient integration to your preferred standards-based smart building systems.
Sustainability and efficiency
What is carefully measured can be carefully managed.

As well as maximising efficiency, Mirvac's smart building platform allows every workplace management decision to have a measurable impact on the sustainability goals of your business.

Mirvac's foundational technology transforms live workplace utilisation data into real-time insights and reporting across energy usage, water and waste management, lighting, and AC systems. Cost and environmental benefits can be directly calculated and optimised.

With sustainability a significant and growing priority, Mirvac buildings have delivered some of the highest 6-star Green Star and 6-star NABERS rated environmental standards. We proudly overperform against targeted outcomes for customers, with a significant focus on monitoring and reporting on these outcomes through technology.
Seamless experiences
Our latest smart building systems enable a touch-free journey throughout the building. From arrival to lift access and across all amenities, the 'next normal' workplace demands a new level of accessibility that only smart building technology delivers.

Advanced opportunities
Customers seeking added smart building capabilities will find Mirvac offers additional optional features that turn our premises into a marquee feature of your business.

Enhance your existing efficiency monitoring systems to include smart space utilisation, adding insights into personnel movement around workspaces and meeting rooms. This will assist in developing deeper insights into the optimisation of your facilities. A great benefit in moving beyond assumptions to gain real understanding of how your workplace is being used, down to a granular level across hours of the day and days of the week.

Standard access control systems can also be enhanced with visitor management services, offering smooth, comfortable access for your clients and customers. Further options can turn embedded digital signage systems into a personalised wayfinding service that dynamically delivers information to visitors so they can move through the building with confidence.

Many Mirvac smart building features can also be integrated into a business' mobile app. This can allow building access through smart devices as well as access to support building concierge features and more. Blending access and control features into the devices your teams carry everywhere they go is one of the most powerful ways to make a smart building feel like it's truly yours.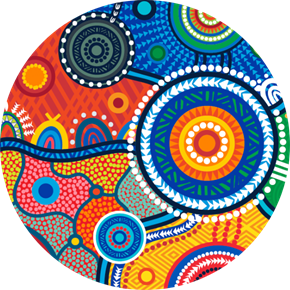 Mirvac acknowledges Aboriginal and Torres Strait Islander peoples as the Traditional Owners of the lands and waters of Australia, and we offer our respect to their Elders past and present.
Artwork: 'Reimagining Country', created by Riki Salam (Mualgal, Kaurareg, Kuku Yalanji) of We are 27 Creative.