What a buyer needs to know about Pavilions apartments in Sydney Olympic Park: Five minutes with Mirvac's Toby Long
The apartments have favoured working professionals, well advanced in their careers, Mirvac's general manager of residential Toby Long told Urban.
Mirvac's Sydney Olympic Park apartment development Pavilions is the reputable ASX-listed developer's largest ever single stage development.
The four buildings constructed simultaneously using four cranes at one time.
It's been strategically located in a growth area where billions of dollars are still to be invested, particularly in the transport infrastructure which will see the commute to the Sydney CBD slashed to just 20 minutes.
The apartments have favoured working professionals, well advanced in their careers, Mirvac's general manager of residential Toby Long told Urban.
Urban recently sat down with Toby to discuss Pavilions.
JR: Why was Sydney Olympic Park chosen as a location for a Mirvac project?
TL: Mirvac has a long history on the Olympic Peninsula. We delivered the Athletes Village for the 2000 Olympics, which we adapted to create the suburb of Newington, developed more than 900 apartments at Rhodes Waterside, and luxury waterfront homes at Cabarita. So, the location and market were familiar territory for Mirvac and ticked all the boxes for good property investment – location, amenity, public transport, and billions of dollars in infrastructure on the way.
Sydney Olympic Park lies in Sydney's geographic heart, between the CBDs of Parramatta and Sydney, straddling east and west. It also lies within the knowledge corridor where the smart jobs of the future are concentrated and is key to realising the economic and social ambitions for the Greater Parramatta and Olympic Peninsula.
Olympic Park is also quite unique in being a growth area - a young and vibrant suburb that has a lot to offer. Everything you need is already there – cafes, restaurants, world class leisure and fitness facilities, train station, retail close by and this incredible 430-hectare parkland, right on the doorstep.
There are billions of dollars still to be invested at Sydney Olympic Park, especially in transport infrastructure, as well as a new high school proposed for nearby Wentworth Point. There will be an Olympic Park station on the Metro West line, with a journey time of just 20 minutes from Parramatta to the Sydney CBD. Light Rail stage 2, connecting Olympic Park to Parramatta is back on the agenda with recent NSW Budget funding to advance planning.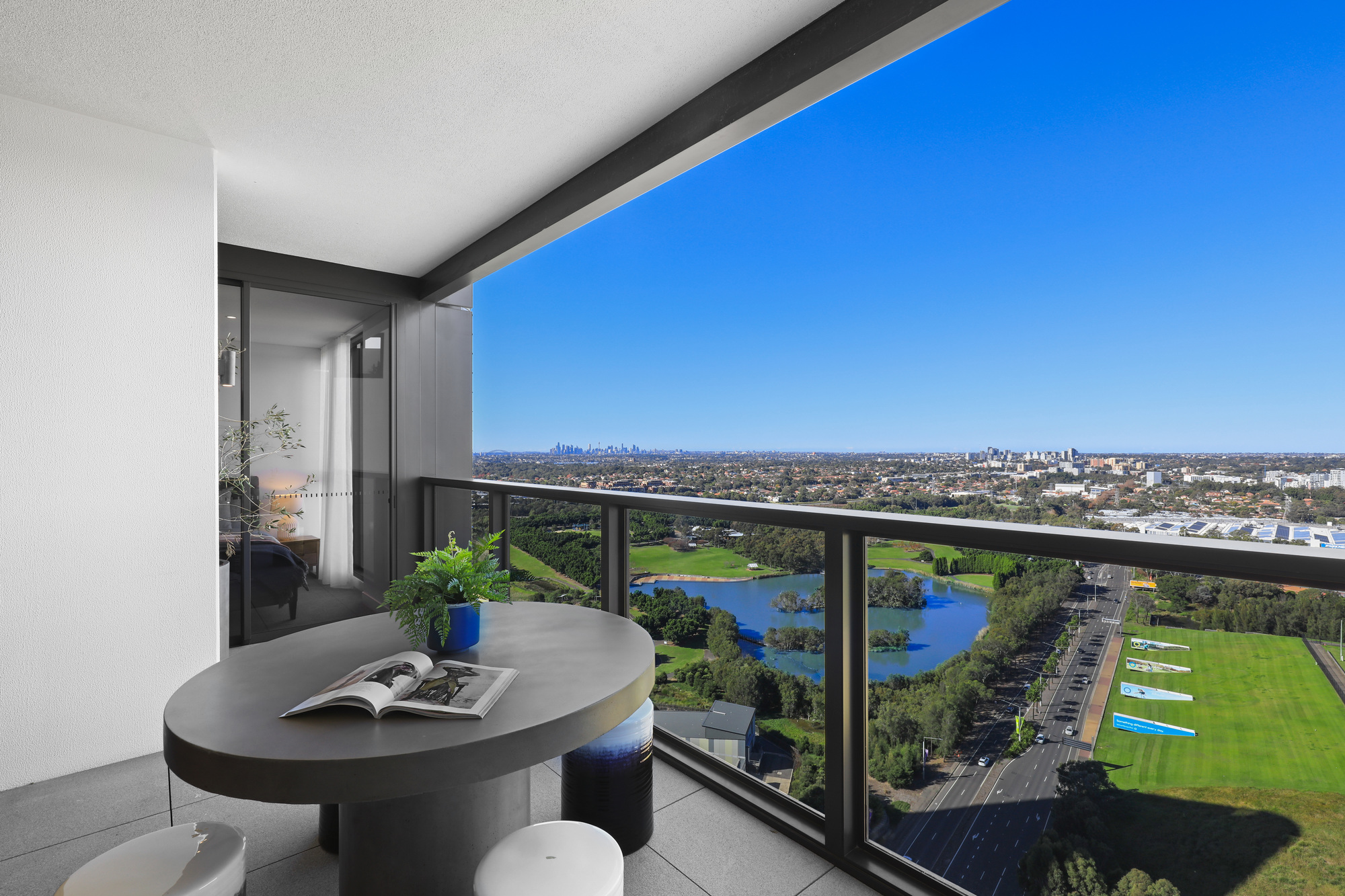 JR: Who did you identify as the buyer demographic when the design was in its early stages, and why this demographic?
TL: The demographic profile at Olympic Park and surrounding suburbs showed that residents are younger and better educated than the NSW average. The dominant age group is 25-34 and 45 per cent of residents have a bachelor degree or higher, twice the NSW average. The population is truly multicultural with around 70 per cent of residents first or second-generation Australians whose parents were born overseas.
Our assumption was that buyers at Pavilions Residences would follow a similar trend and that has been borne out, with a high level of professionals well-advanced on their career journey.
The buyer profile has differed in one significant respect with a far higher proportion of owner-occupiers than investors. Mirvac tends to attract more owner-occupiers because of our focus on quality and longevity. We do have a good following of investors who know that the price premium for a quality property is recouped in lower maintenance and repair costs, and strong capital gain.
JR: What was the design brief for the towers? And was there a shortlist of "must-haves?"
TL: Pavilions Residences stands at the gateway to Sydney Olympic Park, therefore a strong architectural statement was called for. Equally important was creating a connection with the natural environment and designing around three majestic Moreton Bay fig trees. Two of these decades old trees stand at the Australia Avenue edge of Pavilions Residences, forming a botanical marker for Sydney Olympic Park. The other was relocated to a new position on the site in a delicate six-month operation. The key design principles were:
-Vary the building heights to enrich the future desired scale and character of the precinct;
- Create a more successful transition from 30+ storey residential towers on Australia Avenue to lower-scale buildings within the precinct;
- Provide a gateway to Sydney Olympic Park from Australia Avenue south;- Minimise overshadowing to communal space;- Provide retail amenity and courtyard adjacent to the existing Fig Trees;
- Use contrasting materials to create visual interest and define the scale and architectural quality of the building;
- Maintain accessible communal open space with areas for passive and active recreation;
All open space and common areas to have access to natural light and air, and all lift cores open onto large lobbies with windows providing natural outlook and seating.
JR: What did BVN bring to the table? Did they win a design competition? How did the process go for appointing them?
TL: BVN won the Design Excellence competition and then submitted a revised design following amendments to the Sydney Olympic Park 2030 Masterplan. The updated masterplan allowed for increased floor space in response to Government proposals for Metro West and Light Rail connection. This paved the way for a taller gateway tower with more apartments enjoying the sensational views over the district to the city.
JR: What do you feel are the biggest draw cards for buyers?
TL: Buyers seeking quality construction and finishes, and layouts that enhance liveability, are naturally drawn to Mirvac apartments. Pavilions Residences offers Mirvac's customary quality along with a living environment that has been carefully considered to enhance the connection to nature. From the moment you enter Pavilions, stroll along the majestic colonnade past beautiful gardens, you feel uplifted. That feeling continues as you enter the lobby with its exclusive residents' lounge, al fresco terrace and co-working space.
The shared spaces, including the gardens, with bocce court, barbecues and covered dining pavilions, and fully equipped gymnasium, all contribute to a healthy lifestyle and opportunities for residents to get to know each other and build a strong sense of community. The other important factor for buyers is proximity to 430 hectares of parkland right on the doorstep and a location between the two CBDs of Parramatta and Sydney. The advantages of living between these two powerhouse CBDs will become even more apparent as major transport infrastructure such as Metro West and Parramatta Light Rail Stage 2 are completed in coming years.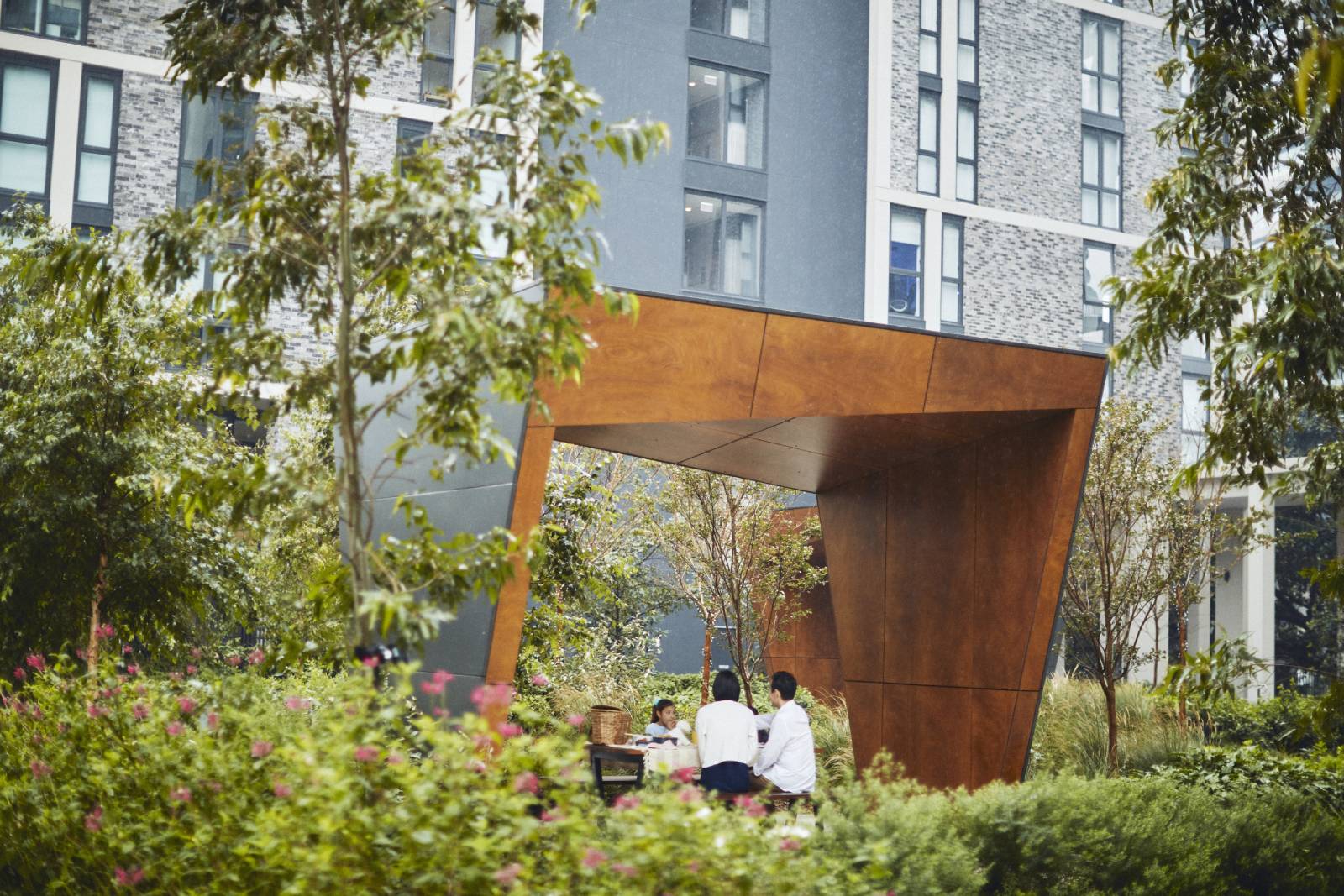 TL: Pavilions Residences was the largest single stage development ever undertaken by Mirvac with the four buildings constructed simultaneously using four cranes at one time. Over 40,000 cubic metres of concrete went into the build, along with 175,000 bricks, 17,200 sqm of floor tiling and 9,100 sqm of balcony pavers.
Innovation has been a constant at Pavilions Residences. LIV Indigo at Pavilions is Mirvac's entry into the burgeoning build to rent sector, offering long term secure leases.
Mirvac's investment in LIV Indigo is a bonus for buyers of Pavilions Residences, ensuring an on-going commitment to the success of the project.
Another first at Pavilions Residences is our world first apartment using 'green ceramics' made from waste glass and textiles as a construction material. Through Mirvac's on-going collaboration with the UNSW Centre for Sustainable Materials Research and Technology (SMaRT) the apartment opens the door to zero waste in construction and a reduction in demand for resources.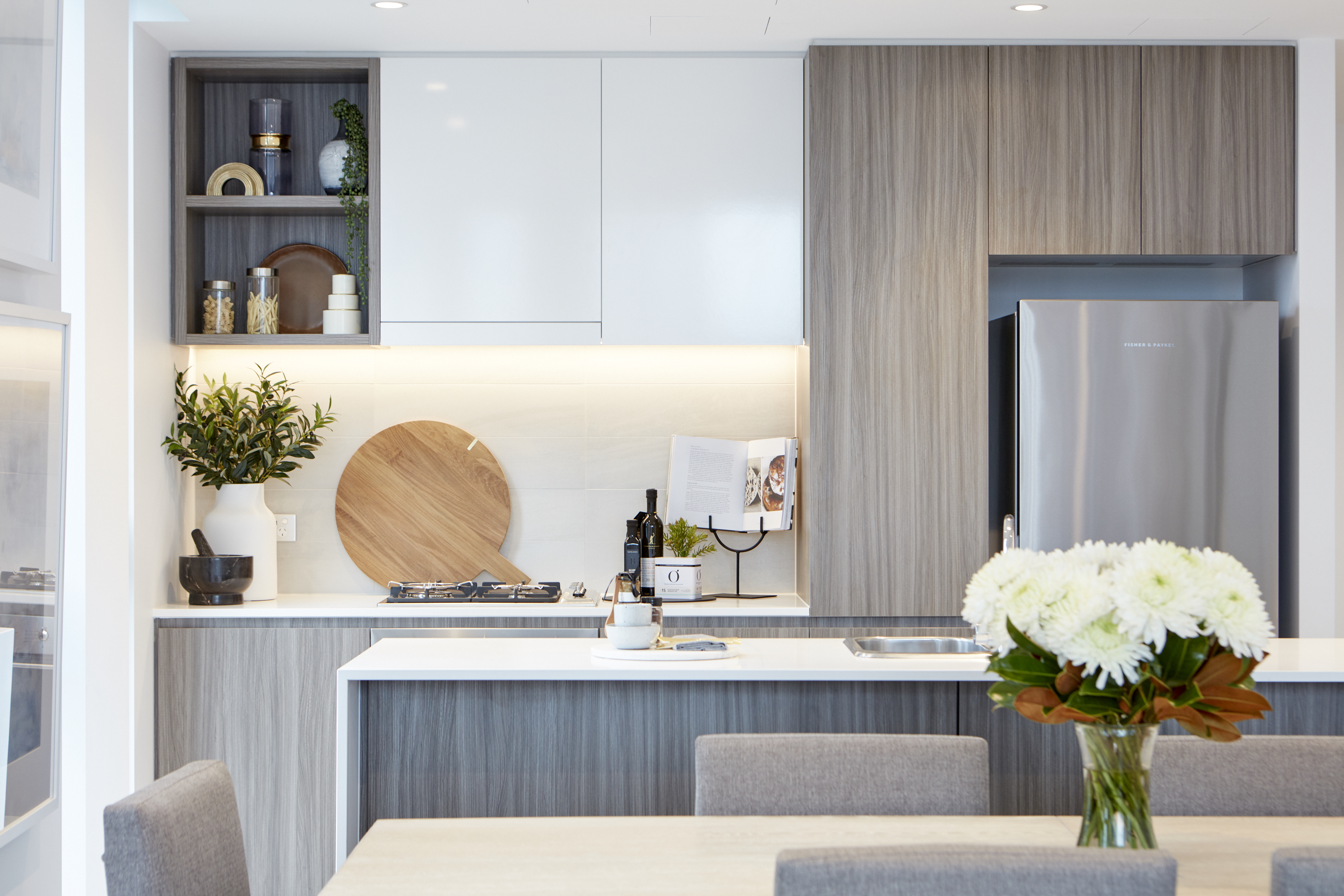 JR: How do you see the Sydney Olympic Park area changing in the next five to 10 years?
TL: Sydney Olympic Park has undergone massive change in the past five years and this will only continue in the five to 10 years ahead. Five years ago, the resident population was only about 1,500; today it is more than 6,000. The Sydney Olympic Park 2030 Masterplan lays out a vision for the future with an expanded Town Centre catering for around 23,500 residents and a daily worker population of around 34,000 and 5,000 students.
As major transport projects are completed, early adopters are likely to reap the benefit, living within minutes of the Parramatta and Sydney CBDs by Metro Rail, while enjoying the rare luxury of parkland right on the doorstep. The East has Centennial Park, the West has Bicentennial Park, more than twice the size with a greater variety of walking and cycling trails.
*Article was written by Joel Robinson, a property journalist based in Sydney.
Mirvac acknowledges Aboriginal and Torres Strait Islander peoples as the Traditional Owners of the lands and waters of Australia, and we offer our respect to their Elders past and present.
Artwork: 'Reimagining Country', created by Riki Salam (Mualgal, Kaurareg, Kuku Yalanji) of We are 27 Creative.