Mirvac calls for an overhaul in the way we measure the value of office space
New research suggests office metrics should move from focusing on efficiency to experience following a transformation in the way we work.
Mirvac, together with the WORKTECH Academy, has today launched a new discussion paper: From space-centric to human-centric; Exploring new valuation metrics for the new workplace,' calling for an update to the outdated metrics defining office spaces, as hybrid styles of working become the norm across many Australian offices in the wake of COVID-19.
In the paper, global and local experts consider what should be included when evaluating workplaces in 2022, from experiences, business performance, shared value and employee wellness to Environmental, Social and Governance (ESG) and innovation.
Campbell Hanan, Mirvac's Head of Integrated Investment Portfolio, said the discussion paper had come at a critical time.
"As people return to the office in large numbers, we're seeing a strong rebound in occupancy across our portfolio, reactivating our workplaces and enlivening CBDs. But the fact is, the way we work has changed forever, and with experience, culture, learning and connection now the focus, many existing fit outs are no longer fit for purpose.
"The reality is, only modern, high quality, tech-enabled, sustainable workplaces can support these new ways of working so demand is growing apace for prime and A grade space across all office markets, particularly from our large corporate customers. As a result, the bifurcation office markets, as prime vacancy rates improve while secondary grade stock faces headwinds, is becoming increasing more pronounced."
"In response, we've created a unique pilot across an entire floor of our 200 George Street headquarters dedicated to exploring how our office space can be used to enhance performance and collaboration, facilitate experiences and ultimately encourage people back into the office. The pilot space will be occupied by Mirvac people as a real life experiment with insights and data used to create workplaces of the future. This kind of value can't be measured by a focus on headcount alone. We need to adopt a new approach that recognises the true value that a next-generation workplace facilitates for an organisation," added Mr Hanan.
Alternative metrics to consider
Instead of the current metrics, Jeremy Myerson, Director at WORKTECH Academy, highlights the range of alternative measurements that academics and experts across the field have recommended.
"As part of the development of this report we interviewed 25 academics and experts to understand the limitations of the current metrics associated with workplaces. Whilst many of them had different ideas as to how we should measure the workplace, ranging from job satisfaction to energy usage, they were aligned in that metrics need to be revisited to be useful to the modern office setting," Mr Myerson said.
Two new popular alternative metrics favoured by the academics contributing to the discussion paper are ESG, including the reduction of energy costs and carbon emissions, and employee wellness.
Paul Edwards, General Manager, Customer & Strategy said when it comes to employee wellness, office design and mental wellness can be inextricably linked.
"It's no secret that wellness and productivity go hand-in-hand, and therefore should be of the utmost importance to employers and employees alike. Office spaces can also go a long way in supporting these goals by providing a calm and productive place of work with facilities such as meditation or exercise spaces, and there are new data streams being developed to help measure that," Mr Edwards said.
"Ultimately, the creation of new modelling frameworks, aligned to data and insights from digitally enhanced workplaces will make a big difference in helping companies establish new value metrics, and it's imperative that we give these ideas the attention they deserve, as this is what our customers require."
"Part of this is the obvious need for continued investment in new technologies and in the skillsets required to translate the data into working and effective evaluation metrics. We hope our discussion paper marks the start of a wide-ranging conversation on this topic and we welcome academics, employees and employers alike to enter the debate and help us to develop the best possible office spaces for Australian workers."
Adapting office metrics using learnings from other sectors
The discussion paper notes how measures like personalisation, quality of experiences, interactions and changes in attitudes and performance are already taking precedent over traditional metrics of in other sectors.
"Hospitality, exhibitions and the airline industry have all moved away from traditional valuation models towards a more rounded understanding of value based on experiences or customer service, as noted in the discussion paper. The positive implications of this approach are readily apparent and offer a template for what the office industry requires to move to a more value-based pricing model," added Mr Edwards.
If you'd like to receive a full version of the From space-centric to human-centric; Exploring new valuation metrics for the new workplace paper please download it here.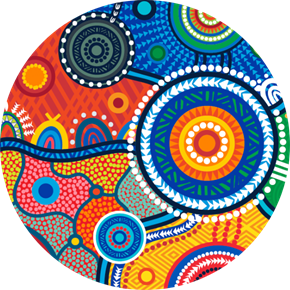 Mirvac acknowledges Aboriginal and Torres Strait Islander peoples as the Traditional Owners of the lands and waters of Australia, and we offer our respect to their Elders past and present.
Artwork: 'Reimagining Country', created by Riki Salam (Mualgal, Kaurareg, Kuku Yalanji) of We are 27 Creative.