Mardi Gras
Mirvac Retail is loudly and proudly flying the rainbow flag again this year, with two destinations featuring works for Rainbow City!
Mirvac Retail is loudly and proudly flying the rainbow flag again this year, with two destinations featuring works for Rainbow City!!
The iconic Broadway Sydney has rebranded itself Broadslaaay and is showcasing one of the 45 artworks for Rainbow City, celebrating 45 years of Sydney Gay and Lesbian Mardi Gras. Broadslaaay is an explosion of pride with a window display titled ICONS now live along Parramatta Road. In a celebration of love, beauty, power and community, the collection of large floating symbols are the work of five local LGBTQIA+ artists and are a bold and vibrant display encouraging audiences to forge their own paths and embrace their authentic selves.
Love Pop, a giant inflatable art installation of tasty over-sized treats will also pop up at South Eveleigh's Innovation Plaza in partnership with Tech Central from 17 February to 5 March. Created by artist Matthew Aberline from the Beautiful and Useful Studio, the colourful pop-up celebrates love and diversity, with the Insta-worthy installation taking the viewer through a series of interactive tasks spreading fun and kindness. The work was developed with award winning writer Catherine Moore, with each artwork inviting audiences to open their minds in fun ways. Modelled after different kinds of food, like a carton of milk for strength and bravery, and a 'Crazy in Love' treat box, the installation calls on the tradition of sharing food and breaking bread with family and friends to link these values to those of love and diversity.
There are plenty of parties, activations and workshops with something for everyone to get involved and share the love this Sydney WorldPride and with profits all going to great causes.
6-foot+ songstress, Miss Prada Clutch is taking over Grill'd Broadway for her hugely hilarious Drag Bingo on Wednesday 22 February. Tickets include a free drink on arrival and are only $10 with 100% of ticket sales going to ACON, while Village Crown at East Village will also feature Drag Bingo hosted by Miss Annie Mation from 7.30PM on Thursday 2 March. The popular pub will also be hosting a spectacular day of free entertainment and shows in the lead up to the parade on Saturday 25 February. Sip on a special LGBTQ Tea cocktail and enjoy the colour and pride, plus they'll be streaming the full parade for those who don't want to brave the crowds.
The infamous rainbow arches and series of spectacular installations take over Broadway's main entrance and travelator. Embracing and celebrating the concept of Dream Big, Think Bold, Think Big, Be Playful, Be Imaginative and Create the Life you want to Live that is Uniquely You, this colourful display will be like a dream wonderland. There'll be plenty of eye-catching and playful iconography like disco balls, lipstick, hearts, mirrors and stars all inspired by the psychedelic 70's.
Meanwhile at East Village in Zetland, their infamous Disco Lift returns inviting everyone to dance like no one's watching! There'll be special guests joining the dance party this Saturday 25th of February, including Sexy Galexy, Fran Giapanni, Carmen Geddit and Ivanna Drink. They're also putting on workshops for families in partnership with Rainbow Families, featuring parades throughout the centre, and inviting kids down for Rainbow Family Story Time.
There'll also be a program of kid's workshops in Broadway's maker studio, Create Hub so families can get involved with proceeds going to Rainbow Families. Dymocks is hosting LGBTQIA+ author meet and greets and there'll be art showcased across Broadslaaay featuring the work of local LGBTQIA+ artists.
In addition to Love Pop, South Eveleigh will celebrate Pride with a DJ on Saturday nights from 6.30-9.30pm, and BrewDog will offer PRIDE beer for $10.30 and a Fairy Queen cocktail for $16, until the 5th of March.
While Mirvac's precincts come alive in celebration of Mardi Gras each year, the company's proud commitment to supporting LGBTQIA+ communities is visible all year round. Mirvac Retail has been a member of ACON's 'Welcome Here Project' since 2019 – the first shopping centre portfolio in Australia to be included in the program. The 'Welcome Here Project' is a safe space initiative that creates and promotes environments that are visibly welcoming and inclusive of the LGBTQIA+ community. ACON's rainbow logo stickers are displayed at the front of all buildings, raising awareness that it is visibly welcoming and inclusive of all people, every day and not just during Mardi Gras.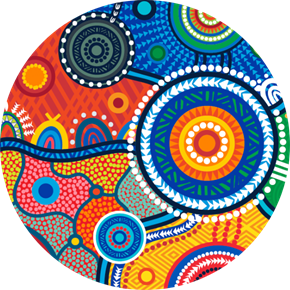 Mirvac acknowledges Aboriginal and Torres Strait Islander peoples as the Traditional Owners of the lands and waters of Australia, and we offer our respect to their Elders past and present.
Artwork: 'Reimagining Country', created by Riki Salam (Mualgal, Kaurareg, Kuku Yalanji) of We are 27 Creative.