Olderfleet, 477 Collins St, Melbourne
Olderfleet at 477 Collins Street, Melbourne, is a flagship commercial precinct by Mirvac. It uniquely integrates a contemporary workplace with one of Melbourne's most significant pieces of heritage architecture, the Olderfleet buildings.

A truly iconic building for Melbourne, Olderfleet draws together world-class design standards, cutting–edge workplace technology, and a history that dates back to the 1880s.

The tower is split into three separate villages with 38 storeys of premium grade office space. Anchor tenant Deloitte occupies 28,000 sqm.

Set in the heart of the Melbourne CBD, Olderfleet occupies a prime location for tenants providing easy access to a range of amenities. The precinct is home to some of Australia's brightest minds and organisations, with tenants Deloitte, Urbis, Norton Rose Fulbright, and Lander and Rogers all calling the building home.

The revitalized workplace marks the resurgence of Melbourne's mid-town and a new natural centre for the city. Mirvac co-owns the building with Suntec Real Estate Investment Trust.
A celebration of Australia's architectural heritage and future
The site at 477 Collins Street has a rich and colourful history steeped in heritage that spans 150 years to the present day, with an exciting future on the horizon. The Olderfleet heritage buildings, which line Collins Street, were constructed at the height of the land boom in the late 1880s and 1890s. The set of buildings includes the Record Chambers building (1887), New Zealand Insurance building (1887-1888), and the Olderfleet building (1890). All three buildings are classified by the National Trust of Australia (Victoria) as buildings of state significance and offer a stunning example of Victorian architecture, across varying Gothic and Romanesque styles, and were designed by a number of different architects.
Designed by award-winning architects Grimshaw with interiors by Carr Design, the building's rich history presented a challenge to integrate the heritage façade seamlessly with a modern office tower.

Grimshaw held an international design competition with its London, New York, Melbourne, and Sydney studios, each contributing a design for the new building. Elements from each design were integrated into a single response to create a leading international design and iconic look for the building. The building incorporates a vertical village concept, where the tower is split into three separate modules to express key internal workings of the building and create strong connections to the heritage context.

The outcome sets a new precedence for adaptive heritage and workplace integration in Australia. The original heritage building isa focal point for the entire precinct, celebrated and spotlighted throughout, as glimpses of the facade can be seen from all angles.

Olderfleet's restoration was unlike other heritage projects as it retains more than just the original façade. The internal brick structure was also restored as a feature wall within the ground floor lobby.

Today, the building's heritage is seamlessly maintained in a modern working environment that integrates leading technology, sustainability, and amenities.

As an exemplar of modern-day workplace design, the Olderfleet tower offers large floor plates for flexibility with doors looking out onto spacious terrace gardens. This design allows for outdoor terraces in each village, a rare advantage for an office building in inner-city Melbourne.

An unforgettable entrance
A striking 25-metre-high glass atrium connects the old and new buildings at Olderfleet, creating one of Melbourne's largest lobbies and an entrance that sets the tone for this exceptional building.

A one-of-a-kind spectacular sculptural centrepiece in the lobby, "Solar," by award-winning, UK-based artist, Wolfgang Buttress, commands the attention of all who enter.

A dynamic artwork, Solar's lighting elements create an immersive, multi-sensory experience as the sun shifts throughout the day. The shifting light intimately connects Olderfleet to its surrounding environment. The work is perpetually animated with changing light effects that subtly move from warm to cool throughout the day and night, responding to the changing energy being directly captured by the building.

Olderfleet's interiors are a result of a collaboration between Grimshaw Architects and Carr, the award-winning architects responsible for some of the world's most luxurious hotels such as the Jackalope Hotel on Victoria's Mornington Peninsula.

Wherever possible, hospitality thinking has informed design decisions, from arrival experiences and generous proportions to bespoke finishes and tactile craftsmanship.

Olderfleet's end-of-trip facilities are an excellent example of the hotel-like amenity that defines the building.

A unique experience that extends beyond the nine to five
A key focus for the workplace of the future is to facilitate collaboration and creativity, providing engaging experiences for employees, partners, and visitors. To foster this at Olderfleet, Mirvac has partnered with Work Club Global to create a unique workplace experience for customers which includes more than just boutique flexible workspaces.

There's an exclusive 'CLUB LOUNGE' open for all day dining as well as conference facilities (open to the public), a concept retail store & café, (SAGAS) selling premium homewares & accessories as well as danish pastries & locally brewed coffee, a Nordic-inspired underground cocktail bar (VALHALLA) and its signature Collins Street restaurant (opening early 2022).

In a world-first partnership, Work Club provides a hotel-style concierge service for the building, where employees can drop off dry cleaning or have dinner arranged at one of Melbourne's dining hotspots. In addition, the Work Club concierge team connects the entire Olderfleet human eco-system through their 'Florence Guild' programme of extraordinary conversations and unique experiences. It encompasses a myriad of carefully curated and culturally relevant topics, from events & conferences to workshops, salons & interactive events, all championing life-long learning and diversity of thinking.
Mirvac has carefully curated a retail strategy for Olderfleet that includes a high-quality aspirational Collins Street restaurant mixed with boutique artisan cafés to create an exceptional modern Melbourne dining experience for tenants, visitors, and the wider community.

Tenants also have access to the Olderfleet gym. Managed by Ashley Faithfull Training Studio the boutique studio will provide the highest level of personal training, yoga, corporate and small group training as well as health and wellbeing workshops and seminars.

The new retailers activate the building's entrances and lobby, connecting Olderfleet into the iconic Melbourne laneway culture along Collins Street and Flinders Lane, creating another must-visit destination for the city.

Alongside Work Club's offerings, retailers at Olderfleet include:
• Two Pillars
Two Pillars is a ground floor lobby café that provides quick grab-and-go options as well as a great atmosphere for a long client lunch and top-quality coffee. This is the café operator's second retail tenancy with Mirvac.

• Greta
Greta is a chic wood-and-glass hangout, with a breakfast and lunch offering, serving delicious made-to-order sandwiches and pasta made with the fresh, quality ingredients. Greta also boasts a vast drinks menu, including a 19-bottle wine list, curated cocktails and coffee. Located within the basement of the Olderfleet building, this is the perfect location to catch-up with clients and colleagues.

One of Australia's most sustainable buildings
Olderfleet enhances the health and wellbeing of its occupants and delivers strong environmental outcomes, in line with Mirvac's company-wide sustainability strategy, This Changes Everything.
It is the first building in the country to achieve a Platinum Core and Shell Pre-Certification from the International WELL Building Institute, which recognises excellence in delivering healthy buildings and improving tenant wellbeing in a sustainable work environment. The building targets a 6 Star Green Star rating, 5 NABERS Energy rating, and 4 Star NABERS Water rating. A range of factors have been considered to achieve this, from the facade orientation, floor plate design, and construction materials, to the waste management, LED lighting, and rainwater harvesting systems in place. The building's sustainability strategy includes data management and reporting to enable changes to be made in real-time to ensure the optimal environment and performance.
Tech-enabled working
Olderfleet is a new breed of smart building, where technology enhances the human experience. Mirvac has invested significantly in new technologies to create a cutting-edge environment at Olderfleet.
Mirvac worked closely with its tenants at Olderfleet, such as Deloitte, to identify technology requirements and co-create a solution that delivers a best-in-class platform to improve their employee and visitor experience.
M'app: Olderfleet's Experience App
Olderfleet is powered by M'app (the Mirvac App), a bespoke technology solution designed to make work life easier for Olderfleet employees. M'app provides a range of services for daily convenience, including:
A direct link to Olderfleet's hotel-like concierge, allowing employees to request concierge services from the comfort of their work desk – anything from concert tickets and dry cleaning to umbrella loans and last-minute gifts;
Space bookings for any size event, from a single desk to large corporate functions;
A corporate catering ordering service;
An Olderfleet-specific news feed with the latest intel on building notices, retail offers and interest groups, plus access to exclusive events;
Building information;
M'app will also have a feature that allows touch-free access control for building entry and end-of-trip amenity, which is coming soon.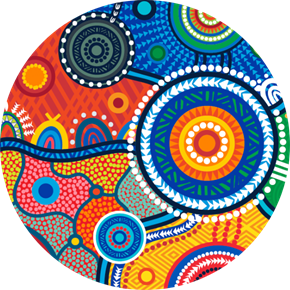 Mirvac acknowledges Aboriginal and Torres Strait Islander peoples as the Traditional Owners of the lands and waters of Australia, and we offer our respect to their Elders past and present.
Artwork: 'Reimagining Country', created by Riki Salam (Mualgal, Kaurareg, Kuku Yalanji) of We are 27 Creative.