55 Market Street, Sydney
Positioned directly opposite the Pitt Street Mall shopping precinct, and close to the QVB, the State Theatre, and Hyde Park, this is a place for employees to thrive.
Amenities & Facilities
55 Market Street offers an excellent solution within Sydney's busiest retail precinct. Located in the centre of the CBD with exposure to both Market and Pitt Streets, the building is close to major public transport links and arterial roads, you are surrounded by cafes, restaurants, bars and retail, with Hyde Park only a block away.
Location

End of Trip Facilities

Transport

Retail
Onsite Parking
Security

Dining
Designed to exhilarate, engage and inspire.
Positioned on a commanding CBD corner, the building is designed to celebrate the city's most famous heritage buildings, while making a contemporary architectural statement in its own right.
The building's highly activated Market Street frontage will be set back from the street, creating a small square in which to gather close to the State Theatre and Pitt Street Mall. The design creates a unique sense of arrival, with the lobby crafted as a continuation of Market Street.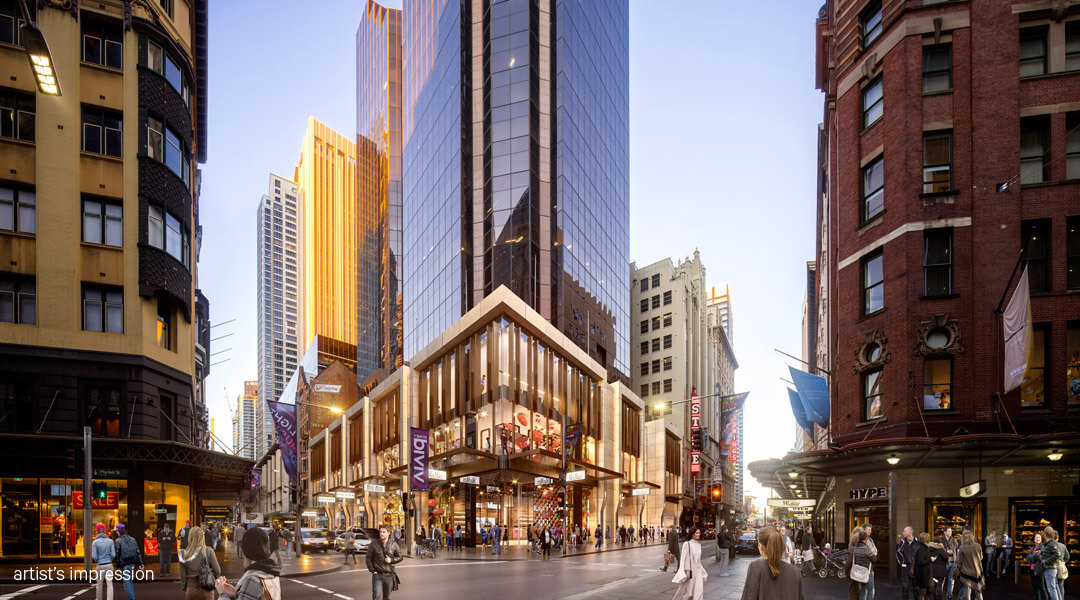 Level
Available
Area (sqm)
Level 2
Q3 2020
1,608.0
Level 3
Q3 2020
981.0
Level 4
Q3 2020
1,010.0
Level 5
Q3 2020
1,052.0
Level 6
Q3 2020
1,052.0
Level 7
Q3 2020
1,052.0
Level 8
Q3 2020
1,052.0
Level 9
Q3 2020
1,052.0
Level 10
Q3 2020
1,052.0
Level 11
Q3 2020
1,052.0
Level 12
Q3 2020
1,052.0
Level 13
Q3 2020
1,052.0
Level 14
Q3 2020
1,052.0
Level 15
Q3 2020
1,052.0
Level 16
Q3 2020
1,052.0
Level 17
Q3 2020
1,052.0
Level 18
Q3 2020
1,052.0
Level 19
Q3 2020
1,052.0
Level 20
Q3 2020
1,003.0