Mirvac Creates Hybrid Housing Community - Future Fit for a Net Zero Neighbourhood
Mirvac Group has created a unique hybrid community on Sydney's north shore – where residents can adopt electric living at their own pace. NINE by Mirvac, the former home of Channel 9 located in Willoughby, has been built firmly with the future in mind, allowing for residents to 'opt in' to an electric lifestyle including induction cooking and EV charging when they choose.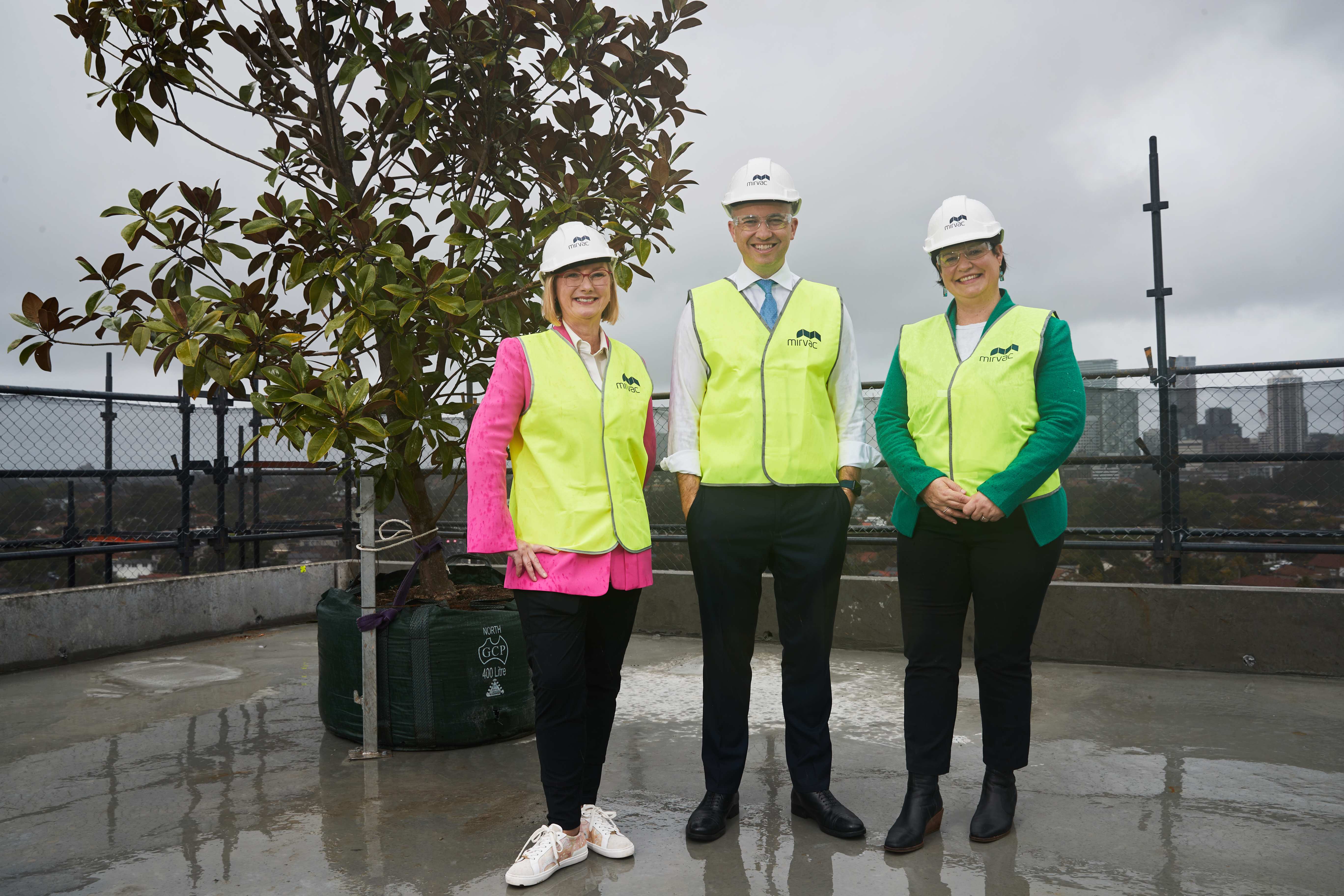 The Hon. Matt Kean, Treasurer of New South Wales and Minister for Energy, visited Nine by Mirvac as part of its topping out ceremony.
A hybrid development model, to allow aspects of all homes to be electric as and when a resident wants, was the result of extensive consumer research that supported a step-wise approach to a more sustainable lifestyle, and has the potential to reduce ongoing energy costs by up to 20 per cent.
Stuart Penklis, Head of Residential, said the decision to create a hybrid model gave consumers the opportunity to opt in to electric living at their own pace, in line with consumer trends like those seen in the uptake of electric vehicles. It also forms part of Mirvac's broader sustainability vision, as a way in which residential product can positively contribute to environmental concerns related to the built environment.
"Within the property industry, we have the ability and a responsibility to influence change. In 2014, Mirvac made an industry-leading commitment to achieve net positive carbon emissions by 2030 as part of it's This Changes Everything strategy.
The plan was revised in 2019 to define how the targets will be achieved, including maximising energy efficiencies and the inclusion of solar energy in all residential builds," said Mr Penklis.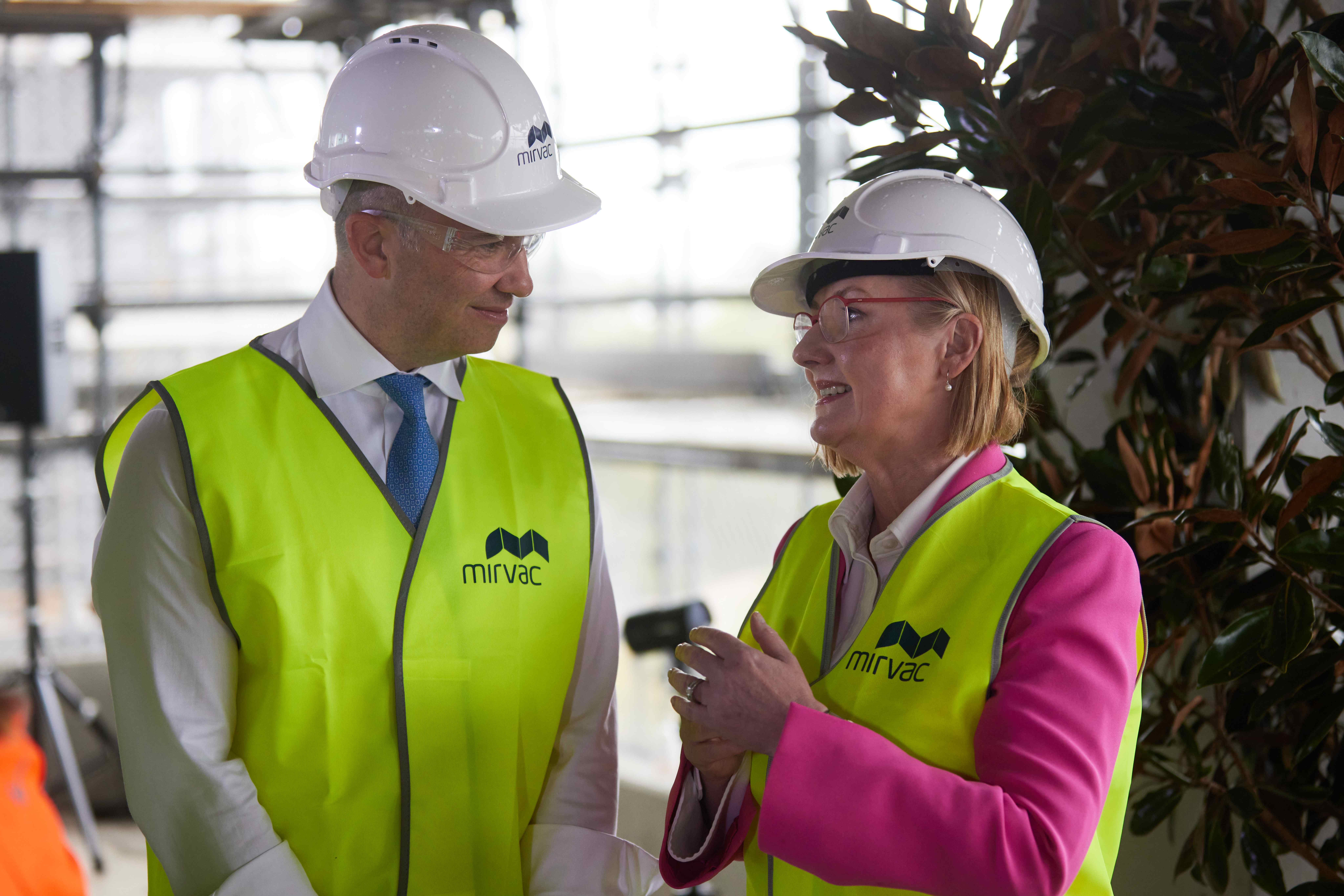 "Last year, Mirvac became the first Australian property company to achieve net positive in scope 1 and 2 carbon emissions, nine years ahead of our target and we continue to move steadily towards creating all-electric homes throughout our portfolio of future builds having piloted developments in Melbourne, Brisbane and Perth which will be all-electric as well to give customers solutions to power their all-electric homes with renewable electricity.
"NINE by Mirvac, is an example of this commitment in action, but we did so with our customers front of mind. Knowing that adoption of the new world of electric living takes time, we designed this development to allow for the transition to take place at each resident's pace, and invested in increased sub-station capacity, upgraded backbone cabling to each building and enhanced submains to every apartment to allow a simple, progressive change towards electric living," he added.
NINE by Mirvac will also feature an all electric building, Luma, which will be used as a pilot to identify, monitor, and adapt to usage trends over time. "Luma provides us with the opportunity to test the market on uptake and respond to our residents' needs. From this we will be able to gain valuable insights around water, power and charging use," Mr Penklis explained. Notwithstanding the environmental and health benefits of an electrified community, the implementation of increased electric infrastructure will future-proof the site for potential technological advancements and sustainability enhancements – positively benefitting not just the initial sales strategy from a Mirvac point of view, but resale value and return on investment for customers.
Upon completion, the site will include approximately 1000sqm of retail and commercial space which will deliver added vibrancy to the precinct. Additionally, a 6500 sqm park, which will open the site up to the public for the first time, will pay homage to the former history of the site, incorporating recycled materials from the former TX transmission tower that was dismantled as part of the development.
The ~$785 million NINE by Mirvac development will feature 10 residential buildings in total, with the first residents due to move in mid-2023 with the whole project completion scheduled by end of 2023.
"NINE by Mirvac is a testament to our ability to not only produce a product of outstanding quality, but one that sets a new sustainability benchmark. Underpinned by our award-winning in-house design team and construction teams we are unrelenting in our vision to deliver exceptional quality and design excellence – core Mirvac values that ensure that we continue to deliver the very best for our customers, even in the most uncertain times," said Mr Penklis.
Mirvac acknowledges Aboriginal and Torres Strait Islander peoples as the Traditional Owners of the lands and waters of Australia, and we offer our respect to their Elders past and present.
Artwork: 'Reimagining Country', created by Riki Salam (Mualgal, Kaurareg, Kuku Yalanji) of We are 27 Creative.