Mirvac Delivers Three New Apartment Buildings at Green Square
With a combined construction value of over $210 million, the simultaneous topping out of The Frederick, Portman on the Park, and Portman House signals the delivery of much needed housing in a prime Sydney location.
Mirvac, joined by Minister The Hon. Paul Scully, Minister for Planning and Public Spaces and Sydney Lord Mayor, Clover Moore, has officially topped out the main structures of three new residential apartment buildings at Green Square in Sydney's Zetland, signalling the near completion of 311 new homes as part of one of the largest urban renewal projects in Australia.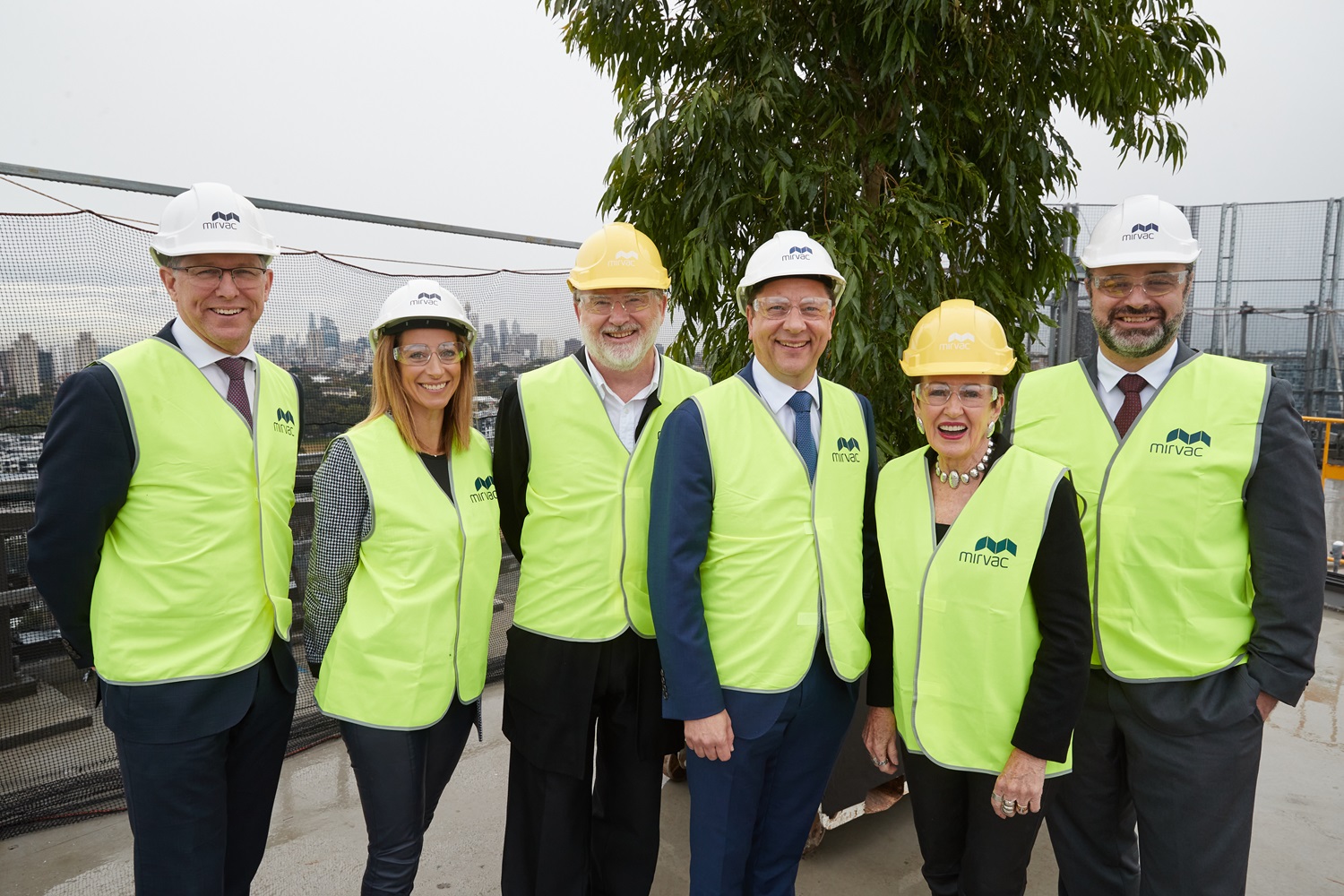 Mirvac CEO Development Stuart Penklis said: "The completion of these three buildings forms a significant milestone for the ongoing evolution of Green Square from one of the city's oldest industrial suburbs to Sydney's first new town centre in more than a century.
"The new community we are delivering in partnership with state and local government at Green Square has already contributed homes for over 1,000 residents, and these three new apartment buildings will see a further 685 residents calling the precinct home by the end of 2023.
"On completion, Mirvac will deliver more than 1,600 apartments in Green Square, along with state-of-the-art office and vibrant retail spaces, and substantial public spaces within the Green Square Town Centre. The precinct is close to public transportation, healthcare, education, and community services and promotes social inclusion and diversity and fosters a sense of community among its residents," said Mr Penklis.
"Green Square is a great example of government and industry coming together to not only generate more places close to the city for Sydney-siders to call home, but also foster a community that will meet the needs of its residents for years to come. And this commitment could not be more important as we play our part in resolving the most significant housing crisis of our generation."
Green Square by Mirvac has been coming to life for over nine years, and the precinct is now home to an internationally acclaimed library and Civic Plaza, as well as the 6,200sqm Drying Green, Gunyama Park Aquatic and Recreation Centre, Green Square train station, Joynton Avenue Creative Centre, Goodstart Waranara Early Education Centre and over 40 parks. The Green Square Public School, set to cater for 600 primary students, commenced construction in August 2022.
Landcom, the NSW Government's land and property development organisation, and Mirvac began working together on the Green Square urban renewal project in 2012. In October 2020 Mirvac began acquiring Landcom's ownership of the future stages of Green Square Town Centre.
Lord Mayor of Sydney, Clover Moore, said the $13 billion Green Square precinct renewal was one of the City's greatest challenges, but also one of their greatest successes. By 2030, it will have 70,000 residents and 22,000 workers and will still be growing.
"Safe, secure and affordable housing for essential workers and for those on low and very low incomes is essential for a cohesive and economically successful city.
"Mirvac's Green Square mixed-use apartment complex is the result of a design competition which resulted in four buildings containing more than 300 homes and retail spaces and a contribution to affordable housing," the Lord Mayor added.
"Congratulations to Mirvac for topping out for this much-anticipated development." Mr Penklis said the three apartment buildings have already proven to be incredibly popular with buyers.
"Over 80% of the apartments are already sold, including many owner occupiers, young first home buyers and investors who are looking for a community with convenient access to major employment centres, transport and amenity," said Mr Penklis.
"As our national immigration rates return to pre-COVID levels, and national unemployment rates at a near 50-year low, we are seeing buyers acting decisively in the tightening market to secure quality, larger apartments setting themselves up for future growth.
"Green Square is an ideal example of incorporating ESG principles into residential development, creating 'good density' modelled on a new approach to sustainable inner-city living leveraging new and existing infrastructure."
Mirvac's CEO Development Stuart Penklis was joined at the official topping out event by NSW Minister for Planning and Public Spaces, the Honourable Paul Scully, Lord Mayor of Sydney, Clover Moore, future residents of the buildings and other guests. To mark the occasion, cranes lifted an evergreen tree to the rooftop of each building - The Frederick, Portman on the Park and Portman House.
About Mirvac
Founded in 1972, Mirvac has been making a positive contribution to our cities and the urban landscape for 50 years, through our connected communities, exceptional workplaces and thriving shopping centres. We are an Australian Securities Exchange (ASX) top 50 company, met our target to be net positive in scope 1 and 2 carbon emissions nine years early in 2021, and in 2022, we were ranked number one in the world for gender equality by Equileap. Our purpose, to Reimagine Urban Life, inspires us to be innovative and bold, as we continue to create and curate extraordinary places and experiences that enrich people's lives.
About Green Square
Bringing ESG to life
Mirvac's focus on ESG at its Green Square buildings is demonstrated through every step of the development process.
Recycling, local sourcing and extensive landscaping are three examples of major achievements in behaving more sustainably at Green Square:
29,000m3 of concrete has been poured, which is the equivalent of filling more than 11 Olympic swimming pools.
1,597 tonnes of building waste and 606 tonnes of concrete (approx. 250m3) have already been recycled.
80 per cent of the materials for the construction and future fit out of the three new buildings have been locally sourced, resulting in reducing carbon emissions associated with transportation.
More than 13,500 shrubs, trees and grasses have been planted around the three new buildings and on the upper floors – in comparison there are 16,000 trees in Sydney's Centennial Park.
490 bathroom pods have been built externally and then installed in the three new buildings.
Mirvac is the first company in Australia to apply for WELL v2 Certification for a residential building, which has criteria across eleven different categories, including air, water, nourishment, light, movement, thermal comfort, sound, materials, mind and community.
The buildings
The new 'family' of buildings delivers a united but diverse luxury lifestyle experience.
The tallest in the trio at, 23 storeys, is The Frederick. Set in the heart of Green Square and designed by Smart Design Studio in collaboration with Mirvac Design, The Frederick is a luxurious residential tower with 151 apartments with extraordinary views of the Sydney CBD. It is also home to a resident only Business Studio, a Wellness Studio, and Sky Lounge, a bookable private dining space exclusive for residents and their guests.
The Portman Collection comprises Portman on the Park and Portman House and was designed by certified carbon neutral architectural practice CO-AP in collaboration with Mirvac Design. Portman on the Park includes 116 luxury apartments, many with dual aspect views of Sydney's CBD and the Drying Green, which maximise the free flow of air and capture natural light. Portman House is a boutique offering of 44 apartments rising to 12 storeys and only four apartments per floor.
Mirvac has also started construction on the nearby Portman St Terraces, designed in collaboration with Smart Design Studio. Drawing inspiration from the surrounding traditional Victorian terraces, these seven, contemporary spacious homes feature open plan living, four bedrooms, rooftop entertaining deck, courtyards and flexible family room.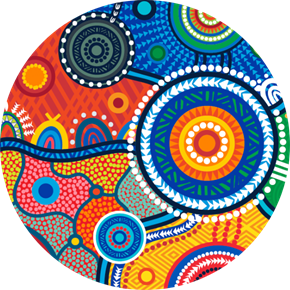 Mirvac acknowledges Aboriginal and Torres Strait Islander peoples as the Traditional Owners of the lands and waters of Australia, and we offer our respect to their Elders past and present.
Artwork: 'Reimagining Country', created by Riki Salam (Mualgal, Kaurareg, Kuku Yalanji) of We are 27 Creative.