Mirvac enhances employee experience at Allendale Square with Spacecubed
Mirvac welcomes Spacecubed and Plus Eight to Allendale Square .
Mirvac Group (Mirvac) has today announced the signing of coworking company, Spacecubed, and accelerator program, Plus Eight, to Allendale Square in Perth, amplifying employee experience as tenants return to the office, set to open in September.

Mirvac is enhancing its offering at the A-Grade office precinct by including a coworking space on the ground floor and transforming the lobby with informal and casual meeting spaces that invite people to connect, relax and create in a dynamic working environment.

Mirvac has partnered with Spacecubed to bring this vision to life by managing a new coworking space and business lounge to be known as Fern on the ground floor, with a concierge service and an ongoing calendar of events, to foster a community within the building. Spacecubed will take 800sqm of space for over 130 coworking desks, with its accelerator program, Plus Eight, set to be the first tenant.

Mirvac Portfolio Manager, Matthew Lutman said, "Workplaces of the future are no longer focused solely on the physical office space, they must deliver employee experiences that foster collaboration, creativity, ideas, learning and enjoyment. This trend has become even more important following COVID-19 with people missing face-to-face interaction and working as a team. As staff start to return to the office, they want more flexibility and engaging interactions as effective innovation and collaboration can be difficult to achieve while working remotely. Partnering with Spacecubed, one of the top coworking companies in Perth, will allow us to curate activity and foster a community at Allendale Square to cater to these needs.

"The new lobby at Allendale Square will create an enriched, engaging experience for building occupants. The events program run by Spacecubed will help tenants to form connections and encourage collaboration as well as provide exposure to start-ups and scale-ups through the Plus Eight program, sparking innovative new ideas."

Spacecubed Head of Strategic Projects, Ophelie Cutier said, "We are excited to partner with Mirvac on the new space at Allendale Square as it gave us the opportunity to enhance the communal space and cater to the changing needs of the high calibre companies in the building."

Plus Eight, an accelerator program backed by Spacecubed, will bring eight startups into the coworking space to take part in a six-month program where they will be given access to seed funding, connections, mentoring and masterclasses to grow their businesses. Mirvac is also supporting this program as an investor via Mirvac Ventures, as well as helping them to tap into a wealth of business experience as part of the Mirvac eco-system.

Plus Eight Program Manager, Isabelle Goldfarb said, "With Mirvac coming on board, our startups will have access to an incredible growth network, a pathway to more funding, and the stamp of one of Australia's most innovative property groups. Having Mirvac as a partner makes our Plus Eight Accelerator significantly stronger."

Spacecubed and Plus Eight will open in September 2020 with the new lobby offering to follow in early 2021.

Allendale Square underwent an extensive refurbishment in 2017 to enhance the office tower, activate the entranceway and deliver a refreshed retail precinct known as Underground.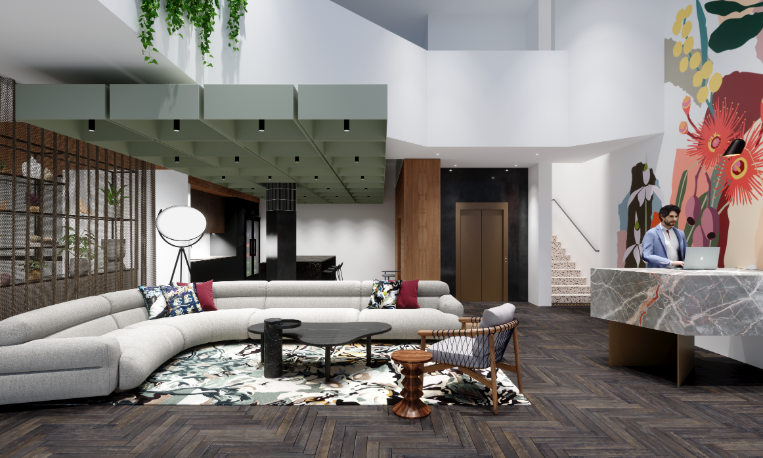 Find out more about Allendale Square.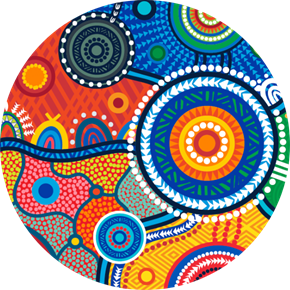 Mirvac acknowledges Aboriginal and Torres Strait Islander peoples as the Traditional Owners of the lands and waters of Australia, and we offer our respect to their Elders past and present.
Artwork: 'Reimagining Country', created by Riki Salam (Mualgal, Kaurareg, Kuku Yalanji) of We are 27 Creative.