Mirvac provide free work hub in their Broadway Shopping Centre
Mirvac announces an innovative free work hub in the heart of Sydney.
This week Mirvac unveiled 'The Third Space', the latest pilot to come out of Mirvac's award-winning innovation program, Hatch. A high-tech, co-working hub, The Third Space provides a modular office in the heart of Broadway Sydney, disrupting the norm of traditional retail spaces and catering to the trend of the mobile worker.
A three-month pilot providing an alternative working environment with all the trappings of an office, The Third Space takes up 100 square metres, offering open-plan workspace, focused work pods, casual meeting spaces on flexible terms, along with meeting rooms and other traditional office services. The pilot will run over three months, from July to September, and will initially offer all of its spaces and services completely free of charge.
The Third Space concept was born out of 50 hours of customer research undertaken by Hatch and found the modern mobile worker wants the trappings of a modern office in an environment where they have retail at their fingertips. The convenient location of the hub at Broadway was chosen for the pilot to enable its users to be within three minutes of 'everything', including grocery shopping, retail, restaurants, work place and entertainment.
The Third Space also has its own dedicated concierge who can help co-ordinate picking up dry-cleaning or groceries. Other benefits include bookable meeting rooms with TV, free parking and the ability to pre-order food and beverages from Broadway Sydney's retailers.
The project is the latest initiative to come out of Mirvac's innovation driver Hatch. A dedicated team that speaks to Mirvac's purpose to create value for their customers with bold and innovative retail experiences, Hatch is embedded across the company and tasked with providing experience and services that meet the customer needs, investigating customer pain points and looking to solve them creatively.
The Third Space is another example of Mirvac's customer-centric approach that has seen a number of initiatives rolled out across their retail centres including Shopping Nanny. The first of its kind in Australia, Shopping Nanny, offers a personal, complimentary nanny for Mirvac's customers and is another successful example of Hatch's creative thought process.
Mirvac's Group General Manager of Innovation, Teresa Giuffrida, said The Third Space pilot allows the company to test out a unique mobile working space in a high-quality retail space.
"Innovation is part of everyone's role at Mirvac but Hatch is our dedicated program that ensures we are delivering more than just bricks and mortar – we use a best practice program that allows us to identify and solve problems for our customers, in new creative ways."
The company has also introduced airwave charging within their shopping centres as well as Tesla charging bays at their Broadway Sydney: the only Tesla charging station in Sydney south of the bridge. Shopper Hopper is another enterprise that launched back in 2016 and is a bespoke ferry service offering customers a multi-dimensional shopping, dining and tourism experience, with a daily service between Circular Quay, Harbourside Shopping Centre and Birkenhead Point Outlet Centre.
Mirvac's Head of Retail, Susan MacDonald, said "Mirvac defines innovation as 'change that adds value'. We are constantly seeking improvements to our existing products and processes and The Third Space is a great example of this.
"We are very lucky to work in an industry where we have the opportunity to meaningfully impact and contribute to our customers' lives. We're building their homes and their shopping centres, their workplace, and we're creating urban environments for people to dwell and live their lives. We want to do it as well as we possibly can which is why such extensive research is undertaken."
"Mirvac Retail has been investing in understanding the rapidly evolving lifestyles of our connected urban customers and this concept might be at the cutting edge of retail right now, but we believe it fits perfectly with the progressive aspirations of our local community," Ms MacDonald said.
The Third Space will be open Monday – Friday (8.30am-5.30pm). Towards the end of the pilot Hatch will collate the data and assess how valuable the space has been to the customer. To pre-book your desk email thirdspace.broadway@mirvac.com or find out more at www.broadwaysydney.com.au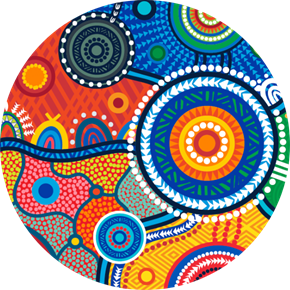 Mirvac acknowledges Aboriginal and Torres Strait Islander peoples as the Traditional Owners of the lands and waters of Australia, and we offer our respect to their Elders past and present.
Artwork: 'Reimagining Country', created by Riki Salam (Mualgal, Kaurareg, Kuku Yalanji) of We are 27 Creative.