Toombul Marks New Era With Street Art
Mirvac Retail's Toombul took its love of art to the extreme at this weekend's culmination of the two week Brisbane Street Art Festival.
Mirvac Retail's Toombul took its love of art to the extreme at this weekend's culmination of the two week Brisbane Street Art Festival, (BSAF), throwing a giant rooftop finale party to celebrate the eclectic new facades now on show throughout the precinct.
Toombul gave over its prominent and intimate locations to a plethora of acclaimed local, national and international street artists from May 4th for Australia's biggest street art festival program. Audiences across two weeks witnessed ten artworks being created live, including one of the largest of the festival, a 53m x 10m mural completed by UK artist Wasp Elder on the rooftop.
Brisbane artist Leans (23) was given the most challenging location, transforming the ten Airtrain railway pylons bordering the centre with his signature abstract style that celebrates colour and form. Each pylon took Leans up to 12 hours to complete.
With a program of live music, panel talks, exhibitions and workshops hosted at Toombul, the festival invited the public to get their hands dirty and participate in the arts with a dedicated artist in residence Pop-Up Space in centre for the duration of the festival.
Toombul's rooftop carpark was transformed to host the festival's finale party on Sunday for 450 guests, featuring four local bands, two DJs, live performance art and a live art battle by two of the headline artists.
Toombul's new incoming restaurant, Dapple + Waver, was showcased at the event. One of ten new restaurants set to open as part of the new UPSTAIRS dining and entertainment destination, the restaurant provided party goers with a tasting plate of its signature menu items along with a trial of one of its house-brewed craft beers.
Dapple + Waver owners Aidan McGarrity and Mark McKenna jumped on the opportunity to preview their concept.
"We were thrilled to be able to officially launch our new concept, Dapple + Waver, to Brisbane in such a spectacular way at the Brisbane Street Art finale party. The welcome was amazing, and we can't wait to open our new restaurant when we will really show off our extensive range of quality food, artisan coffee, craft beer & boutique wines. Dapple + Waver will be a place for all ages," McGarrity said.
Festival Director Lincoln Savage said support from partners like Mirvac had allowed the festival to double in size from 2018.
"For us, the key driver in doing BSAF year-on-year is the ability to provide a platform that will ignite artistic potential, showcase emerging talent and offer a diverse program of knowledge sharing, creative development and collaboration," Savage said.
"Our goal is to help create one of the most vibrant and culturally rich cities in Australia that supports the development of emerging artists and continues to empower its creative industries through BSAF."
Centre Manager, Melanie Hodge said that the Brisbane Street Art Festival partnership was part of the centre's new Art Strategy and offered a preview of what is to come with the development of the new UPSTAIRS dining precinct.
"Toombul has a long history of celebrating the arts, from when the area was first settled by freethinking artisans in the early pioneering days to the iconic Toombul Music - famous for attracting world renowned artists throughout the 1980s and 1990s. Art has always been engrained in the area, so we are extremely excited to be honouring this history."
"Art will play a huge role in our new UPSTAIRS dining precinct which will offer customers a visual feast and experience like no other. These ten new artworks are just the beginning of what can be expected when we open later this year."
UPSTAIRS is headlined by Queensland's first Archie Brother Cirque Electriq, a circus-slash-arcade bar already hugely popular in Sydney and Melbourne. The 5,100sqm dining precinct will be home to ten new restaurants, two entertainment tenancies and a refurbished cinema.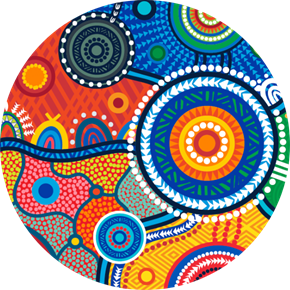 Mirvac acknowledges Aboriginal and Torres Strait Islander peoples as the Traditional Owners of the lands and waters of Australia, and we offer our respect to their Elders past and present.
Artwork: 'Reimagining Country', created by Riki Salam (Mualgal, Kaurareg, Kuku Yalanji) of We are 27 Creative.