Bringing the great outdoors into our cities
Bringing nature into our cities and work environments has an amazing impact on our wellbeing and productivity. Read more on our favourite green initiatives from around the world.
Our cities are home to more than just people, office blocks and coffee shops; we often forget about the flora and fauna that live side-by-side with us. Research shows that bringing nature, particularly greenspace, into our cities and work environments, has an incredible impact on our mental wellbeing, including employees scoring 26.4% higher on cognitive tests, 6.4% scoring higher sleep quality scores and 30% fewer sickness symptoms in green certified buildings.*
Placemakers are finding new ways to incorporate greenspaces into their designs to enhance the mental and physical wellbeing of tenants and visitors, with some also prioritising the protection and cultivation of our native plant species in their designs.
Interestingly, research suggests that we experience greater mental benefits when we are awed and visually stimulated by our greenspaces. A study by the University of Leeds noted that the quality of the greenspace is just as important as the quantity, for example incorporating botanical and floral diversity, site facilities and furniture make greenspaces potentially more conducive to relaxation and psychological restoration.**
Leading urban greenspace examples from around the world are therefore accessible, aesthetically pleasing and have significant biodiversity. They promote social engagement and connections, providing opportunities to build social networks.

Here are a few of our favourite projects which embrace this thinking:
Gardens by the Bay, Singapore - This awe-inspiring horticultural haven in the heart of the city spans 101 hectares of garden. It features three waterfront gardens, one of the tallest indoor waterfalls, a Flower Dome that houses a collection of plants from deserts all over the world, as well as a Cloud Forest with a 35-metre tall mountain veiled in mist and covered in lush vegetation. And there's no forgetting Singapore's iconic 'supertrees' that provide shade for the garden's visitors in the daytime. These are covered in 162,900 plants, and some even have photovoltaic cells to harvest solar energy to power the lights at night.
Inventionland, United States – An immersive workspace at the world's largest invention factory in San Jose, designed to inspire employees and get creative juices flowing with an office that features running waterfalls, grass-lined sidewalks and life-like trees and butterflies.
Shanghai Tower, China – Standing at 632m, the second tallest building in the world dedicates one-third of the site to green space including 24 sky gardens. The 37th floor has the world's highest Chinese traditional garden with stunning views of the city. The double façade acts like an insulating blanket, saving energy and allowing in natural light. The façade also has 270 built in wind turbines to power the lights.
Yerrabingin Indigenous urban food production farm, Australia – Earlier this year, Mirvac and cultural start-up Yerrabingin opened Australia's first Indigenous rooftop farm at South Eveleigh in Sydney. The farm brings to life Mirvac and Yerrabingin's vision to celebrate South Eveleigh's rich Aboriginal culture and heritage, through an engaging and educational experience. Workers, visitors and the local community are encouraged to participate in various workshops to learn about Indigenous culture, native plants and tend to the farm. Visitors also have the opportunity to purchase produce from the farm with over 30 native bush foods to choose from including finger limes, warrigal greens, native raspberries and sea celery.
Cultivate by Mirvac, Australia – Mirvac introduced a pop-up urban farm, in partnership with Farmwall, in the carpark of its Sydney office building EY Centre at 200 George Street. The farm allows people from different backgrounds and departments across all tenants to connect on a shared project and come together over growing their own food. They also learn about growing produce such as mushrooms and herbs and enjoy the farm's harvest which is used in Mirvac's internal café. As a result, Mirvac has seen greater collaboration between all teams that have worked together on the farm and a boost in their wellbeing. With such a successful result the farm launched a second location early 2019 at Mirvac's 275 Kent Street building.
Sources:
*Harvard T.H. Chan School of Public Health
**Frontiers in Psychology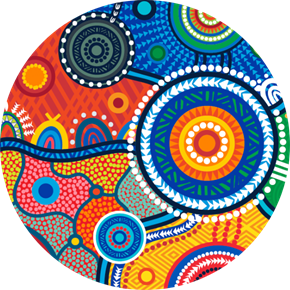 Mirvac acknowledges Aboriginal and Torres Strait Islander peoples as the Traditional Owners of the lands and waters of Australia, and we offer our respect to their Elders past and present.
Artwork: 'Reimagining Country', created by Riki Salam (Mualgal, Kaurareg, Kuku Yalanji) of We are 27 Creative.