Upping our Solar Power
There's no greater impact we can have towards our target to be net positive carbon by 2030 than switching to 100 per cent renewable energy.
In addition to signing a new energy supply agreement during the financial year, we've continued to utilise the rooftop space at our assets and have installed over 2.8MW of solar PV to date, further enhancing our renewable energy supply strategy. These installations included 1 Southbank Boulevard in Melbourne, where we engaged Indigenous business, Bunjil Energy (our partner at our Apartments of Tullamore project in FY19) to install a 28kW solar PV system. This supplemented an existing 18.5kW system and followed the installation of 34kW of solar at the nearby 2 Riverside Quay in December last year (also by Bunjil Energy).
Solar panels also populate the rooftops of each of the three buildings at our South Eveleigh office precinct in Sydney. The on site solar PV solution will reduce Mirvac's reliance on grid electricity and help the Group achieve its target 5.5 star NABERS Energy ratings for Buildings 1 and 2. More than 1.4MW is due to be installed across the entire precinct (including the Locomotive Workshops, which are currently under development).
Utilising the large, available space on our industrial assets is also a priority for the Group. We've installed 500kW of solar PV at Calibre in Eastern Creek, Sydney and we continue to look for opportunities within our expanding industrial portfolio, which is expected to grow as developments such as 300 Manchester Road, Auburn, Elizabeth Enterprise at Badgerys Creek and Aspect at Kemps Creek (all in Sydney) come online.
Mirvac's solar capability has grown considerably over the past six years. Underpinned by Mirvac's This Changes Everything strategy and a goal to be net positive carbon by 2030, Mirvac installed a large-scale solar PV system on the rooftop of Sirius, 23 Furzer Street, Woden, Canberra, which has achieved a 66 per cent reduction in carbon emissions to date (1). The solar solution – a first of its kind for the Group – also contributed to Sirius' success as one of the most sustainable buildings in Australia, boasting a 6 star NABERS Energy and a 6 Star Green Star Performance rating.
The installation of solar PV is not just good for the planet, it's also good for our tenants. Mirvac's solar systems at 2 Riverside Quay and 1 Southbank Boulevard, Melbourne, for example, are projected to save our tenants approximately $30,000 in energy costs and reduce their carbon emissions by more than 110 tonnes per year (2).
In addition to solar installation and purchasing renewable energy, our focus on improving energy efficiency across our office assets has reduced our carbon intensity by 62 per cent since we launched our sustainability strategy, This Changes Everything, in 2014.
Next up: as well as completing the solar PV installation at the Locomotive Workshops in our South Eveleigh precinct, we're planning a 65kW solar system installation at Olderfleet, 477 Collins Street in Melbourne and looking at options for a roof-based solar system at Bay Centre in Sydney.
1) Since 2011. The reduction also includes renewable electricity purchases in FY20.
2) Renewable energy purchases were impacted by COVID-19, however, this resulted in just a small overall impact to carbon reduction.
Focus Area
Climate Change
Social Inclusion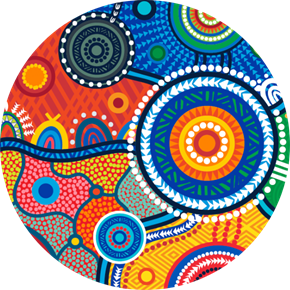 Mirvac acknowledges Aboriginal and Torres Strait Islander peoples as the Traditional Owners of the lands and waters of Australia, and we offer our respect to their Elders past and present.
Artwork: 'Reimagining Country', created by Riki Salam (Mualgal, Kaurareg, Kuku Yalanji) of We are 27 Creative.