Reimaging Urban Life
Learn about the process of reimagining urban life that Mirvac Design, Mirvac's in house architectural practice, exercises in their work.
Reimagining U R B A N L I F E

Driven by social responsibility, Mirvac Design is leading the way in site-specific architecture.

MIRVAC DESIGN, the in-house architectural practice of on of Australia's largest property groups, Mirvac, has a broad remit: rethinking urban life to enhance the way Australians live, enrich customers' lives and leave a legacy to be enjoyed for years to come. "Design has been at the heart of Mirvac since it was founded 45 years ago," says Diana Sarcasmo, Mirvac's general manager of sales, marketing and design. "But it has never been about design with a ego-driven agenda; rather design to enhance people's lives and make a positive contribution to the community.

"Reimagining how people live is an incredibly detailed process It takes more than just a drawing that simply looks good. It's multilayered and requires the creative input of many different people with a vast array of skill-sets and points of view. Design does not operate in a silo at Mirvac but is integrated into every part of the business," says Diana.

This collaborative approach is distinctive. Every development begins with a vision workshop where the design, development, construction, marketing and research teams come together to consider the location, heritage and likely market for the end product. As a practice, it ensures Mirvac properties take their character from their location but also consider what happens between and around the buildings, how people live, as much as the buildings themselves.
This process of remodelling urban life may not be driven by a need to create a signature style but it has unquestionably created a Mirvac hallmark.

Ideas are massaged and moulded through every part of the business to ensure quality. It is this attention to detail at every stage of a development, the quality and care that is laboured over, that sets Mirvac apart," says Diana. "Our commitment to quality goes beyond design, construction, after-sales service and community initiatives. We listen to and learn from our customers. Their needs and aspirations shape our project vision and provide the inspiration for our teams."

Most recently Mirvac's quality was recognised by the Australian Institute of Architects (AIA) with two 2017 awards for Tramsheds Harold Park. Acquired in 2010 from the NSW Harness Racing Club, the Harold Park site is a case study in successful residential rejuvenation.
The site of the former paceway and tram depot was rich in history. Mirvac's masterplan set out to celebrate this heritage while at the same time creating a new and vibrant village in the heart of Sydney's inner west.

The resulting precinct has unlocked the area for residents and visitors alike with around 1250 apartments and terraces and a 3.8-hectare park which forms a continuous green corridor to the harbour foreshore, as well as Tramsheds, a grand European-style food hall and dining destination.

Six new residential buildings have been completed, varying from three to eight storeys in height. True to Mirvac's design ethos, the architecture is a direct response to the landscape, outlook, history and community Locarno was the first residential building to be finished in 2014 and set the design framework for Harold Park, taking inspiration from the architecture in neighbouring suburbs by introducing a modern interpretation of the Victorian terrace. There are many other references to the area's architectural history: lobbies featuring decorative pressed-metal walls and ceilings, coloured glass bay windows that glow like lanterns by night and cast-iron balustrading with a contemporary twist.

The streetscape with its wide tree-lined paths and collection of pocket parks is a reimagining of a new, more social way to build community in a high-density environment. The final component of the redevelopment was Tramsheds. Almost
six decades after the Rozelle tram depot ceased operating, the structure has been salvaged and reinterpreted reinterpreted to create a community hub for people to eat, meet and shop.

The majority of the existing building fabric was retained, repaired or restored, and complementary finishes and materials enhance the history and celebrate the new.

In addition to the AIA awards, Tramsheds also received a National Heritage Trust award. Mirvac's most recent accolade was being named the world's most sustainable real-estate company by the Dow Jones Sustainability Index. "We are, of course, always honoured to receive awards and industry recognition, but for Mirvac Design the greatest reward of all is seeing happy residents and customers who truly love where they live," says Diana.

This article was originally published in the Smart Spaces edition of Belle Magazine and re-published here with permission.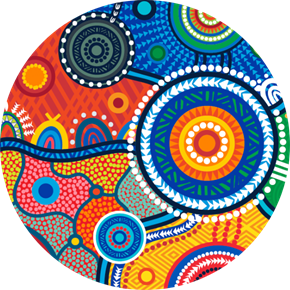 Mirvac acknowledges Aboriginal and Torres Strait Islander peoples as the Traditional Owners of the lands and waters of Australia, and we offer our respect to their Elders past and present.
Artwork: 'Reimagining Country', created by Riki Salam (Mualgal, Kaurareg, Kuku Yalanji) of We are 27 Creative.